Hisaya Okamoto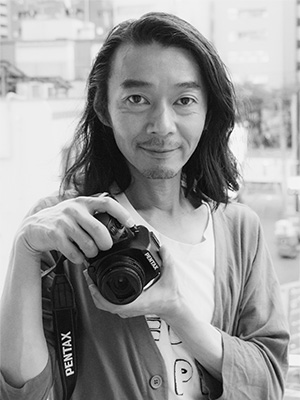 Profile

Born in Shibuya, Tokyo, Okamoto worked for an apparel company and an advertising agency,

later becoming an assistant at a photo studio, and finally established himself as a professional photographer specializing in portraiture.
Today, he works mainly in the apparel and fashion fields, while serving as a lecturer of color management systems and an instructor at the PENTAX RICOH Photo School.

smc PENTAX-FA 77mmF1.8 Limited
Although 85mm lenses are a popular choice in portraiture, I have good reasons for using this 77mm lens. In addition to its ability to facilitate my communication with the model, its compact, lightweight body, weighing a mere 270 grams (despite a large F1.8 maximum aperture) makes it very easy to handle. It's also ideal for portrait photography on the street, because I can capture images with a relatively compressed background while walking along with the model.
It produces images with soft, delicate outlines and a truthful sense of depth, like those created by old-time lenses. Its description of hair is breathtakingly beautiful, with every single hair depicted as a fine line. It also creates a distinctive bokeh (defocus) effect, which is very appealing to the eye — like a lively scene cropped from a movie. It minimizes internal reflection to enhance contrast. Just like the 43mm version, aperture control assures a broad latitude of visual expression.
I also mount the lens on the APS-C-format PENTAX KP camera to enjoy an eye-pleasing 118mm focal length (in the 35mm format). Although it has no Quick-shift Focus System for instant shift to manual-focus operation, and makes a focusing sound that I find distracting, I always like to keep it with me despite these minor problems. Even on days when I have no assignments, I like to look at it and handle it in my room, enjoying the feel of its high-quality cloisonné finger pointer and comfortably torqued focus ring.