FA Limited
Three single-focus lenses with distinctive focal lengths to deliver a truthful sense of texture and stirring visual expressions.
Overview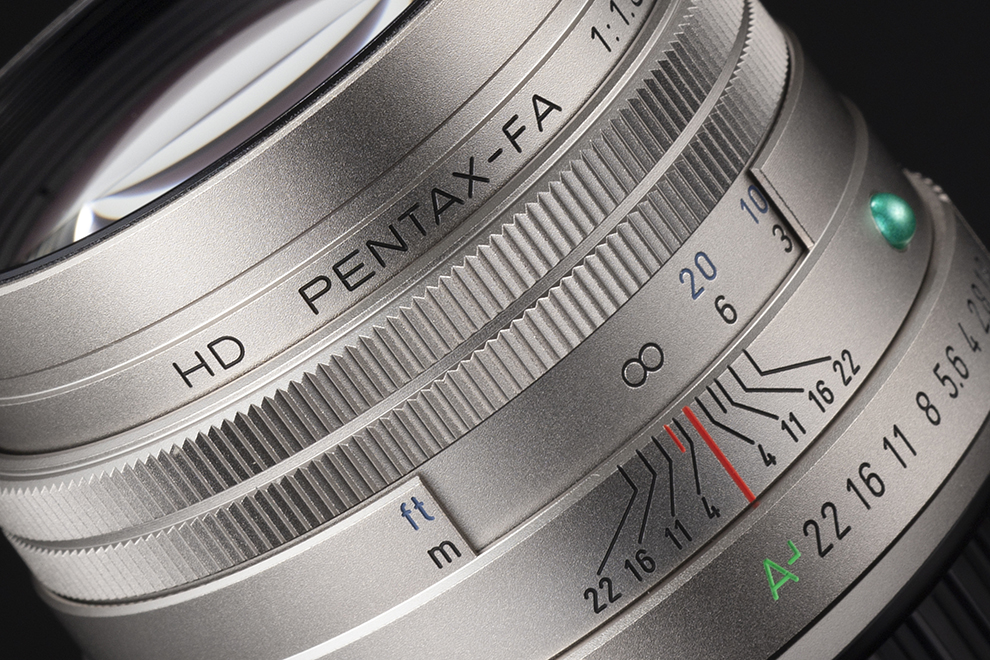 Machined aluminum lens barrel to optimize the texture of the material

Every lens barrel and all exterior components of the PENTAX Limited-series lenses are meticulously machined from high-grade aluminum material to optimize the high-quality visual design and the feel when the photographer touches them. Their elegant shape and distinctive appearance are still loved by many camera enthusiasts today, even as the format of most camera bodies has shifted from analogue to digital.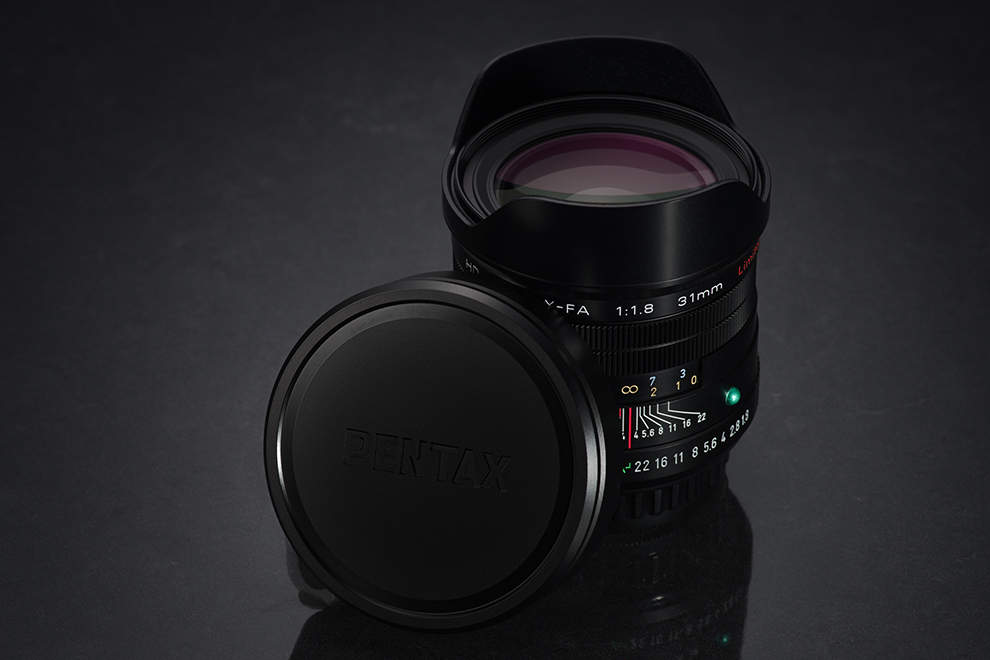 Exclusively designed lens hoods and

slip-on caps to match the character of

individual lenses

The lens hood eliminates the need for a reversal of position when the lens is stored, and also lets you start photographing immediately simply by removing the cap from the front end of the lens.
Each lens hood is shaped differently to optimize the optical performance of the individual lens. Electrostatic flocking has been applied to the inside of the lens hood to minimize internal reflection, and also to attract dust particles and prevent them from sticking to the front surface of the lens.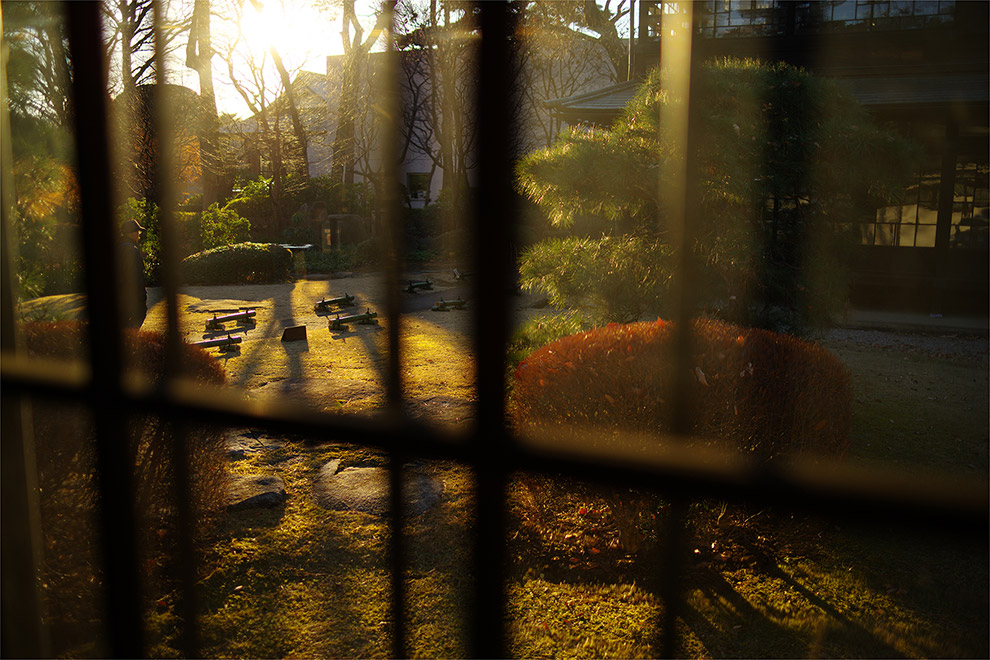 A large aperture and a compact, lightweight design

Under today's standards, large-aperture lenses are expected to be so heavy and bulky because designers try to optimize resolving power and contrast while minimizing various aberrations.
With FA Limited-series lenses, however, PENTAX has succeeded in achieving these two contradicting goals simultaneously, by making them compact and easy-to-handle through effective control of aberrations, while optimizing the sense of depth and sharpness in resulting images.
Because these lenses deliver image descriptions that truthfully convey the ambience of the image, and also provide the flexibility to change the visual expression with different aperture settings, they are still greatly appreciated by many photographers as truly special lenses.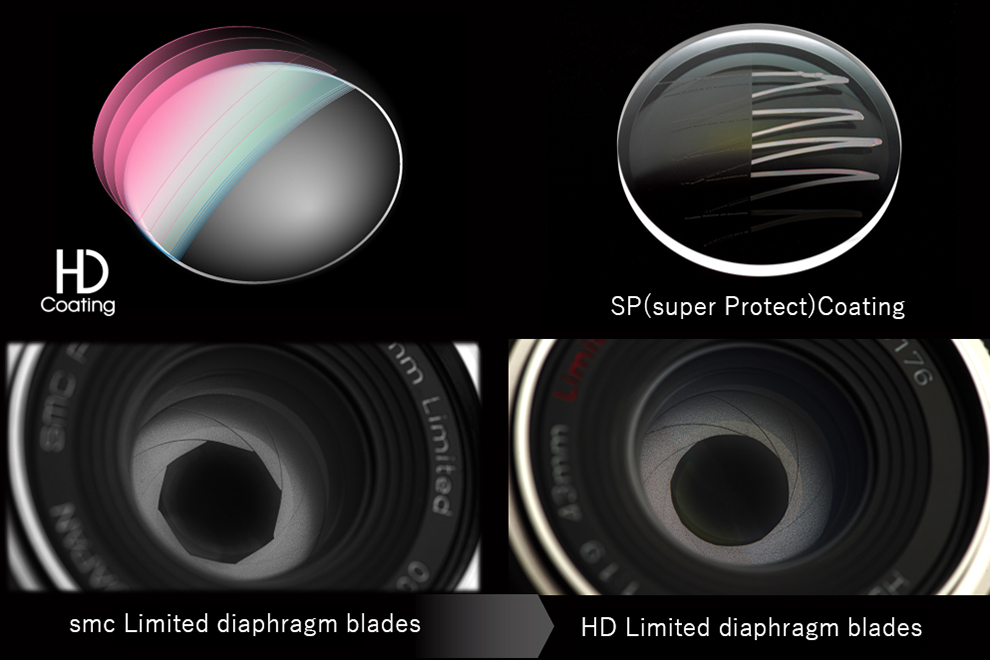 New-generation HD FA Limited-series lenses are treated with the PENTAX-original HD (High Definition) coating to deliver sharp, clear images, even under varying lighting conditions including backlight. They also feature a round-shaped diaphragm to produce a natural, beautiful bokeh (defocus) effect from open aperture to F3.5 or F4.* These new features combine to further upgrade the imaging power of the three new lenses.
The PENTAX-developed SP (Super Protect) coating has also been applied to the front optical element of these lenses to improve their water/grease-repellent and scratch-resistant performance for easier maintenance.



* The HD PENTAX-FA 31mmF1.8 Limited and HD PENTAX-FA 43mmF1.9 Limited provide a round-shaped diaphragm from open aperture to F3.5, while the HD PENTAX-FA 77mmF1.8 Limited provides this from open aperture to F4.
Lineup
Designed to capture extra-sharp images of subjects such as the tip of a branch of
a leafless tree in winter
HD PENTAX-FA 31mmF1.8 Limited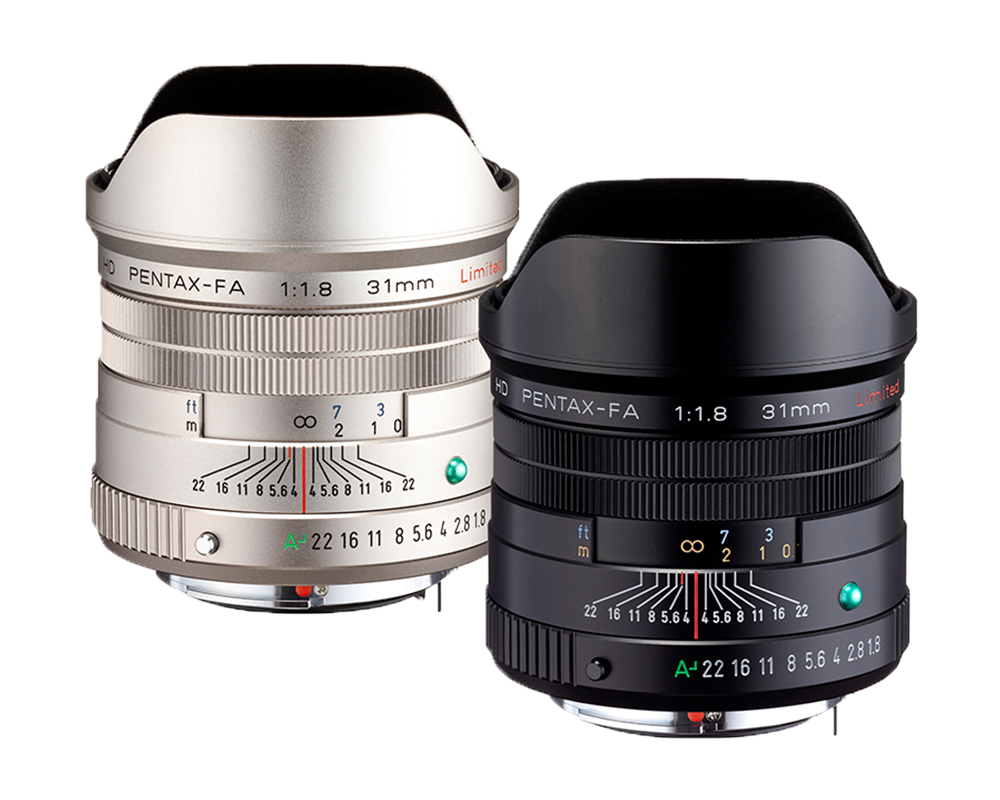 This lens has a focal length of 31mm, which is approximately midway between the conventional 28mm and 35mm wide-angle lenses. This unique focal length draws out the best visual effect of each conventional focal length, depending on the way an image is framed.
The lens features glass-molded, aspherical elements and high-refraction, low-dispersion glass elements to define the main product concept — a lens that delivers sharp, fine-detailed images of small subjects, such as tips of the branches of a bare, leafless in winter.
Thanks to its unconventional focal length, this lens accepts 58mm-diameter filters — a rather large filter size for a compact, wide-angle lens with an open aperture of F1.8.
The lens also features a flower-shaped lens hood, which makes it easier to mount and remove a PL (polarizing) filter. This hood is designed to perfectly integrate with the lens.
While retaining the outstanding optical performance of the smc PENTAX-FA 31mmF1.8AL Limited, PENTAX has upgraded the imaging power by adding HD coating and the round-shaped diaphragm, in the hope that this lens will remain a favorite of PENTAX camera users for many years to come, in both digital and film photography.
Single-focus lens with
43mm focal length to produce
a natural perspective similar to
that of the naked eye
HD PENTAX-FA 43mmF1.9 Limited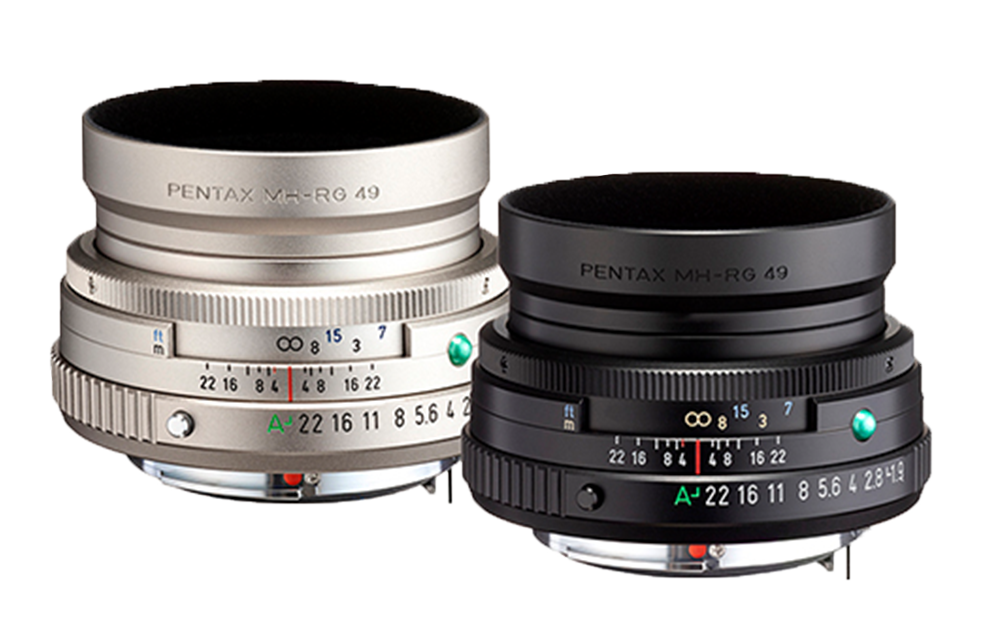 This standard lens has a 43mm focal length, which is equal to the diagonal length of a 35mm-film image area. Its unique focal length captures the image as if seen by the human eye, and produces a natural sense of depth as observed by the naked eye.
Compared with conventional 50mm standard lenses — popular during the golden days of film photography — this 43mm lens provides a slightly broader field of view to more effectively capture modern subjects such as high-rise buildings, wide streets and fashionable cityscapes.
To make the most of the slender lens barrel, this is the only model in the Limited lens series to feature a detachable, screw-in lens hood. Its compact dimensions assure outstanding portability.
In addition to the acclaimed optical performance of the smc PENTAX-FA 43mmF1.9 Limited, this new lens features the PENTAX-original HD coating and a round-shaped diaphragm to further upgrade its imaging power. It also provides a mount pointer with a shippoyaki (cloisonné) finish to standardize the exterior design of the new-generation HD FA Limited series, and also to facilitate the lens-mounting operation.
Designed to faithfully depict
the brilliance of shell buttons
on a white shirt
HD PENTAX-FA 77mmF1.8 Limited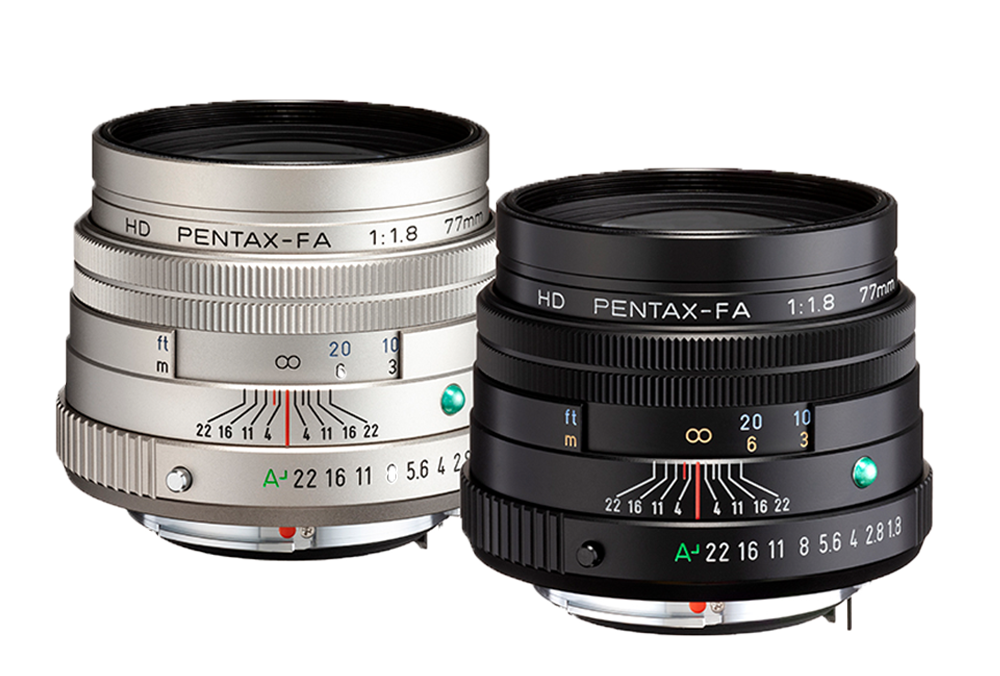 This medium-telephoto lens features a coating which effectively controls spherical aberration at different wavelengths to minimize color bleeding, while greatly reducing internal reflections by applying the most efficient black coating to the interior of the lens barrel. It is designed to faithfully reproduce delicate shades in white subjects, and clearly depict the brightest spot in highlight areas.
At larger apertures close to open aperture, the lens is ideal for portraiture or snapshots of people, because it faithfully reproduces the subtle nuances of the subject, and produces distinctive warm colors. At smaller apertures, it lets the photographer enhance the sharpness and even control the ambience of captured images.
The extendible lens hood is built into the lens barrel to simplify light-shielding and storage operations.
While retaining the distinctive optical performance of the smc PENTAX-FA 77mmF1.8 Limited, the addition of the PENTAX-original HD coating and a round-shaped diaphragm gives this lens exceptional imaging power. PENTAX expects this lens to be a favorite of PENTAX camera users for many years to come, in both digital and film photography.