Shinichi Hanawa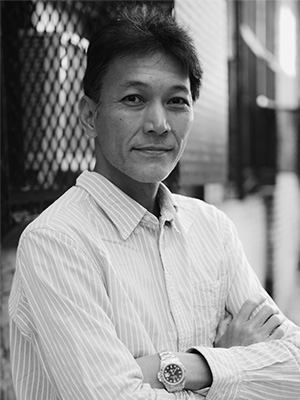 Profile

Born in Tokyo, Hanawa is a freelance photographer capturing people as his main subject. In addition to contributing photos and articles to camera magazines,

he also photographs actors, media celebrities and politicians. His work includes portrait photography captured overseas; snapshot photography of cityscapes; and the Yoru-suna! ("Nighttime Snapshots") project, capturing nighttime city scenes. He has held a number of photo exhibitions.

smc PENTAX-FA 77mmF1.8 Limited
With a focal length of 77mm, this moderate telephoto lens is ideal for portraiture. I sensed, however, that it would also be fun to use it in snapshot photography because of its unique sense of depth and peculiar bokeh (defocus) effect.
The bokeh effect created by this lens is somewhat unique: the effect appears more prominent than with other lenses. That's why I must be careful in composing the image in the camera viewfinder by paying attention not only to the primary subject, but also to the bokeh effect in the background. When successful, I can produce interesting, eye-catching images.
This lens made me realize again that the bokeh effect in the background wasn't the only important feature of moderate telephoto lenses. You must accurately assess the level of the bokeh effect in advance, so you can create an image with a perfect balance between the in-focus subject and the defocused foreground and/or background. The lens delivers an image with a unique sense of depth by combining exceptional focusing accuracy with a unique bokeh effect. I truly enjoy using this lens because it gives me a decision to make — whether to capture the image faithfully as it appears to the naked eye, or to intentionally create a bokeh effect of the desired level.