GR DIGITAL III
Feature 1: Greatest ever GR image quality
The subject may not realize the photo has already been taken. With the GR DIGITAL, that is the kind of quick shooting you will find paired with superb image quality.
The new 28 mm/F1.9 lens features outstanding brightness.
A convergence of sophisticated image processing capabilities and comprehensive shooting functions: GR DIGITAL III.
Sparking an explosion of photographer creativity, a new legend is born.
Seeking the photographer's ideal lens.
28 mm/F1.9 GR Lens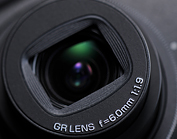 As photography lovers themselves, the developers focused all their passion and creative vision on the creation of a new lens of unprecedented power: the 28 mm/F1.9 GR Lens. If image quality is the priority, set a lower-than-ever ISO sensitivity. If capturing a shutter chance is the priority, set a higher-than-ever shutter speed. F1.9 expands the freedom and scope of your photographic expression.
*

Focal lengths are converted to 35 mm camera equivalents.
Pride of the GR series: Superb optical performance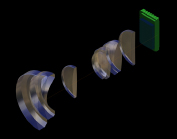 So how was this lens able to control the various types of aberrations that increase as the aperture increases? While maintaining a basic configuration optimized for thin storage, frame aberration was reduced by adding two elements in one group to the rear. In addition, three special low-dispersion lenses were used to achieve high resolution and contrast while minimizing color aberration. The use of two high-precision aspherical lenses made distortion almost unnoticeable. In order to create this ultra-high-precision and high-performance lens, highly precise manufacturing processes and an exclusive control system were newly developed. It was dedication and tenacity that gave birth to this jewel of a lens.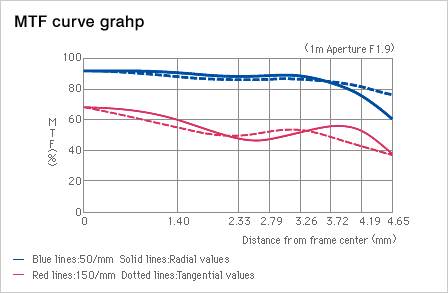 Freedom from ghosts. Superior backlight performance
Ghosting is one of the causes of image quality deterioration. To eliminate the problem, all of the individual lenses that are part of the GR Lens have been covered with the multi-coating optimum for each. To minimize the small residual reflection striking the CCD, we also ran original simulations repeatedly to determine optimum conditions for lens curvature, etc. As a result, we successfully suppressed ghosting, particularly that caused by off-screen light sources such as the sun.
For low-noise, high-resolution images.
GR ENGINE III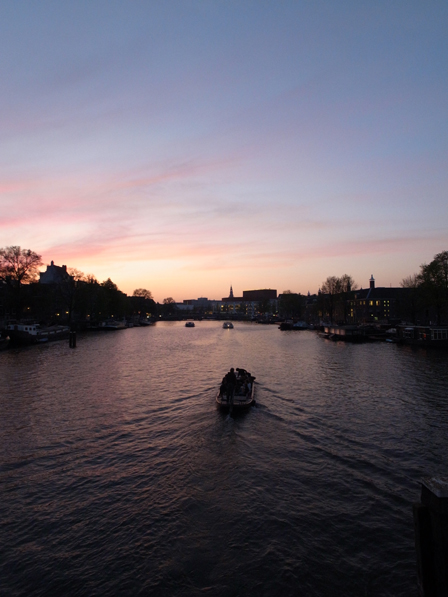 1/34sec, F4, ISO400,Full size photo; no trimming
Newly developed image processing engine GR ENGINE III enables precise noise reduction by processing the signal close to its CCD-output state. Various types of noise are effectively reduced while maintaining resolution and color saturation. Color reproduction and tonal gradation performance has also been significantly improved.
The source of superb image quality.
10 megapixel high-sensitivity CCD and AFE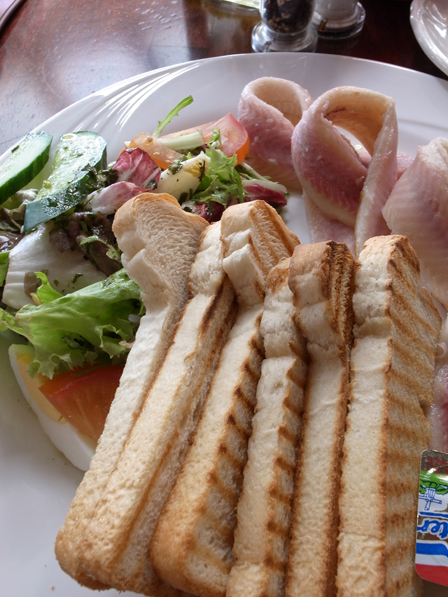 1/39sec, F5.6, ISO100,EV+0.3,Full size photo; no trimming
With the new CCD, rather than increasing the number of pixels, we have about doubled sensitivity compared to the previous model (GR DIGITAL II). Even at ISO 200, imaging performance is at or above the old ISO 100 level. This higher ISO sensitivity makes a clear difference in image quality.
Suppressing whiteout to create "high-reality" images.
Pixel output interpolation algorithm
Control whiteout with the pixel output interpolation algorithm, Ricoh's original image processing technique. Comparing the output of each pixel, the algorithm interpolates image data in whiteout areas. This expands dynamic range by up to +1 EV equivalent. Using this extensive data to generate the JPEG, even for 8-bit (256-tone) images, it is possible to create a more "real" look with less whiteout than in the past.
Effective solution for mixed light sources.
Multi-pattern auto white balance
In scenes mixing multiple light sources—such as sunlight and shadow, ambient light and flash—the optimum white balance of each is determined by segmenting the image. For both subject and background, you get well-balanced coloration closer to what you saw while shooting.