GR DIGITAL III
Feature 3: Freedom of expression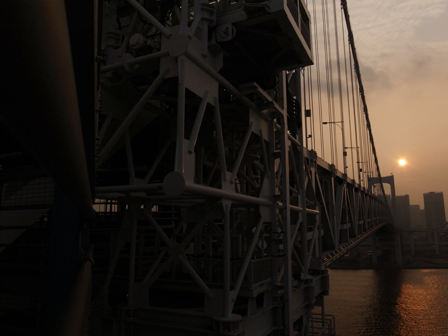 1/1070sec, F8, ISO100, EV-1.0,Full size photo; no trimming
Shutter speed priority AE newly added.
Extensive exposure modes
Shutter speed priority has been added to the existing modes (program shift, aperture priority, etc.). It is useful when you want to manipulate motion, such as when stopping subject movement or creating a feeling of energy in a panning shot.
New macro mode system controls field curvature
Minimum shooting distance is approx. 1 cm. A new system was adopted in which one part of a lens group which does not move during normal focusing is shifted into a special position for close-up photography. This corrects the field curvature that tends to be a problem in close-up shooting with retro-focus wide-angle lenses. The result is superb imaging power across the entire photo.
Images with a naked-eye impression.
Dynamic range double shot
This function prevents overexposure and underexposure in high-contrast scenes. For reproduction of both light and dark areas, two images with different exposures are shot in succession, and the properly exposed portions of each are automatically combined. This expands dynamic range to a maximum equivalent to 12EV, creating an image with a close to naked-eye impression.
*

Please use a tripod. Moving subjects cannot be clearly photographed.

*

Results will vary depending on shooting conditions.
Experience a fresh perspective.
Aspect ratio 1:1 square format mode
Shooting aspect ratio 1:1 photographs, the square format will expand your creative enjoyment with the fresh feel of the framing and the strong subject presence produced by limiting the image field. This format is also convenient for blog use.
Control the final photograph.
Image quality parameters
Individual color settings have been added to the image settings. For each color (orange, green, sky blue, red, and magenta), hue and saturation can be set at five levels so you get the coloration you want. In addition, with the "vivid" setting, you can easily shoot intense high-saturation images.
Follow the trail of light.
Flash synchro setting
The expressiveness of a photograph can change greatly depending on flash timing. If you want to be sure to catch a fleeting portrait expression, select "1st Curtain," and if you want to create a natural light trail in a dark scene, select "2nd Curtain." Even in bright scenes, this can help you record natural-feeling movement for moving subjects.
Freely dramatize light and shadow.
Manual flash amount setting
Flash amount can be set at 12 levels from full flash to 1/64, enabling you to balance flash intensity for both subject and background brightness. The subject's expression and presence can be emphasized while the background is obscured. Fine tune the settings to fit the ambient light conditions and your creative intentions
Fine tune brightness and contract, no PC required.
Level compensation
Image brightness and contrast can be corrected in the camera itself after shooting. With AUTO, you leave the subtle adjustments up to the camera. With MANUAL, you can freely and intuitively adjust brightness and contrast using the histogram. The corrected image is saved as a new file so the original is still available, and the two can be compared.
Increase shooting certainty.
Three types of bracketing
Three automatic bracketing functions are provided. With auto bracketing, you can select exposure intervals from 0.3EV to 0.5EV. White balance bracketing is convenient when precise coloration is important and when shooting with a distinctive light source. Color bracketing enables you to obtain color and black-and-white images for two very different impressions of the same scene. In all cases, the multiple images are generated from a single shot so you can get the feeling you are after without missing any shutter chances.