GR DIGITAL III
Function-enhancing firmware
Third function-enhancing firmware update takes
your GR DIGITAL III to the next level of evolution.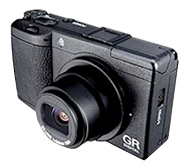 In response to a large number of requests from our users, function-enhancing firmware has been made available for download from the Ricoh homepage from November 2009.

Ricoh's function-enhancing firmware updates are developed in response to opinions and requests received from a large number of customers via surveys submitted at customer registration time. These updates enable customers who already own a GR DIGITAL III to update their firmware to include the latest functions, thus making it possible for them to enhance the performance and usability of their cameras by adding new function and setting possibilities.
The firmware updates can be downloaded by clicking the "Download" button at the bottom of this page.
※

This function-enhancing firmware update version is Ver.2.50. Check your current firmware version before updating. For details on how to check your current firmware version and how to update the firmware, please read this PDF manual.
Function-enhancing firmware Ver.2.50
October 21,2011

Addition of contrast bracketing
You can automatically record three images with different contrast settings. The contrast can be adjusted on a five-level scale.

Expansion of ADJ. control settings
You can assign five functions to the ADJ control (currently four). The assigned functions can be directly changed without going through the menu screen.

Addition of ISO [AUTO-HI] setting function
When using ISO [AUTO-HI], you can specify settings for switching the maximum ISO and for the point (shutter speed) for changing ISO sensitivity.

Addition of vignetting setting function for high contrast B&W
For high contrast B&W, you can adjust the vignetting. The vignetting setting options are off, weak, and strong.

Support for the GL-1 metal lens cap (with power button lock mechanism)
This firmware addition provides support for the power button lock mechanism of the GL-1 metal lens cap, which is a new option to be introduced in mid-October 2011.This prevents the problem of unexpected extension of the lens since the lock function is in effect if the power button is pushed.
Function-enhancing firmware Ver.2.30
March 28, 2011

Addition of Target Follow AF Function
By half-pressing the shutter button and following the set subject, this function continues to adjust to the subject position so that the subject is in focus at precisely the moment you want to shoot.

Addition of "AF/Target Follow AF" switching function to the Fn. button
"AF/Target Follow AF" is added as one of the functions that can be registered to the Fn (function) 1 or Fn2 button. If the focus method is set to "multi AF", "spot AF", or "Target follow AF", the focus method can be switched between "multi AF" and "Target follow AF", or between "Spot AF" and "Target follow AF".

Addition of setting change function to ADJ. lever for scene mode
When shooting in a scene mode such as "dynamic range double shot", "cross process", or "high contrast monochrome", the new function enables the ADJ. lever to be used to change settings such as ISO sensitivity and image quality.

Addition of a selection function to the white balance manual setting capture area
When setting the white balance manually, the capture area used as the standard for white balance can be selected from "Entire frame" or "Spot".

Electronic level display for self-timer
When using the self-timer, the electronic level continues to be displayed after the self-timer is started.
Function-enhancing firmware Ver.2.20
October 8, 2010

Addition of "high contrast B&W"
Shoot black and white photos with higher than normal contrast. This makes it possible to create images with a grainy feel such as that created by using ultra-high-sensitivity film in a film camera or by push processing film at the development stage.
Addition of "cross process"
Shoot photos with colors that differ markedly from those in normal photographs in a way that resembles the film photo technique of "cross processing." You can choose a color scheme (basic, magenta, or yellow) and also adjust the vignetting and contrast.
Addition of "screen magnification ratio (MF)" function
You can change to a magnification ratio of 4:1 (currently 2:1) for the screen display when using manual focus (MF).
Addition of "My Setting delete" function
You can delete the My Settings registered for the mode dial and My Setting Box.

Addition of "key custom setting initialization" function
The customized settings for the Fn button, ADJ. lever, and other functions contained on the key custom settings tab can be initialized (set back to their initial values).
Note: The settings defined in "My Setting registration" are not initialized.
Function-enhancing firmware Ver.2.10
May 19, 2010

Noise reduction performance enhancement
The MAX setting has been added to the noise reduction settings. When MAX is specified, the image data's noise distribution is analyzed and the optimum processing is done for each region of the image, thereby increasing image quality in low-light scenes.
Auto bracketing setting change
When shooting with auto bracketing it is possible to specify exposure variations of up to 2.0 EV. In addition, the change sequence can be specified for each shot.

Image trimming
An image displayed in playback can be trimmed and saved as a separate file. It is also possible to trim an image's proportions to aspect ratio 1:1 (square).

Two "incandescent lamp" settings for white balance
There used to be just the "incandescent lamp" setting for white balance, but now there are two settings: "incandescent lamp 1" and "incandescent lamp 2." Compared to "incandescent lamp 1," "incandescent lamp 2" gives the image a slightly more reddish cast so it is the equivalent of the old "incandescent lamp" setting.
Auto shutter speed shift function
In cases where the image will be overexposed or underexposed when in shutter speed priority mode, if this setting is on, the camera automatically adjusts the shutter speed to give a suitable exposure.
Function-enhancing firmware Ver.2.00
December 1, 2010

External flash GF-1 compatibility
When the GF-1 external flash (release date December 4) is connected, it is possible to switch to flash mode by pushing the flash button.
*During interval shooting, even if the GF-1 or some other external flash is connected, it will not flash.

Addition of function for playback by date
When the 81-frame view is displayed in playback mode, pushing the thumbnail display button again changes to a view sorted by date.
Addition of paging function for multi-frame views
When using multi-frame views (20-frame, 81-frame, or date sequence), it is possible to switch between the image selection screen and the paging screen.

Menu paging function
When displaying the shooting menu, the setup menu, or items selected in "Edit My Settings," it is possible to switch pages using the zoom button.

Addition of new focus distance when snap is selected
The setting choice "1.5 m" has been added to the snap focus distances of the shooting menu.

Addition of "ADJ. ISO direct change" function
The "ADJ. ISO direct change" function has been added to the setup menu. If it is set ON, in situations where shooting is possible, moving the ADJ. lever right/left changes the ISO sensitivity.