GR DIGITAL III
System diagram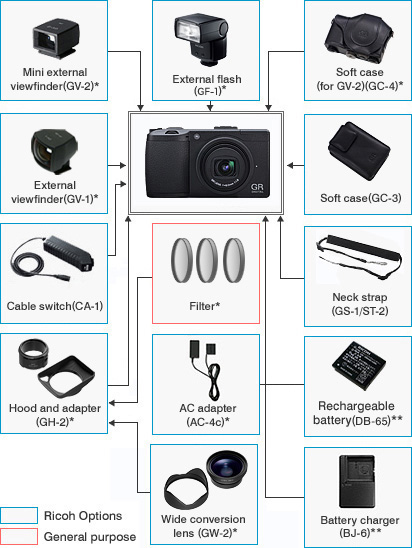 *

Hood & adapter are required (43mm diameter filter). Inquiries should be directed to the original manufacturer.

*

When utilizing the external viewfinder, a larger portion of the view is blocked when a conversion lens or the hood is attached.

*

When a conversion lens or the hood is attached, the camera's built-in flash cannot be utilized.

*

Optional flash units will not fire during interval shooting . Use the built-in flash.

**

Included with the camera
GR DIGITAL III Optional Accessories
Accessory Name

External Viewfinder GV-1
Mounted on hot shoe. Includes 21 mm- and 28 mm-equivalent frames (35 mm film equivalent). Includes case.
Mini External Viewfinder GV-2
Mounted on hot shoe. Includes 28 mm-equivalent frame (35 mm film equivalent) incorporating 1:1 aspect ratio marks. Includes case.
Wide conversion Lens GW-2
0.75x wide conversion lens. Takes 21 mm-equivalent images (35mm film equivalent) Hood and Adapter are also required to use this lens. Includes case.
Hood & Adapter GH-2
Set includes a hood to prevent sunlight from hitting the lens and an adapter for use when attaching diameter 43 mm general-purpose filters, etc.
AC Adapter AC-4c
Used to supply power to camera from a household electrical outlet. Please use in situations such as when transferring images to a PC, when doing playback for a long period, etc.
Neck strap GS-1
Two-point neck strap. Identical to ST-2 but incorporating an embroidered RICOH logo.
Neck strap ST-2
Two-point neck strap. Identical to GS-1 but incorporating an embroidered RICOH logo.
Soft Case (For GV-2) GC-4
leather camera case which can be used while the GV-2 Mini External Viewfinder is mounted on the camera. Photographs can be taken while the bottom part of the case is attached to the camera. (No belt loop.)
Soft Case GC-3
A compact leather camera case with a belt loop attached. The camera cannot be put in the case when an external viewfinder is mounted.
GR Bag GB-1
Convenient for everyday use, this bag is large enough to hold a variety of small objects. Made of high-grade cowhide, the luxury feel increases with use. Inside there is a removable cushioned box, and outside a multi-purpose pouch and a GR DIGITAL logo tag are attached (both can be detached).
Rechargeable Battery DB-65
A lithium-ion rechargeable battery. Battery charger BJ-6 is needed to charge this battery.
Battery charger BJ-6
A charger exclusively for the DB-60/DB-65 rechargeable battery.
Cable switch CA-1
This is a cable switch to operate the camera shutter.
This switch can do both half-press and one-push.
External flash GF-1
This external flash can do TTL flash using pre-flash. When the wide-angle diffuser panel is used, a coverage angle equivalent to 18 mm is possible. Uses four AA batteries.
*

When the Mini External Viewfinder is used, if a conversion lens or hood is also attached, a larger portion of the viewfinder view will be blocked.

*

When a conversion lens or the hood is attached, the camera's built-in flash cannot be utilized.

*

Optional flash units will not fire during interval shooting . Use the built-in flash.