Digital SLR Cameras: K-x
Fine image quality, multiple
functions and top performance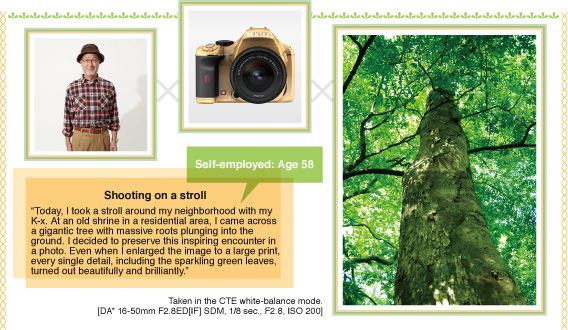 Super-high sensitivity at ISO 6400
When shooting in dimly lit locations, a major concern is camera shake and subject shake. The K-x solves this problem by letting you raise the sensitivity to as high as ISO 6400 (or ISO 12800 when expanded via a custom function) so that a faster shutter speed can be used to avoid camera shake and subject shake. At the same time, the newly developed PRIME II imaging engine minimizes the noise generated during high-sensitivity shooting, assuring high-quality, true-to-life images even under poor lighting conditions.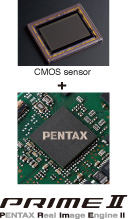 New CMOS image sensor with 12.4 effective megapixels, teamed with the PRIME II imaging engine
Thanks to the outstanding image resolving power assured by approximately 12.4 effective megapixels, the K-x produces high-resolution, fine-detailed digital images that can be enlarged to extra-large prints without compromising image quality. By coupling the new CMOS image sensor offering high-speed image data readout with the high-performance PRIME II imaging engine providing high-speed data processing, the K-x assures both quick response and faithful reproduction of the subject's texture and gradation.
In-body SR (Shake Reduction) mechanism
The K-x comes equipped with the PENTAX-original SR (Shake Reduction) mechanism, which effectively minimizes annoying camera shake for sharp, crisp images. Compatible with all PENTAX interchangeable lenses, this innovative mechanism compensates the adverse effect of camera shake by as much as approximately four shutter steps. It is especially useful for conditions prone to camera shake, such as when shooting in the dark or when using a telephoto lens.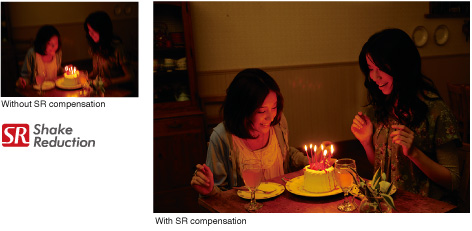 High-speed shutter with a top speed of 1/6000 second
With its top shutter speed of 1/6000 second, the K-x lets you freeze the decisive moment of a fast-moving subject, or use a large aperture to throw the background out of focus under bright sunshine.
Effective compensation of highlights and shadows
The K-x's highlight compensation function lets you faithfully reproduce the texture of a highly reflective material by compensating for overexposed, white-washed areas. Its shadow compensation function likewise eliminates underexposed, blacked-out areas caused by strong backlight or excessive brightness difference within an image field. In both cases, the dynamic range is expanded to express a broader range of gradation.

Versatile white-balance control
The K-x offers eight preset modes for white-balance control: Auto, Daylight, Shade, Cloudy, Fluorescent light (with four color variations), Incandescent light, Flash, and CTE. Working in a completely different way from AWB (auto white balance), the new CTE mode is designed to dramatize images such as sunset scenes. It is also useful in faithfully reproducing subtle colors, such as fresh greens of trees and faint pinks of cherry blossoms in a landscape, to produce vibrant, color-rich images.

High-speed, high-precision 11-point AF system
The K-x's 11-point wide-frame autofocus system assures speedy, accurate autofocusing on the subject. It offers three AF sensor options: automatic five points, user-selected point, and center point.
Note: The AF system works in both viewfinder and Live View shooting. During Live View shooting, the Live View display is momentarily turned off during AF operation.
Dust removal and dust alert
Annoying dust spots can ruin your photographic masterpiece. That's why the K-x's CMOS image sensor is treated with SP (Super Protect) coating to minimize the adhesion of dust to the sensor surface. Even when a few dust particles are still clinging to the sensor surface, the dust alert system lets you easily identify them on the LCD monitor. In such cases, simply activate the dust removal system to shake them off the image sensor.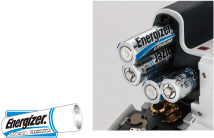 Dependable battery supply for recording of approximately 1,900 images
Since the K-x is powered by four world-standard AA-size batteries, you can concentrate on picture-taking without worrying about unexpected battery shortage, even on the road. With a fresh set of lithium batteries, you can capture as many as 1,900 images.
HDR images made easy
Sophisticated HDR (High Dynamic Range) processes normally require the use of a personal computer and specialized software. The K-x's HDR (High Dynamic Range) function,* however, makes it easy and simple. By capturing the same scene at different exposures and synthesizing them into a single image, it lets you produce a visually impressive image with an extra-wide dynamic range impossible to produce with standard shooting processes.
* Images must be recorded in the JPEG recording format. The HDR function is not available during RAW-format shooting.
Lens aberration compensation
(available with DA-, DA L- and D FA-series lenses)
This new function lets you effectively and effortlessly compensate for barrel- and spool-type distortions common to wide-angle and zoom lenses and lateral chromatic aberration causing color bleeding, allowing you to produce beautiful images with edge-to-edge sharpness.
Fine image quality, multiple
functions and top performance