Digital SLR Cameras: K-x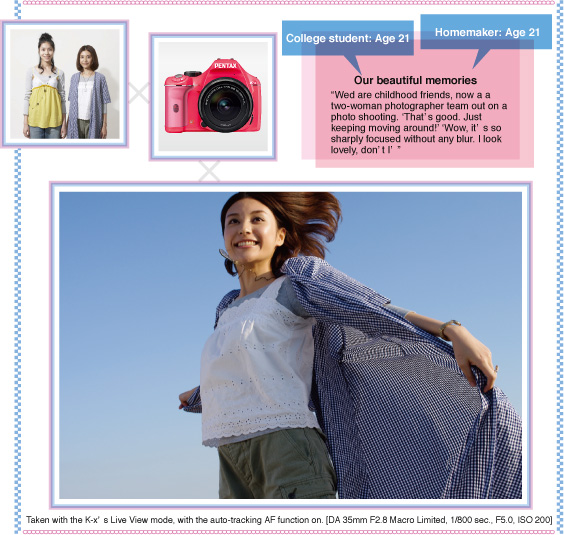 High-definition-TV-proportioned movie recording
Thanks to the outstanding optical performance available only with digital SLR cameras, the K-x's movie recording function lets you capture beautiful, true-to-life movie clips with smoothly obscured backgrounds and natural description of dimly lit scenes. What's more, you are free to select any of a wide selection of PENTAX interchangeable lens — even fish-eye or super-telephoto — to add distinctive visual effects and unique perspectives to your movies. You can even record voices and sounds with a built-in monaural microphone* to more faithfully preserve the prevailing atmosphere.
* When the camera's audio recording function is activated, unwanted sounds such as the camera's action noises may also be recorded.
High-speed continuous shooting at 4.7 images per second
When you want to capture the decisive moment of a moving subject, use the K-x's continuous advance mode. It lets you shoot a series of images at a speed of approximately 4.7 images per second, and up to approximately 17 images in a single sequence (in the Best image quality of the JPEG recording format).

Live View mode with Face Detection AF function
The K-x's Live View mode simplifies low- and high-angle shooting, which are more difficult when using the camera's viewfinder. In fact, it's as simple and easy as using a live-view-equipped digital compact camera. The K-x also offers a sophisticated Face Detection AF function, which automatically detects and assures pinpoint focus on up to 16 faces in the image field. This is extremely useful when taking snapshots and commemorative photos of a large group.