Digital SLR Cameras: K-x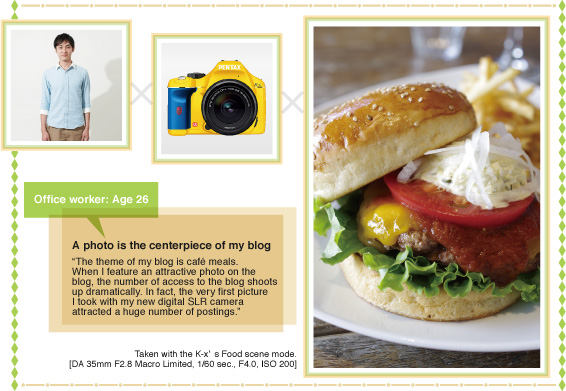 Versatile Auto Picture mode
The K-x features a sophisticated Auto Picture mode that lets you capture beautiful images with minimal effort regardless of the subject — whether it's a person, distant landscape or some kind of action. As soon as you press the shutter-release button, the K-x automatically and instantly select the most appropriate Picture mode (from Portrait, Landscape, Macro, Action and Night Scene Portrait) for a given subject or situation to produce a beautifully exposed, accurately focused image. What's more, its Face Detection AF function can be activated during live-view shooting, capturing the main subject's face with pinpoint accuracy.

Compact, lightweight body with simple operation
The K-x incorporates a host of advanced features in a compact, palm-sized body. Coupled with a lightweight zoom lens included in the kits, you can comfortably carry it with you everywhere and on every occasion. Most of control buttons are ideally positioned for effortless single-hand operation.

Scene modes
When you choose one of the scene modes, the K-x automatically adjusts all essential camera settings, including exposure level, for you. With the Kids scene mode, for instance, the camera not only activates the auto-tracking AF mode and switches the advance mode to continuous to capture sharply focused images of an active child, but also adjusts exposure and other settings to produce healthy, adorable skin tones.