Digital SLR Cameras: K20D


A newly developed CMOS image sensor with 14.6 effective megapixels assures breathtaking, super-high-resolution images
Resolution is a very important factor in deciding the truthfulness of captured images. True-to-life images are the ones that let you sharply and vividly relive the excitement and atmosphere of memorable moments.

The PENTAX K20D comes equipped with a newly developed CMOS image sensor with an astonishing 14.6 effective megapixels. Assuring the fine image quality, it records the world right in front of you with impeccable accuracy and clarity. Its super-high resolution also gives you a definite advantage when cropping captured images or making them into large-size prints. Developed from PENTAX's unceasing pursuit of higher image quality, the K20D is a state-of-art digital SLR camera providing totally new photographic experiences in digital photography.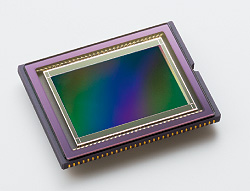 Advanced CMOS image-sensor technology harmonizes 14.6-megapixel power with high sensitivity and high image quality
It has been commonly thought that an image sensor with a higher number of pixels improves resolution, while this higher number results in a smaller pixel size and eventually causes a deterioration in image quality. PENTAX found an effective solution to this problem, with the development of a new CMOS image sensor. Although it features approximately 14.6 effective megapixels, it assures high sensitivity and excellent image quality, giving the K20D the outstanding descriptive power to capture and reproduce even extremely subtle differences in light and shade.

Technology that faithfully reproduces the quality of light
In addition to a set of photo diodes, the CMOS image sensor is packed with a number of circuits and components, including transistors and wires. That's why the light-sensitive area of each photo diode (or pixel) has been limited in conventional CMOS image sensors. With the K20D's new CMOS image sensor, the latest semiconductor technologies were applied to minimize the space taken up by wires and circuits. In doing this, it succeeded in retaining a large light-sensitive area despite a reduction in pixel size. As a result, the CMOS image sensor balances the two conflicting factors — 14.6-megapixel descriptive power and image quality — at the highest level. This lets you faithfully express even the most delicate light in your images.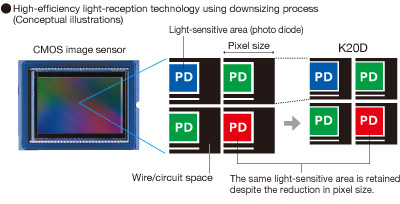 Technology that assures super-high image quality from edge to edge
To accurately lead the light reaching the CMOS image sensor diagonally to the light-sensitive area (or photo diode), a micro-lens is installed in front of each pixel. Theoretically speaking, the shorter the distance between the micro-lenses and the photo diodes, the higher the light-reception efficiency, and a short-gap design contributes to a considerable improvement in image quality, particularly at the edges of the image field. In developing the new CMOS image sensor, PENTAX successfully achieved this goal by minimizing the space required for the circuits. At the same time, the size of the micro-lenses has been maximized to eliminate gaps between the pixels. As a result, the new CMOS image sensor detects all incoming light, no matter which direction it comes from, with great accuracy and efficiency, assuring edge-to-edge sharpness and true-to-life description in every image.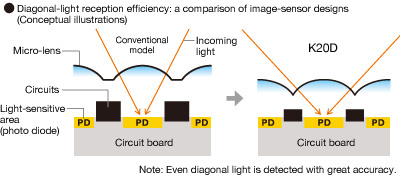 Technology to assure high-quality image reproduction with every lens
Including the top-of-the-line the DA Star series, all smc PENTAX interchangeable lenses exclusively developed for digital photography feature an advanced optical design that leads the light at a proper angle to each pixel, even at its peripheral areas. On the other hand, conventional lenses designed for film photography lack this advantage. The K20D's new CMOS image sensor is designed to receive the incoming light at optimum efficiency and accuracy even with these film-format lenses. As a result, coupled with the in-body SR system, it optimizes the benefits and performance of an optical design in every PENTAX lens that the K20D accepts.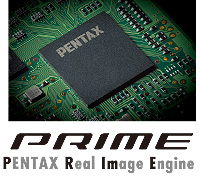 The high-performance PRIME imaging engine faithfully reflects your photographic intentions in high-quality images, and opens up new dimensions in artistic expressions
If the CMOS image sensor is considered the retina of a digital camera, the imaging engine is its brain. Employing an advanced 90nm semiconductor process, the PRIME (PENTAX Real Image Engine) assures both high-speed data processing and low power consumption. Its DDR2 memory chip also provides high-speed, 800MB-per-second data transmission. This means that PRIME provides natural, true-to-life images with high resolution, rich gradation and low digital noise. PRIME is the key to the K20D's high-quality images, with a delicate, intricate expression of light and color.
Digital-noise reduction technology using the CMOS image sensor and PRIME
The CMOS image sensor is designed to maximize sensitivity by reading out image-data signals from each individual pixel and amplifying them on a line-by-line basis. The K20D incorporates a comprehensive noise-reduction system in this amplification process. The PRIME imaging engine is also equipped with its own noise-reduction algorithm. Developed by applying PENTAX's years of experience and expertise, this algorithm is designed to effectively minimize digital noise without causing any deterioration in resolution or gradation. Thanks to this comprehensive noise-reduction system, the K20D offers both high sensitivity — with a top standard output sensitivity of ISO 3200 (or ISO 6400 when the expanded sensitivity mode is selected) — and high image quality.

Dynamic-range expansion produces natural, lively images in high-contract settings
Conventional digital cameras struggle to deliver beautiful images in high-contrast scenes, because it is extremely difficult in such settings to avoid both washed-out highlights and pitch-black shadows with a single exposure adjustment. Compounding the problem is the fact that white-washed highlights are impossible to save — even with the assistance of advanced image editing or retouching applications — because they carry no image data to begin with. The K20D is, however, ready to solve this problem by expanding its dynamic range.
The peak level for highlights can be expanded by approximately one EV step* to prevent washed-out areas, while improving gradation in these areas. Keeping with PENTAX's design concept of delivering natural, high-quality images, shadows are also compensated to produce a natural look. As a result, the K20D delivers lively, true-to-life images with an extremely smooth gradation transition from shadows to highlights — a beautiful transition only film cameras could offer previously.
* When the dynamic range is expanded, the ISO sensitivity range is automatically switched to ISO 200 to ISO 6400.

A choice of two noise-reduction functions assures beautifully defined shadows
The K20D offers finely defined shadows by optimizing the level of noise reduction in relation to resolution and gradation. For the most discerning photographers, however, it also comes equipped with two different noise-reduction functions, which can be flexibly applied from situation to situation.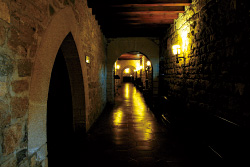 High-ISO Noise Reduction
This function is designed to reduce the noise when a high sensitivity level is selected. When activated, it offers three noise-reduction levels, so the photographer can choose a best balance between the resolution and a level of grainy noise reduction, depending on a creative intention or a given subject/scene.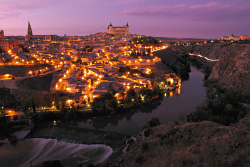 Slow-Shutter-Speed Noise Reduction
This function is designed to reduce the noise that can occur during extended exposures. In addition to the auto mode, in which the K20D automatically judges whether it should be used, the photographer can also choose, via a custom function, to activate this function every time a slow shutter speed is selected. This function is particularly useful in such applications as nighttime shooting and astronomical photography, where shadow areas often suffer coarse texture and inconsistent color reproduction.