GR DIGITAL IV
[Design and Expandability] A camera worthy of your devotion and trust.

Flash Playerをダウンロードしてください。

The perfected GR Design for going after every instant
"Fits in your pocket." "You can hold it steady even with just one hand." The GR DIGITAL IV supplies many features as it carries on a GR design that has earned raves from customers. Both the shape that fits comfortably in the hand and the superbly balanced GR grip remain unchanged in the new model. It produces a sense of security for those people who have grown accustomed to past GR DIGITAL cameras and the feeling of a comfortable hold for new users.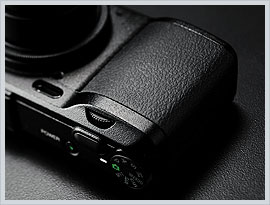 Magnesium body, both light and strong
We used a magnesium alloy that makes the body both light and highly rigid. It has the durability to withstand both shocks as well as being carried around every day. The camera also has excellent heat radiation and magnetic shielding characteristics. It produces a camera worthy of your devotion and trust for years to come.
Full range of system accessories, allowing for varied uses of the camera
We have retained compatibility with the existing 21-mm wide conversion lens (GW-2), external flash (GF-1), the 21-mm/28-mm-equivalent external viewfinder (GV-1), and the 28-mm-equivalent external mini-viewfinder (GV-2). System updates make it possible to address a variety of fields of expression and photography styles. We have also developed a new metal lens cap (GL-1) for improving portability. The cap is useful not only for protecting the lens, but it also prevents the problem of the lens unexpectedly extending while in motion due to the power button lock feature. A new genuine leather hand strap (GS-2) is also available. We have created an even fuller range of accessories.
*

A soft case (GC-3 or GC-4) cannot be used when the metal lens cap (GL-1) is attached.

*

The hood and adapter (GH-1), 21-mm wide conversion lens (GW-1), 40-mm teleconversion lens (GT-1), cable switch (CA-1) and soft cases (GC-1, GC-2) cannot be used.
The improvements continue even after the camera is in your hands. Function-expansion firmware
We supply firmware that expands the product's features. Updating the firmware means you can always make use of the latest features. Furthermore, with the GR DIGITAL IV it is now possible to check the version of your firmware and perform updates from the Setup menu.
Customize service
For the GR DIGITAL IV you have purchased, the following customizing services are available.

You can change the grip to one of your own choosing by paying a fee; options include wood grain, carbon, and leather-styled grips (all synthetic resin products).
This service is only available in some areas, with a limited supply of replacement grips.
Regarding the details on this service (availability, charge, or service procedure, etc.), please contact the local service directly.
Local Contacts
Asia, Australia, New Zealand, South Africa, U.A.E.
(RICOH Hong Kong website)