GR DIGITAL IV
[Power of Expression] Stimulating your desire to create something new.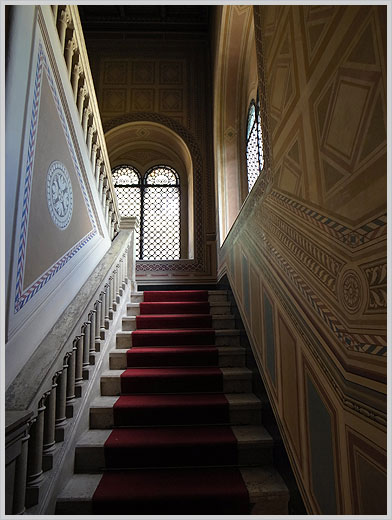 1/30sec, F2.8, ISO200, EV-1, WB:AUTO,
With use of GW-2, no trimming
Further improvements for features that prevent overexposure and underexposure.
Ricoh's image processing technology and pixel interpolation algorithms are used to control overexposure. By comparing pixel outputs and then predicting and interpolating image data in the overexposed area, the dynamic range has been expanded by as much as +1 EV. We have also added a new Dynamic Range Compensation feature that serves to expand dynamic range. It improves the richness and smoothness of gradations for everything from highlights to dark sections.

This is a new feature added to the GR DIGITAL IV. It suppresses overexposure and underexposure by automatically dividing up the image and performing Contrast Correction on each area. It is also useful when it comes to moving subjects like animals and in handheld photography because the corrections can be done with a single shot. The user can select from Weak, Medium, and Strong.

This feature allows you to take a series of two images with different exposures and combine the parts of each that are properly exposed. It can produce a brightness that is close to what you see with the naked eye in everything from light areas to dark areas, even for backlit scenes where the range between light and dark is considerable. You can choose from Weak, Medium, and Strong.
*

When shooting with dynamic range double shot, please be sure to use a tripod. Subjects that are moving cannot be photographed clearly.

*

The way the effect appears will differ depending on conditions.
Enhanced auto-bracket functions
In addition to the existing settings for exposure and white balance, the camera now includes settings for Contrast Bracket and Dynamic Range Compensation Bracket as well as an Image Setting Bracket feature that allows you to record a sequence of three shots with two image settings of your choice. This eliminates the need to bother with changing photo settings manually. You can continue to take photographs with comfort, just concentrating on the subject.
A new scene mode for capturing star trails against a landscape.
In addition to Dynamic Range, Skew Correction, and Movie,
Interval Composite mode has been added to the list of scene modes.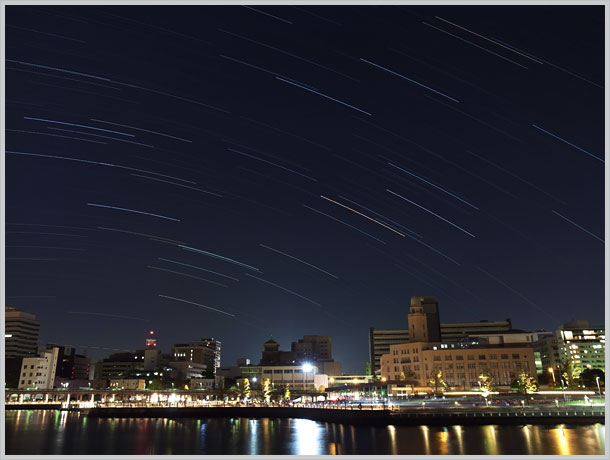 6sec, F2.8, ISO100, EV±0, WB:MANUAL, 262shots, no trimming

Take a series of photos of the night sky at a fixed interval. The camera selects and combines only the high-intensity pixel data from each of those images. This is very effective for when you want to combine the trails of the stars and the moon with a landscape. You can also save copies of the images separately before combining them.
Featuring two new modes. Enhanced image setting modes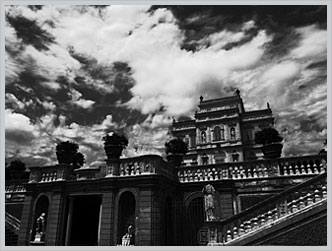 1/800sec, F8, ISO100, EV-0.3
WB:AUTO, High Contrast B&W, no trimming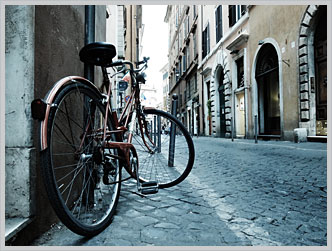 1/20sec, F6.3, ISO200, EV-0.3
WB:AUTO, Bleach Bypass, no trimming
Two new modes have been added to Image Settings*. The first is Positive Film, which will recall a famous type of film used in the past. The second is Bleach Bypass, with which you can create low chroma, high contrast silvered images. The camera also has standard settings such as High Contrast B & W which gives images the flavor of dramatic monochrome prints and Cross Process for creating unique color combinations. You can apply these image settings regardless of the exposure control mode in use. The breadth of your creations will expand.
*

Vivid, Standard, B & W, B & W (TE), Setting 1/Setting 2, High Contrast B & W, Cross Process, Positive Film, Bleach Bypass
Multiple Exposure Shooting, making composite photographs easy and fun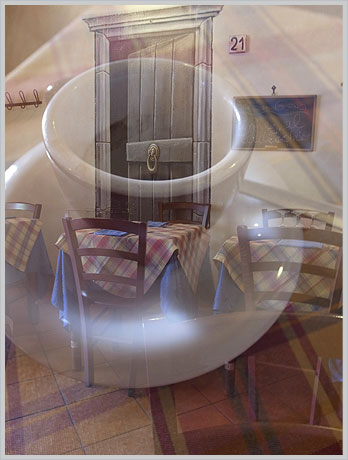 1/5sec, F4, ISO100, EV-1.0, WB:AUTO,
Multiple Exposure, no trimming
A new feature with this model is the ability to combine up to 5 photos. Have fun getting creative with your photos by creating drama through combining shots of different scenes into a single image. You can adjust the settings in detail as necessary, such as automatically adjusting the amount of exposure in accordance with the number of snaps, saving each image separately before combining, and saving images when combining. You can also use the Retake shot option immediately after you take a photo, allowing you to get the photo you imaged with ease.
Now even bulb shooting is available with Exposure control modes
The exposure control modes are Auto, P (program shift), A (aperture priority), M (manual exposure), and S (shutter priority). Maximum set exposure speed is 1/2000 of a second. With the GR DIGITAL IV, it is now also possible to set B (bulb) and T (time) for M mode,* giving you more freedom in making your exposure settings. When set to B, exposure continues while the shutter-release button is pressed. When set to T, exposure begins and ends when the shutter-release button is pressed.
*

Can also be operated using cable switch CA-2 (optional).

*

The time can be set for a maximum length of 180 seconds.
High-quality macro mode, for minimizing field curvature
Minimum shooting distance of approximately 1 cm. You can photograph an approximately 26 × 19 mm area to fill the screen. When using Macro Mode, some of the lens groups that do not move during normal focusing move to a specific position for near-distance photography. This is an original, image quality priority feature that corrects field curvature during near-distance photography. In Macro Mode, thanks to improvements in the algorithm, the autofocusing speed has been cut by up to half compared to the GR DIGITAL III. Focusing is more pleasant than ever.
Choose the best finish by yourself. Free image settings and level corrections
The range for making adjustments to contrast, sharpness, and so forth for each image setting has been increased (to 9 steps). This allows you more freedom than ever in creating your works. In Playback mode, Level Compensation enables adjusting the brightness and contrast of the photos you have taken in the camera itself. Use Auto to leave it up to the camera to make minute adjustments. By setting it to Manual, you can work with a histogram to adjust the brightness and contrast immediately and freely.
Fastidious when it comes to the uses of light: A small and sophisticated internal flash
The internal flash is a manually operated pop-up type. The dimming range is approximately 20 cm to 3.0 m (ISO Auto). It has a full range of modes, including Auto, Flash Synchro., and Manual Flash. You can also adjust the shade and shadow balance more finely using Flash Compensation (-2.0 to +2.0 EV) and Manual Flash (12 steps, from Full to 1/64). For the synchronization timing, you can choose either the normal [1st Curtain] setting or the [2nd Curtain] setting that can render the light traces of moving objects naturally.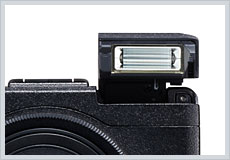 Four-mode Aspect Ratio settings allow choosing what you want to express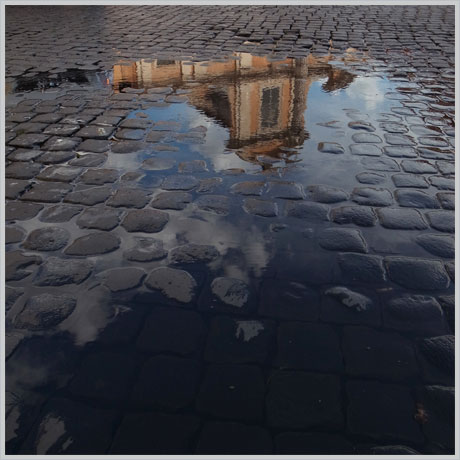 1/500sec, F4, ISO100, EV-0.7, WB:AUTO, no trimming
Now a 16:9 aspect ratio is available in addition to the existing 4:3, 3:2, and 1:1 settings. This is useful for giving a photo an expression with a sense of width. Using this, you can also display and enjoy photos with a ratio matched to the screen when playing them back on high-definition-capable computer screens and televisions.