GR DIGITAL IV
Function-enhancing firmware
First function-enhancing firmware update takes
your GR DIGITAL IV to the next level of evolution.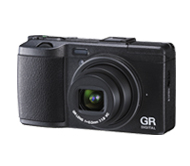 In response to a large number of requests from our users, function-enhancing firmware has been made available for download from the Ricoh homepage from February 2012.

Ricoh's function-enhancing firmware updates are developed in response to opinions and requests received from a large number of customers via surveys submitted at customer registration time. These updates enable customers who already own a GR DIGITAL IV to update their firmware to include the latest functions, thus making it possible for them to enhance the performance and usability of their cameras by adding new function and setting possibilities.
The firmware updates can be downloaded by clicking the "Download" button at the bottom of this page.
※

This function-enhancing firmware update version is Ver.2.21. Check your current firmware version before updating. For details on how to check your current firmware version and how to update the firmware, please read this PDF manual.
Function-enhancing firmware Ver.2.21
January 30, 2013

Adds Auto setting to Dynamic Range Compensation function
In addition to the existing Weak, Medium and Strong settings, the camera now provides an Auto setting that automatically adjusts the level of dynamic range compensation for a given subject.

Improves Noise Reduction function at high ISO
Thanks to a new algorithm, the camera's Noise Reduction function can reduce chromatic noise more effectively during high-sensitivity shooting at ISO 2500 or higher, when the noise reduction level is set at MAX.

Add New Playback Zoom function to center a subject captured with Target Selection function
In the Playback Zoom mode, a subject captured with the AE/AF Target Selection function is automatically centered in the magnified on-screen image, even when it is positioned off-center in the original image.
Function-enhancing firmware Ver.2.10
February 27, 2012

Adds Function for Including Copyright Notice
Inputted copyright information is recorded to the image's Exif data when a picture is taken. Up to 46 alphanumeric characters can be recorded, and the information can then be checked in the detailed file information on the camera's playback screen.

Improves Auto Exposure Speed
The speed of auto exposure control has been improved, making selection of the proper exposure smoother.

Adds Function for Saving Snap Focus Distance at Time of Shutter Release to the ADJ. lever and Fn button
The snap focus distance at the time of shutter release can now be saved to the ADJ. lever or the Fn button.
The setting can be changed without having to go the menu screen.

Adds Function for Displaying Photo Information for Interval Composite Photos
For photos taken using the Interval Composite mode, this function enables a display of shooting times from start to finish, as well as the number of composite images in the detailed information displayed on the playback screen.

Adds Floating Black level adjustment function for Interval Composite Mode Shooting
The "Floating black level adjustment" function can be turned On or Off (default setting is on); if set to On, it can reduce noise at high sensitivities.