GR DIGITAL IV
[Operability] A camera in tune with your intentions.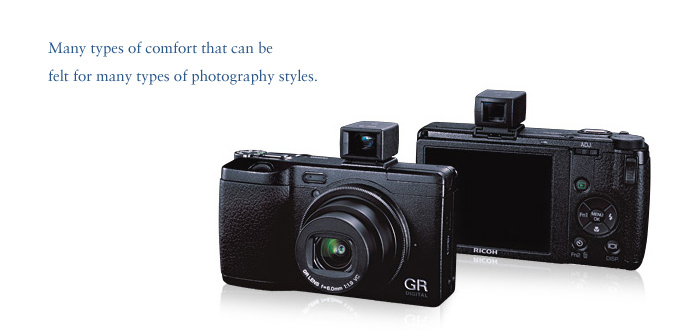 New electronic level for informing the horizon and of roll and pitch direction.
The electronic level has evolved, now enabling the camera to detect roll and pitch direction along with the traditional horizon direction. This is useful for scenes in which there is no standard horizon line such as natural landscapes or nightscapes. Knowing the roll and pitch direction is effective in helping to take photos with faithful proportions.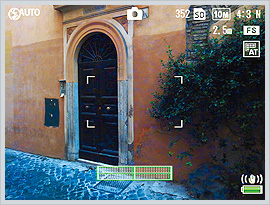 Fn Button Pair Setting, to enable quick changes to the save feature
The camera has two Fn (Function) buttons. Frequently used features can be assigned to the two Fn buttons so they can be accessed with one push. Furthermore, you can create up to 4 sets with the Fn Button Pair Setting (combining features that are assigned to Fn1/Fn2), and can switch between them easily. Just turn the up-down dial while pressing the ▲ key. You can quickly switch to a feature without performing any menu operations.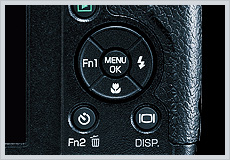 My Setting data can be saved to an SD memory card.
With My Setting, you can save your favorite camera settings. The number of settings that can be saved to the My Settings Box on the camera has been increased from the 6 on previous models to 12. Furthermore, you can save up to 6 types of settings to an SD memory card. The ease of use and the enjoyment will be increased when you share My Setting data among users.
* Up to 3 sets of saved My Setting data can be assigned to the mode dial (MY 1 to MY 3).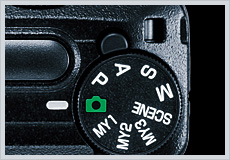 More freedom in choosing image quality options when saving. Saving RAW only
We expanded the RAW/JPEG Setting to make it possible to save RAW only. This is optimal for photographers whose workflows include finishing up a photo on the PC after shooting. Since JPEG files are not saved at the same time, it is useful for increasing the number of photos that can be saved to a memory card and maximizing the camera's response.
Search for photos based on the date taken using the calendar display
We added a calendar display to the playback mode. When you choose a date, the first photo taken that day is displayed. This can improve the efficiency of photo management, allowing you to search for images based on your schedule.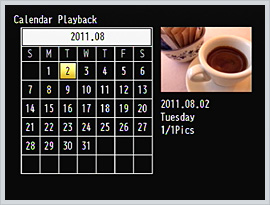 LCD Auto Dim feature, to reduce the burden on your battery
The camera has a power conservation feature that automatically reduces the brightness of the image monitor. We gave a lot of thought to power conservation.
The Eye-Fi card synching feature, for automatically forwarding photographs
Compatible with the Eye-Fi card, an SD memory card that is Wi-Fi ready.
When the Eye-Fi card is in use, an icon indicating the transmission status will be displayed.
*

The connectivity feature can be turned On or Off on the menu.

*

For details regarding the Eye-Fi card, please refer to the Eye-Fi website at <http://www.eye.fi/>.

*

Eye-Fi cards are approved for use in the country of purchase only