Electric Compass:For display and recording of the camera's direction at shooting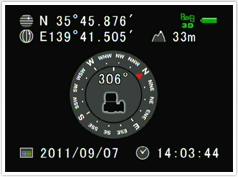 The O-GPS1's Electronic Compass function displays the camera's precise direction at the time of shooting on the camera's LCD monitor. Using the aspect of geomagnetism detected by the GPS unit's magnetic sensor and GPS location data, the unit indicates the aspect in relation to true north. You can also record directional data on captured images.

645Z
○
645D
○
K-3 Mark III
-
KP
○
K-3
○
K-5II
○
K-5IIs
○
K-5
○
K-S2
○
K-S1
○
K-70
○
K-50
○
K-30
○
K-r
○
K-01
○
GPS-guided compass to assure accurate pointing of true north
The O-GPS1's Electronic Compass is not only useful in all types of outdoor activities, but it is also extremely dependable in astronomical photography, since it tells you true north regardless of weather condition.
The O-GPS1 points true north with unfailing accuracy by compensating the direction of geomagnetism detected by the built-in magnetic sensor with the magnetic variation of a given spot calculated using GPS location data.