ASTROTRACER:For effortless tracing of celestial bodies
When mounted on the PENTAX K-5 or K-r camera body, the O-GPS1 provides the advanced ASTROTRACER function, which couples the unit with the camera's SR (Shake Reduction) system for the effortless tracing and photographing of celestial bodies. The unit calculates the movement of stars and other objects using the latitude obtained from GPS data and the camera's alignment data (horizontal and vertical inclinations and direction) obtained from the unit's magnetic and acceleration sensors. It then shifts the camera's image sensor in synchronization with the movement of these objects. This means that all celestial bodies are captured as solid points rather than blurry streaks, even during extended exposures. It also simplifies the astronomical photography setup, since it requires only a tripod and eliminates the need for an additional accessory such as an equatorial telescope.
645Z
-
645D
-
K-3 Mark III
○
KP
○
K-3
○
K-5II
○
K-5IIs
○
K-5
○
K-S2
○
K-S1
○
K-70
○
K-50
○
K-30
○
K-r
○
K-01
-
Simplified equatorial telescope function, developed using PENTAX-exclusive technologies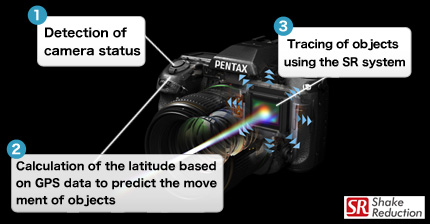 In order to keep accurate track of celestial bodies, the O-GPS1 provides a simplified equatorial telescope function that shifts the camera's SR (Shake Reduction) unit in all directions.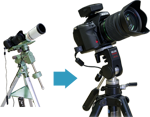 Since this advanced function simplifies astronomical photography by automatically tracing celestial bodies using the camera fixed on a tripod, astronomical photographers of all levels — from the inexperienced to the most dedicated — can capture beautiful night skies with great ease.
High-precision tracing of celestial bodies by factoring the camera and O-GPS1's alignment into calculation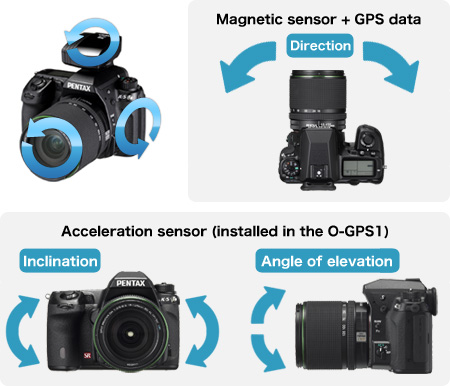 Sample images
Set 1 (taken in Itabashi, Tokyo)
Set 2 (taken in Chichibu, Saitama)
Set 3 (taken in Chichibu, Saitama)
Set 4 (taken in Chichibu, Saitama)