Takumichi Seo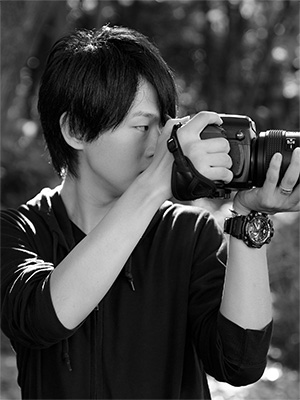 Profile

Born on April 24, 1990, in Kawasaki City, Kanagawa Prefecture. Graduated from Tama Art University, majoring in Environmental Design. Currently employed by SEO Co., Ltd.
Since his childhood, Seo has surrounded himself with music, nature and design work, resulting in the development of a distinctive sensibility and visual sense. Using the images he photographs, he has designed posters, CD jackets and various advertising media, while also composing background musical pieces. As part of his musical work, he sometimes gives improvised piano performances at his photo exhibitions.

HD PENTAX-FA 31mmF1.8 Limited
"It looks like a crystal-clear gem."
That was how I felt the moment I looked at an image captured by the HD PENTAX-FA 31mmF1.8 Limited.
My preconceived idea of lenses treated with HD coating was that they could somewhat reduce adverse optical effects such as ghost images. That's why, when I first used the HD PENTAX-FA 31mmF1.8 Limited, I was astonished by its exceptional imaging power. It lacked the peculiar properties of the older smc PENTAX version. Instead, I encountered a beautiful world of photography where I was truly impressed by dignified, sensitive images.
I originally associated the old 31mm version with clear, delicate images. When I compared it with the new HD-coating version, however, I must admit that the older lens had some peculiar properties, as I mentioned earlier.
Thanks to the HD coating, I could capture the delicate sunlight coming through the branches and twigs, depict the contrast in a crystal-clear stream, and express the fine outlines of fallen leaves. Its image power is not limited to forests, which I love to photograph, but it should be evident in all other scenes or subjects. In fact, it comes in handy for taking nighttime snapshots.
It's no exaggeration to describe the imaging performance by saying that this lens can always respond to your demands without failure.
I was long charmed by the delicate visual expression of the older 31mm model, and used it as a main lens for my photographic work. Some people may be a little uncomfortable with the unorthodox 31mm focal length. Once you get used to it, however, you cannot part with it because of its tremendous appeal. It lets you crop space beautifully, and express subtle nuances in your image composition by including essential elements and leaving out unwanted elements. I must have developed this sense of image composition while I produced many images using the smc PENTAX-FA 31mmF1.8AL Limited. To be honest, I found out that the smc version was the complete opposite of the HD version in terms of optical character. Naturally, they produced totally different types of images.
I cannot say which lens produces better images, or which is superior in imaging performance. Instead, I believe that these two differing lenses should work hand in hand to create a new world of photography. I might say that the images produced by the smc version can be describe as agate, while those produced by the HD version can be compared to crystal.
I suggest that previous 31mm lens users should try the new HD PENTAX-FA 31mmF1.8 Limited to personally discover a new style of photographic expression.