Takumichi Seo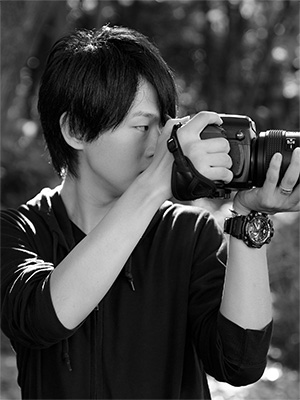 Profile

Born on April 24, 1990, in Kawasaki City, Kanagawa Prefecture. Graduated from Tama Art University, majoring in Environmental Design. Currently employed by SEO Co., Ltd.
Since his childhood, Seo has surrounded himself with music, nature and design work, resulting in the development of a distinctive sensibility and visual sense. Using the images he photographs, he has designed posters, CD jackets and various advertising media, while also composing background musical pieces. As part of his musical work, he sometimes gives improvised piano performances at his photo exhibitions.

smc PENTAX-FA 31mmF1.8AL Limited
This lens has always stayed by me as my photographic partner. Its particular angle of view frames a unique world. It presents an exquisite balance between the necessary and unwanted elements, meaning that it lets me include those I want in my image while eliminating those
I don't from the image field. Even though it gives me perfect compositions, I believe that its biggest asset becomes evident when highlighting the streaks of light in a vertically composed image.
This lens provides a distinctive visual expression. I often look for intricate light patterns in the woods. This lens depicts the light in a way so that it appears both dignified and mellow, clean and comforting, so deep and profound. Even when I narrow down the depth of field, it creates a bokeh (defocus) effect that is completely natural and well-blended into the image, with no sense of incongruity. It instead delivers a totally different world of visual expression.
If the sole objective is to frame an image, other lenses may also suffice. However, there are a great many reasons why I choose this lens over others. The conclusion is that I cannot help but love it so much!
This is a special, fascinating lens, one that I hope to work together with for many years to come.