So responsive, it feels like it's part of you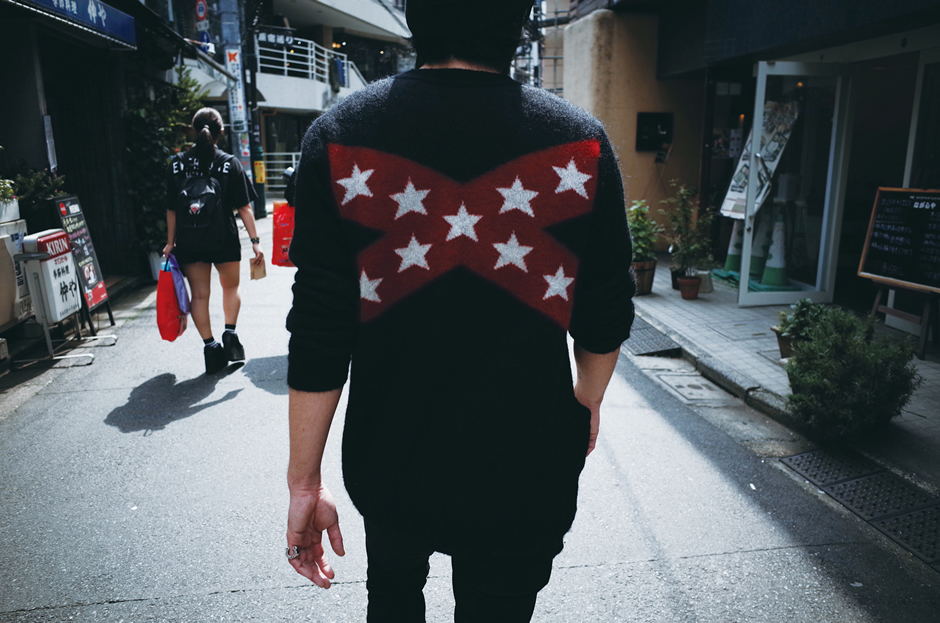 1/1000 Sec., F2.8, ISO100, EV0.0, WB : Auto
The speed to react to every chance moment
The GR II is fully tuned up to give you the quickest response: from its very short start-up time, through its high-speed AF system thanks to the optimization of its lens drive mechanism and AF algorithm, to its minimal shutter release lag. It also features the Full Press Snap* option that allows you to shoot at a preset focus distance with a full-press shutter release. Thanks to its increased buffer memory capacity, smooth continuous shooting is possible even in RAW format.
* [ON], [OFF] can be selected. Only available when [Focus] is set to [Multi AF], [Spot AF] or [Pinpoint AF].
| | | |
| --- | --- | --- |
| | GR DIGITAL IV | GR II |
| Start-up time | 1.7 Sec. | 1.0 Sec. |
| Shut-down time | 2.2 Sec. | 1.0 Sec. |
| AF (normal) | 0.3 Sec. | 0.2 Sec. |
| AF (macro) | 0.8 Sec. | 0.4 Sec. |
| Sequential shots | 1.5 Shots/Sec. | 4.0 Shots/Sec. |
*Sequential shooting that does not slow down
*4 fps possible even for RAW
Decisive autofocus for swift, precise shooting
During shooting, the AF function switching lever (for Continuous AF and AE/AF Lock) lets you switch between autofocus modes with a single action: either use the AF button for continuous autofocusing in Continuous AF mode; or switch the lever to AE/AF lock, lock the focus with the AF button, then set the exposure by half-pressing the shutter-release button. The GR II's exposure swiftly responds to quick changes of composition.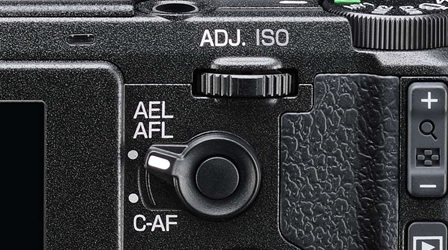 Detailed 3.0″, 1.23m dot LCD monitor
The GR II's high-definition LCD monitor with brightness adjustment, scalable font characters, and detailed, full-color graphics supports your shooting with superb visibility. The protective LCD screen cover provides assurance in even harsh environments.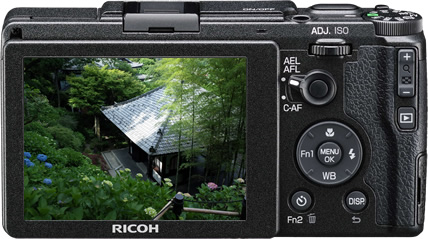 The aperture preview button lets you check the photo before you actually shoot it.
The aperture preview button (also used as Wi-Fi button) is located on the side of the camera body. With this button, you can check the depth of field before shooting. Not only can this be used from image setting effects, but it is also available from the third function button, continuing on from the conventional second function button.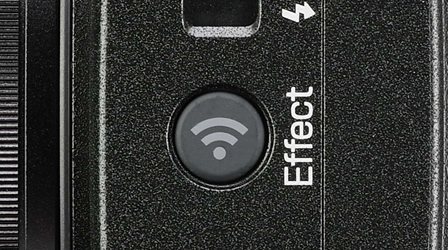 Focus Assist and Move Target assist in more accurate focusing.
With these functions you can specify any portion of a subject to meter, and then lock the focus. You can also magnify a portion of the screen, emphasize outlines or contrast, and focus more accurately.
Equipped with an Electronic Level
The camera is equipped with a built-in Electronic Level. With this feature, you can check the inclination of the camera in the horizontal, forward and backward (tilt) directions while shooting. The level is displayed at the bottom of the screen, making composing a shoot and shooting easy.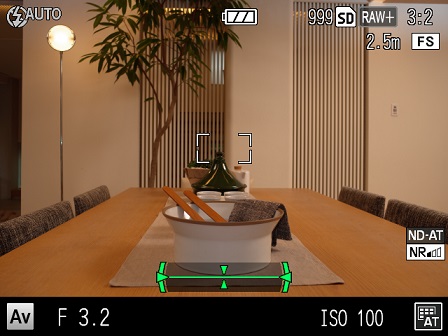 Special thanks to MISAWA HOMES CO.,LTD.