CX6
Macro and 10.7x optical zoom

Macro mode brings you closer, ever closer,
to allow you to take shots of distances as close as 1 cm away.
Using photo expression techniques such as background blurring, capture a beautiful world that goes unnoticed until it is magnified. Macro shooting will teach you new ways to enjoy photography. Getting as close as 1 cm for wide-angle and 28 cm for telephoto, you can enjoy shooting powerful images that are only possible with macro.
*

31 mm equivalent for wide-angle and 300 mm equivalent for telephoto.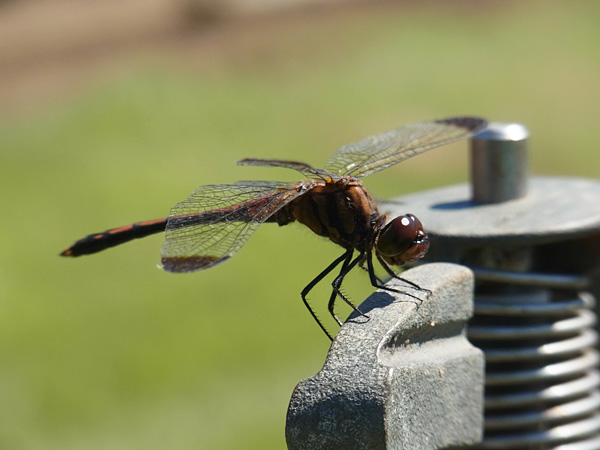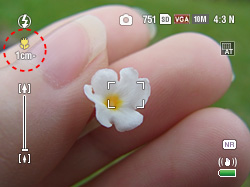 The minimum shooting distance, which changes depending on the zoom setting, can be checked on the monitor.
From wide-angle to telephoto.
10.7× 28–300 mm optical zoom + SR 600 mm zoom
Ricoh's original retracting lens system made it possible to fit the high-magnification 10.7× optical wide-angle zoom lens in a thin 28.5 mm body that is both easy to carry and easy to use. This lens can handle a wide range of shooting situations, including shooting of expansive landscapes and powerful telephoto shots as well as wide-angle shooting of interior scenes with limited distance between camera and subject. The CX6 also comes equipped with a new high-resolution zoom. This zoom enables telephoto shooting at 600 mm equivalent with minimal degradation in image quality.
For easy framing during telephoto shooting:
Zoom assist display.
The new zoom assist display function lets you check the zooming area at a glance. During telephoto shooting, the zoom assist picture and zooming area frame are displayed in the lower right corner of the picture display. By looking at the zoom assist picture, you can check to see where you have zoomed to so you won't lose sight of your target subject during telephoto shooting.
*

The zoom assist display appears when the focal length is 93mm or higher. The image displayed is equivalent to an 85 mm focal length.
2880-mm ultra-telephoto digital zoom and step zoom
The step zoom function enables you to fix the optical zoom magnification at eight steps (28 mm, 35 mm, 50 mm, 85 mm, 105 mm, 135 mm, 200 mm, and 300 mm equivalent). For a zoom range beyond the 10.7× optical zoom (300 mm), the subject can be magnified even more with digital zoom as well as the 600-mm ultra-telephoto zoom. Photographs can be taken with ultra-telephoto zoom at up to 2880 mm at maximum.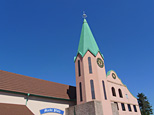 28mm
300mm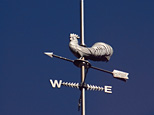 600mm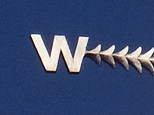 2880mm