CX6
High image quality

Imaging processing performance that places a premium on pure image quality.
Back-illuminated CMOS sensor + Smooth Imaging Engine IV
The CX6 boasts a back-illuminated CMOS image sensor combined with advanced Smooth Imaging Engine IV image processing. Poorly-lit indoor or night scenes are rendered in pure, unblemished quality, as of course are brightly-lit subjects. An output pixel interpolation algorithm residing in dedicated logic circuits in the imaging engine reduces loss of detail in highlights to faithfully recreate high-contrast scenes exactly as they appear to the naked eye.

The back-illuminated CMOS sensor serves as the eye of the CX6. Using a revolutionary structure to more efficiently catch the light coming through the lens, this sensor greatly increases sensitivity while also reducing noise. In low-light situations such as night and indoor scenes, you will be able to shoot at an image quality level impossible until now.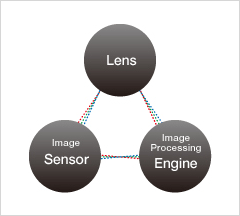 RICOH Pure Image Quality Technology

The imaging philosophy that lies at the root of all Ricoh digital cameras: not just "high image quality" but "pure image quality, true to what is perceived by the naked eye." This is achieved through three core technologies—a low-distortion lens with true-to-life imaging properties, an image sensor with superior high-sensitivity performance, and an imaging engine that reproduces images in minute detail—that have been designed and developed as a single mechanism, offering unsurpassed resolution and faithful, unaffected color reproduction.
Breathtakingly pure beauty with each shot.
Breakthrough noise reduction function
The camera's noise reduction algorithm processes the image signal as it is output from the CMOS image sensor, reducing the image noise that tends to occur in photographs taken at high sensitivities. The result is beautiful, limpid photographs with details, tones, and colors as vivid as those seen in the original subject.
*

The noise reduction level can be specified for the noise reduction function as Off, Auto, Weak, Strong, or MAX.

*

The time to record an image varies depending on the noise reduction setting.

The noise reduction level can be specified for the noise reduction function as Off, Auto, Weak, Strong, or MAX. When MAX is specified, the CX6 does sophisticated variance-estimation type noise reduction processing in which the sensor image data's noise variance is analyzed and the optimum processing is done for each region.
Super-resolution technology for high-resolution image quality
for everything from normal photography to zoom and macro shooting.
The CX6's super-resolution technology discerns the outlines, details, and gradations in the image automatically and processes the photograph based on the optimal settings for each. This allows the camera to record images with even higher resolution than with previous models.

Corrects for even slight hand-motion blur.
Image sensor shift image stabilizer
The image sensor shift image stabilizer function reduces the hand-motion blurring that tends to occur in situations such as telephoto and macro shooting. When blurring is detected, the CMOS sensor automatically compensates by shifting in a direction that eliminates the blur.
*

Not guaranteed to work in all photographic conditions.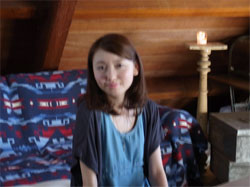 Image stabilizer OFF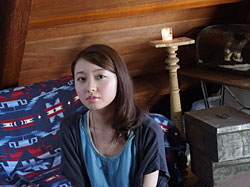 Image stabilizer ON