CX6
Reproduce the fine gradations of light and color with the
large 3.0-inch 1.23-million-dot VGA LCD monitor.
The large, high-resolution LCD monitor has a wide viewing angle and high contrast for vivid image reproduction. Providing a comfortable shooting environment, the screen has a fluorine coat to prevent soiling, a hard coat to prevent scratches, and an anti-reflection coat to give excellent visibility even outdoors.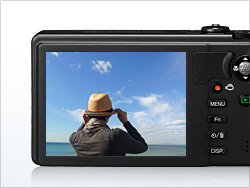 The CX6 features a high-brightness LCD monitor that is about 1.7 times brighter than the previous model so it is easy to see even outdoors. There is also a new automatic LCD brightness adjustment function that automatically adjusts brightness depending on the subject brightness.
*

White pixels added to RGB for approximately 1.23 million dots.
Quick and accurate camera leveling
with the electronic level.
Up to 20 image files can be flagged
with the image flag function.
The image flag function enables quick display of up to 20 image files from among those in the camera. Flagged images can be promptly displayed by pressing the Fn (function) button so it is very easy and convenient to flag maps and timetable images for later reference and flag favorite photos for showing other people.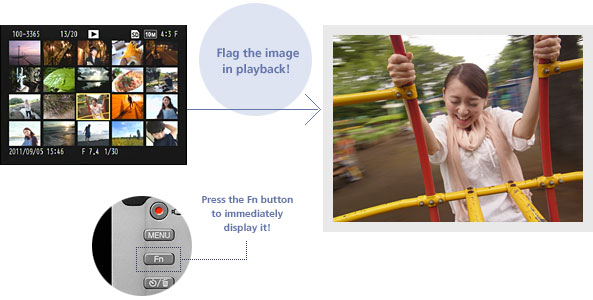 Use the ADJ./OK button
to make quick menu setting changes.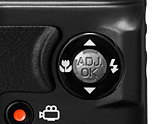 Four frequently used functions from the shooting menu, such as exposure compensation, white balance, and ISO sensitivity, can be assigned to the ADJ./OK button. This makes it possible to quickly access the assigned functions and easily change settings while shooting.
Create your own custom specs
with My Settings mode.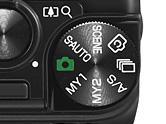 If you set your most frequently used functions in My Settings mode, you can immediately call up the "custom spec" settings by just turning the mode dial. Making full use of My Settings mode will insure that you do not miss your own decisive moments.
Enjoy shooting just the way you want with
the Fn (Function) button.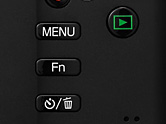 If you set a function such as AE lock, or step zoom in advance, you can switch to that function by just pushing the Fn (function) button. This will enable you to respond quickly to sudden shutter chances.
Wireless LAN Eye-Fi card (X2 Series) linking function

The CX6 is compatible with Eye-Fi cards (X2 Series), SD memory cards with built-in wireless LAN functionality, which enables captured images to be transferred wirelessly to a computer or online image sharing service automatically. An icon will appear while an Eye-Fi card is being used to display the communications status.
Other functions
Correct the color tone of still images
in the camera with white balance compensation.
Whether you want to reproduce the subject's color tone or change it, you can adjust green, magenta, blue, and amber color tones to match your intentions and preferences.
Correct brightness and contrast
in the camera using level compensation.
The brightness and contrast of still images can be automatically or manually corrected in the camera without using a PC. With manual correction, the histogram can be finely adjusted until the image faithfully reflects the photographer's intentions.
Natural colors for both subject and background.
Multi-pattern auto white balance
For scenes mixing different light sources—such as when shooting indoors with flash or when shooting scenes with both sunlight and shadow--this function sets the white balance to fit the light source of each segregated area, thereby reproducing color tones closer to those seen by the eye.
Output can also be in a document format good for business use
(Ricoh-compatible-printer report print).
Output for a Ricoh-compatible printer can be put in a format good for business use.
*

The design of the back and LCD monitor screen varies depending on the model.