Caplio GX100
Feature2: Functions and body design created for ease of use
You'll never want to leave it at home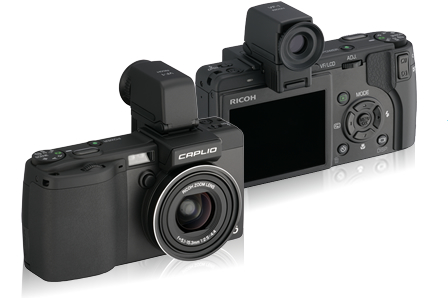 Removable electronic viewfinder(LCD viewfinder)
GX100 boasts a unique removable electronic viewfinder. Directly linked to the focal distance and viewfinder image, parallax is eliminated, letting you zoom and frame your subjects with the feel of a single-lens reflex camera. Naturally shooting information is displayed in the same manner as on the LCD monitor. The field of view is 100 percent. Its tilt mechanism*1 permits low-angle shots, for even more photographic creativity.
*1

During tilt, the built-in flash cannot be utilized.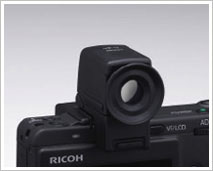 at normal setting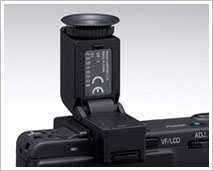 during tilting
Large 2.5-inch LCD monitor display permits wide-angle shooting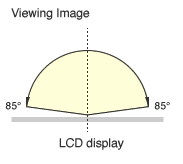 The 2.5-inch, 230,000 pixel LCD display can be clearly viewed horizontally or vertically from a 170-degree angle. Photos can be displayed as one frame, three frames or indexed contents, up to a maximum of 16 at a time. Display settings include marker displays, a histogram for visual display of light distribution, a grid guide (in the shooting mode), convenient for confirming parallel alignment and a highlight display (in the display mode) that darkens display over bright areas.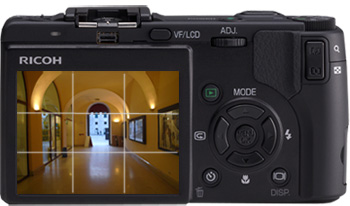 Grid guide display *Image is simulated
Customized settings fit to your personal style
A wealth of functions enables full versatility and ease of use. The ADJ. lever enables preprogramming of up to four frequently utilized functions, including focus, ISO sensitivity, metering system, continuous shooting and others, greatly facilitating making changes to settings. The function button also permits switching between manual and auto focus, AE lock and others, letting you make changes at a touch.

ADJ. lever (ADJ.)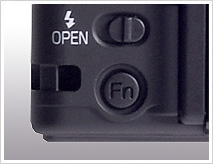 Function button (Fn)
Frequently used "My Setting" options can be toggled at a touch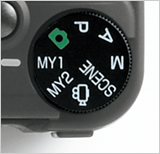 Two "My Setting" options allow you to preset the GX100 to match your most frequently used shooting styles and scenes. Once you've selected your preferences, just select the Mode setting and you'll be ready to shoot at a moment's notice.
Presettable functions:
* Photo mode * Picture quality/size * Focus * Focus position during manual focus * Metering method * Continuous shooting * Exposure compensation * Photos with sound * Date entry * White balance * ISO sensitivity * Camera shake correction * Zoom position * Macro * Flash mode * Self-Timer * DISP mode * Step zoom * Digital zoom switch * Shooting icon enlargement
Pleasing, high-durability body
The aluminum alloy body conveys an unmistakable sensation of quality and luxury that your hands can feel.
Functional, ergonomic body design
The natural lines and ergonomic controls make shooting with the GX100 smooth and effortless. The large, easy to handle grip section, covered with pliable resin material, provides a secure and comfortable grip for added stability during shooting. The control layout and positive click sensation of the buttons enhances its ease of use.
Approx. 340 shots per battery charge, plus AAA compatibility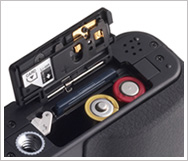 The GX100 utilizes three power sources: rechargeable battery, AAA-type dry cells and an AC adapter *1. The large-capacity rechargeable battery permits approximately 340*2 shots. Alkaline batteries, available anywhere, can take up to 30 shots *2. Oxyride dry battery and NiMH batteries can also be used.
*1

Optional

*2

Based on CIPA standards