Caplio GX100
Feature1: 24 mm wide-angle zoom and CCD with effective 10.01 million pixels.
It's more than an expanded lens angle.
It's a whole new vision of the world.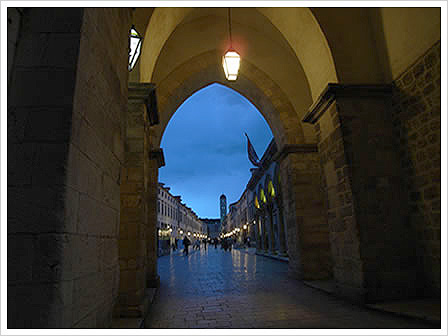 f=24mm, 1/8sec, F4.6, ISO100, EV-1, Full size photo; no trimming
Versatile imagery from a 24-72mm optical zoom lens
The GX100's slender body accommodates a 24-72mm/f2.5(W)-4.4(T), 3x wide-angle optical zoom lens. Set to wide-angle it can be utilized for wide-perspective pan focus shooting and versatile photographic effects. At medium distances, it is effective for taking portraits or framing scenes. With the freedom to compose and wide potential for expression, the Caplio GX100 appeals to the type of photographer who seeks to enhance his expressive artistry.
Superb optical performance, all the way to the picture's edge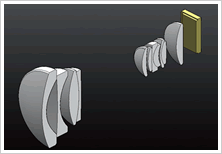 Striving for compact size and outstanding imagery from its 24mm wide-angle zoom lens, the Caplio GX100 boasts a high-performance lens utilizing aspherical, special low-dispersion glass lenses with a high refractive index, in a high-quality 7-group, 11-element configuration. This design effectively suppresses distortion, color aberration and light falloff at the edges. As the MTF (Modulation Transfer Function) curve demonstrates, it achieves high definition and high contrast reproduction all the way to the edges.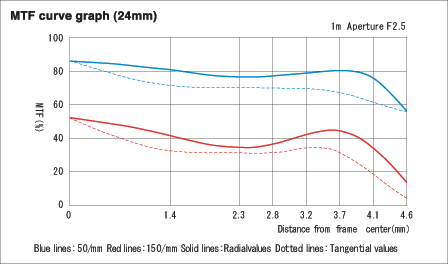 Wide-angle conversion lens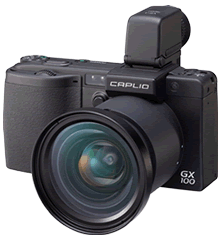 Attach the DW-6* wide conversion lens (optional) and you'll get a perspective even wider than the naked eye, enabling you to take ultra-wide-angle shots with a 19mm focal length. The ability to shoot extreme déformé perspectives and wide angle shots give further vent to original shooting. The wide conversion lens requires the easily-connected HA-2* adapter, which also permits attachment of the lens hood and a variety of 43mm diameter filters (standard items).
*

Optional

*

When wide conversion lens is attached, the built-in flash cannot be used as vignetting may occur.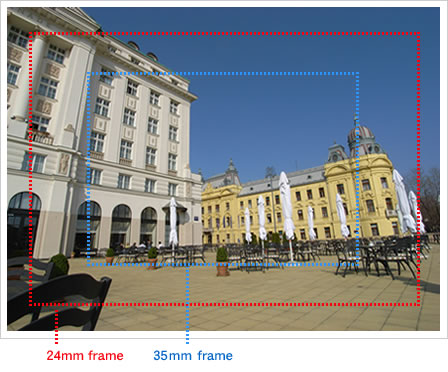 With use of 19mm wide conversion lens (DW-6),
1/640sec, F7.2, ISO100, Full size photo; no trimming
* Differs from actual range of shooting.
Seven-blade iris aperture realizes striking blur tone
Selectable in 12 steps from fully open to the smallest setting, the odd-numbered 7-blade iris aperture enables close control over exposures. At any setting a nearly perfect circle is achieved, permitting capture of gorgeous blur tones and shafts of light.
Step zoom emulates single focal length lenses
The zoom lens' focal length can be fixed at 24/28/35/50 and 72mm. This step zoom system enables you to capture images like that of a 35mm film camera using single photo length lenses.
10.01-megapixel CCD achieves fine, detailed imagery
The GX100's CCD, boasting 10.01 megapixels with superb definition, incorporates Ricoh's original "Smooth Imagining EngineII" for natural color rendition with low noise. Combining these two strengths, the GX100 achieves fine, detailed quality images that stand up to demanding enlargements. A choice of F (Fine), N (Normal) and RAW mode settings are available, with RAW recommended for processing the image with computer software as well as for optimal picture quality.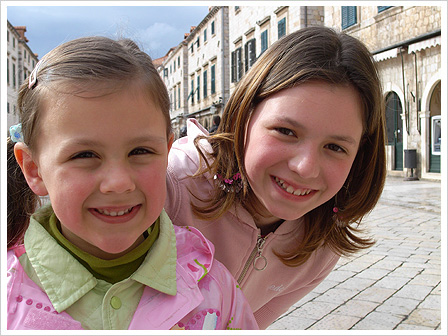 f=44mm, 1/380sec, F4.6, ISO100, Full size photo; no trimming