Caplio R1
Features3: Expand your creativity by focusing small — 1cm macro and AF Target Selection
The Caplio R1 offers stunning macro photography as close as one centimeter from your target.
With AF Target Selection, you can fix the camera on a tripod and shift the focus point using buttons. In short, let your creativity roam free in the macro world.

AF Target Selection features four direction buttons

that let you shift the focus point to different areas of your target without moving your camera.
Energy conserving design: around 200* pictures on AA batteries
Energy conservation was a key area of focus for the Caplio R1. You get approximately 200* pictures using AA alkaline batteries, or around 500* pictures between recharges with our new high-capacity rechargeable battery.
*

CIPA standard conformance
The power of freedom: three ways to power your Caplio R1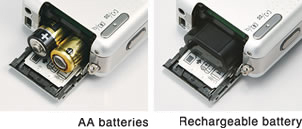 A stylish design means nothing without functionality. The Caplio R1 runs on AA batteries, a newly developed rechargeable battery and an AC adapter. It's your choice.
Six scene modes enhance your
power of expression
In addition to popular scene modes such as portrait and sports, the Caplio R1 offers text and high-sensitivity modes. Let your camera control the scene.
| | |
| --- | --- |
| Portrait | Blurs the distant background beautifully |
| Sports | Capture fast-moving subjects |
| Landscape | For awe-inspiring landscapes |
| Night scene | Both subject and background are sharp and clear |
| Text | Suitable for all kinds of printed text |
| High-sensitivity | For use in low light environments |
16-shot continuous shooting in three continuous shooting modes
For continuous shooting, the Caplio R1 features three modes, including M-continuous (memorizes the last 16 shots in a 2.2-second file) and S-continuous (one press of the shutter button fires 16 shots in 2.2 seconds). These modes are useful when, for example, you want to check the continuous motion of your tennis or golf swing. You can also play back the images continuously as animation.
Video recording complete with sound
The Caplio R1 captures high-quality AVI video, recording the action and sound until your memory card is full. You can use digital zoom while shooting and reduced block noise and anti-flickering features enhance quality. For interviews and other times you just want to record sound, use the sound capture function as a handy recorder.