Caplio R1
Features1: Wide 28~135mm optical 4.8x zoom in a slim 25mm camera.
Advanced performance in a simple form.
A camera with the power to move you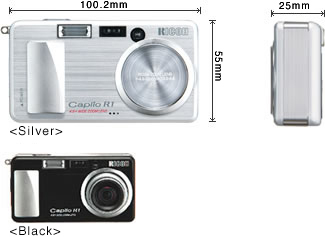 Whether you're talking about a camera or any other advanced technology, simplicity of design is often the truest sign of quality.
The Ricoh Caplio R1 combines superior performance with a simply elegant flat aluminum body.
Superior performance is delivered through a wide-angle 28mm~135mm optical zoom lens and features like unmatched shutter response time and 1cm macro shooting.
Stretch your imagination. That's how far the Caplio R1 can carry you.
5-step zoom for instant zoom selection.
Switch on the step zoom function and you can quickly zoom to any of the five preset optical focal lengths: 28mm, 35mm, 50mm, 85mm, or 135mm.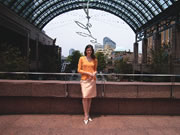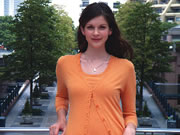 The Caplio R1's 4.8x optical zoom expands the camera's wide angle to 28mm. For closing in on distant subjects, a 3.6x digital zoom boosts the total zoom range up to a maximum 17.3x (28~486mm). And you get all that power inside a camera just 25mm slim.
The technology behind the Caplio R1's ultra-thin body is Ricoh's revolutionary Retracting Lens System. When the lens retracts, the lens group on the body side swings like a pendulum, storing the 4.8x zoom lens in minimum space.