Medium-Format SLR Camera: 67II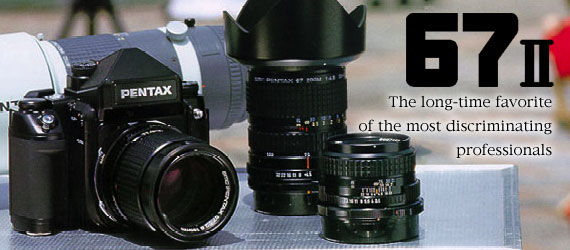 Type
6x7 ideal-format single-lens-reflex camera with TTL auto. exposure control.
Film
120 roll film (10 exposures) or 220 roll film (21 exposures).
Picture size
55mm x 70mm.
Lens mount


Dual-bayonet mount (with inner and outer bayonets).
applicable lenses: smc PENTAX 67 and smc Takumar 67 lenses.
exposure modes: Aperture-Priority AE (with optional AE Pentaprism Finder 67II), Metered Manual and Bulb.
Shutter
Electronically controlled horizontal-run focal-plane cloth shutter.
Shutter speeds:
1/1000 sec. - 30 sec. stepless (auto); 1/1000 sec. -4 sec.(manual).
X-sync speed:
1/30 sec. Bulb and time exposure available. Leaf-shutter lens applicable. Electro-magnetic release. Shutter locked with main power off.
Finder
Interchangeable finders (AE Pentaprism Finder 67II, Pentaprism Finder 67II, Folding Focusing Hood 67II, and Rigid Magnifying Hood 67II).
Interchangeable focusing screens:
Natural Bright Matte focusing screens (Microprism Matte screen as standard).
Viewfinder image area
90% with AE Pentaprism Finder 67II or Pentaprism Finder 67II; 100% with Folding Focusing Hood 67II or Rigid Magnifying Hood 67II.
Magnification
0.75X (with 105mm lens at infinity and -1m-1)
Exposure control
Exposure metering*
TTL six-segment multi-pattern metering, center-weighted metering or spot metering.
Metering range:
EV2-EV21 (at ISO 100 with 105mm F2.4 lens).
Exposure compensation*:
±3EV in 1/3EV steps. Dial-control system.
Memory lock:
Pushbutton control system with 20-second timer.
Viewfinder indication*:
Exposure compensation, bar-graph pointer, shutter speed, metering mode, memory lock, flash status, and exposure frame counter. Backlight illumination provided.
Film speed:
ISO 6 - 6400.
External LCD panel
Battery exhaustion warning, ISO film speed, film-advance/film-end indicator, exposure frame counter, and flash status.
Film transport
Wind-up lever (with 190-degree stroke and 7-degree stand-off angle) with self-cocking shutter. Semi-Automat-type film loading with start mark. Film-advance/film-end indicator provided in LCD panel.
Self-timer
Electronically controlled type with 12-second delay. PCV sound provided. Mid-operation possible.
Multi-exposure
Easy-set type with multi-exposure switch.
Mirror
Swing-back instant-return mirror with mirror lock-up mechanism.
Flash synchronization
X-sync terminal and 4-pin/5-pin TTL auto flash terminals. TTL auto flash sensors built in.
Flash sync speed
Under 1/30 sec. and Bulb (1/500 sec. max. with leaf-shutter lenses).
Power source
Two 3V lithium batteries (CR-123A type).
Battery life
Approx. 500 rolls of 120 roll film or 250 rolls of 220 roll film.
Dimensions & weight
185.5mm (W) x 151.0mm (H) x 106.0mm(D) (7.3" x 5.9" x 4.2") and 1,660g (58.6oz.) with AEPentaprism Finder 67II and without batteries.