Medium-Format SLR Camera: 67II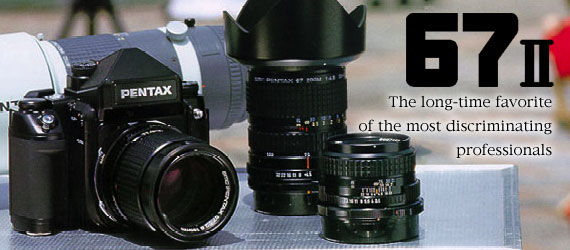 Ideally Proportioned 6x7 Format with Sharp, High-Resolution Images
Large 55mm x 70mm image area for true-to-life image reproduction
The size of the effective image area is crucial in producing a fine-detailed, true-to-life image with a true sense of depth and perspective — especially for quality-conscious professionals. The 67II's 6x7 format offers an image area more than four times larger than the smaller 35mm format. Coupled with high-performance PENTAX 67-system lenses, you can produce higher-quality enlargements with finer resolution, greater sharpness and less graininess.
Ideal image proportions to avoid unnecessary cropping
Since the 6x7 format offers almost the same proportions as standard photographic paper, it requires very little cropping of the image to preserve your original image composition. In addition, its rectangular format appears very natural and pleasing to the eye in comparison with the square 6x6 format, making it easier to observe the entire image field and compose the image.
AE Pentaprism Finder 67II Offering TTL Aperture-Priority Auto-Exposure Operation
Auto-exposure convenience made possible by AE pentaprism finder

The 67II offers a choice of four interchangeable finders for creative flexibility. When the optional AE Pentaprism Finder 67II is mounted, you can take advantage of the versatile Aperture-Priority AE mode. Assisted by the high-precision 6-segment multi-pattern metering system, this finder automatically sets the optimum shutter speed between 1/1000 second and 30 seconds steplessly to properly expose the subject. It also features an easy-to-operate exposure compensation dial and a quick-setting metering mode selector on the top panel, as well as a multi-information LCD indicator in the viewfinder. To facilitate auto-exposure operation, the 67II incorporates such features as an "A" (auto) position on the shutter-speed dial and an exposure memory lock function.
Aperture-Priority AE to faithfully reflect creative ideas
The Aperture-Priority AE mode is widely popular among leading professionals because it allows them to intentionally adjust the depth of field for distinctive expressions. The 67II's Aperture-Priority AE mode features a wide shutter-speed range from 1/1000 second to 30 seconds to optimize this benefit and free you from complicated exposure adjustment in many different situations. You can even confirm the depth of field for a selected aperture in the viewfinder by operating the depth-of-field preview lever of a 67-system lens.
Multi-information viewfinder display for at-a-glance confirmation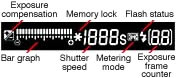 Located at the bottom of the viewfinder, the user-friendly LCD indicator lets you confirm critical camera settings quickly and effortlessly, without taking your eye off your subject. Its easy-to-read bar graph is particularly useful when using exposure compensation in the Aperture-Priority AE mode or when making an intentional exposure shift in the Metered Manual mode. It even comes equipped with automatic brightness control for easy data reading in any lighting condition.
Advanced multi-pattern metering for optimum exposure precision

The AE Pentaprism Finder 67II incorporates the highly acclaimed, PENTAX-original 6-segment multi-pattern metering system to accurately and efficiently measure the distribution of incident light reaching the large 6x7-format image area. Data accumulated by six sensors positioned independently at six different areas of the image field is transmitted to and processed by the camera's CPU to quickly calculate the optimum exposure value. This sophisticated system responds flexibly and instantaneously to the wide range of photographic conditions faced every day by professionals, allowing them to produce beautifully exposed images frame after frame.
6-segment multi-pattern metering
This sophisticated metering mode reads the light levels at six different areas of the image field and determines the correct exposure instantaneously. It also compensates exposure automatically to ensure that the subject appears bright in backlighting conditions, or to create a more natural, true-to-life image in high-contrast situations.
Center-weighted metering
This conventional metering mode gives priority to the central area in determining exposure, while still taking peripheral areas into consideration. Long-time 35mm SLR users may prefer this mode because of its familiarity.
Spot metering
Measuring only the light striking the central circle (approximately 2.5% of the entire image field), this special-application mode is particularly beneficial for extremely high-contrast subjects and in misleading lighting conditions, because it allows you to pinpoint metering on a single, small element within the image.
Exposure compensation and memory lock for minute exposure adjustment

The 67II features an easy-to-use exposure compensation function with a range of ±1EV in 1/3EV steps to offer you extra flexibility in exposure adjustment. You can set the desired compensation value using the exposure compensation dial located on the AE Pentaprism Finder 67II, while confirming its operation with the exposure compensation mark and the bar graph displayed in the viewfinder — without taking your eye off the viewfinder image. The memory lock function can be activated by pressing the memory lock button positioned next to the viewfinder eyepiece. Using this convenient function in combination with spot metering, you can accurately and efficiently obtain the correct exposure on a single element in your image.
Metered-manual and bulb operation through simple dial control

You can quickly switch the exposure mode from Aperture-Priority AE to the creative Metered Manual mode and Bulb exposure, simply by shifting the shutter-speed dial from the "A" (auto) position to any shutter-speed or bulb position. Thanks to the bar-graph pointer in the viewfinder, you can easily obtain the correct exposure for your choice of aperture and/or shutter speed, or intentionally under- or overexpose the image, without taking your eye off the subject. For extended bulb exposures, the power-saving time-exposure mechanism is provided to conserve batteries.
Built-in diopter adjuster for a clear, bright view of subject
The 67II's viewfinder eyepiece features a user-friendly diopter adjustment mechanism (-2.5m-1 - +1.5m-1), for stepless adjustment of the viewfinder image to your eyesight. You can expand the adjustment range by attaching an optional correction lens onto the eyepiece.
Eyepiece shutter to minimize exposure errors
The built-in eyepiece shutter can be closed after composing the image to eliminate even the slightest exposure error caused by reverse intrusion of incident light through the viewfinder eyepiece. The eyepiece is covered with a rubber eyepiece ring for viewing comfort. An extra-large eye cup is also available as an optional accessory.
High-performance optics with eye-level shooting and erect image

For maximum maneuverability and quick response in the field, a bright, clear viewfinder providing eye-level shooting and an upright, laterally unreversed image is indispensable for active photographers. The optional AE Pentaprism Finder 67II features a special silver coating on its prism surfaces. Coupled with a reflection-enhancing aluminum coating on the instant-return mirror and a multi-layer coating on the Natural-Bright-Matte focusing screen, the brightness of the viewfinder image has been improved by an astonishing 60% over the original 67.
Durability and Reliability to Satisfy Exacting Professional Standards
Power-saving time-exposure mechanism to minimize battery consumption
The 67II's power-saving time-exposure mechanism cuts off the power supply to its shutter circuit during extended exposures, keeping battery consumption at the same minimal level as when the camera is left unused with power turned on. It is especially useful for applications that require frequent use of extended exposures, such as astronomical photography.
Lithium batteries for stable operation at low temperatures
The 67II is powered by two 3V CR123A-type lithium batteries for extended battery life and stable operation, even at freezing temperatures.
| | | |
| --- | --- | --- |
| Battery life | At 20°C | At –20°C* |
| 120 film | Approximately 500 rolls | Approximately 250 rolls |
| 220 film | Approximately 250 rolls | Approximately 120 rolls |
| Bulb exposure | Approximately 13 hours | Approximately 6 hours |
* Although the 67II's operating temperature range is listed as -10°C - 50°C, it operates properly at-20°C, except for a minimal inaccuracy in shutter-speed control at 1/500 and 1/1000 second.
Flawless body design for operability and holding comfort
The original PENTAX 67 was the world's first medium-format camera to offer a highly maneuverable SLR-type body design. The 67II takes this tremendous advantage a step further, with various refinements designed to improve its operability and holding comfort. Its grip, in particular, is flawlessly designed and perfectly contoured to offer the highest level of operability and maneuverability for handheld shooting in the field. All other refinements were incorporated to meet the demands of active field photographers by harmonizing PENTAX's experience and expertise in SLR camera manufacturing with the latest camera technologies.
Ideally positioned shutter release button and wind-up lever
The 67II's shutter release button and wind-up lever are ideally positioned for quick, effortless access at the shooting position. Just like 35mm-format SLRs, you can advanced the film to the next frame with a single action, then release the shutter at your fingertip without changing the holding position. This seamless operation is the key to swift, unfailing response to the ever-changing photographic conditions.
Reliable film transport mechanism for smooth, accurate film advance

The 67II features a highly efficient film transport mechanism featuring a redesigned, single-action wind-up lever and ball bearings to ensure smooth, quiet film advance operation. It also incorporates a photo interrupter to ensure extra-accurate film transport for each frame, making it possible to squeeze one more frame out of a roll of 220 film (21 frames total) than the original 67.
Extra-rigid diecast body for durability and reliability
The 67II's diecast body is constructed to withstand years of serious outdoor photography, while several refinements have been made from the original 67 on the housing to reduce its overall weight and improve maneuverability in the field.
Functional LCD panel for at-a-glance data confirmation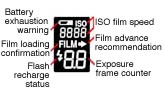 Located on the top panel next to the wind-up lever, the large LCD panel offers at-a-glance confirmation of vital operation data such as battery exhaustion warning, ISO film speed, film loading confirmation, film advance recommendation, exposure frame counter, and flash recharge status.
Other Outstanding Features to Facilitate Professional Work
TTL auto flash control for advanced, high-precision flash photography
The 67II's TTL auto flash system automatically and accurately controls the flash discharge level by measuring the amount of light reaching the film plane during exposure. It allows you to use a wider range of aperture settings to intentionally increase or reduce the flash's effective range or control the depth of field. In addition, its high-precision, automatic control simplifies advanced flash techniques, such as bounce flash, diffuse flash, and contrast-control flash employing a multi-flash setup.
Easy-to-operate multi-exposure for creative images
By sliding the multi-exposure switch sideways while pulling the wind-up lever, you can prevent the film from advancing to the next frame, so you can expose the same frame as many times as you want. The refined film transport mechanism assures precise alignment of all exposures.
Versatile built-in self-timer
The built-in self-timer delays shutter release by 12 seconds. In addition to its conventional usage, it can be used to avoid camera shake caused by shutter release in close-up, slow-shutter and bulb applications.
Mirror lock-up mechanism to minimize camera shake
The mirror lock-up mechanism effectively minimizes camera shake at the crucial moment of shutter release. It is particularly useful with telephoto and super-telephoto lenses and in slow-shutter shooting, because image quality can be easily affected by the slightest level of vibrations in these applications.
Single-action switching between 120 and 220 roll film
One simple shift of the film pressure plate lets you switch between 120 and 220 roll film. It also resets the exposure frame counter automatically.
Double-lock mechanism for stable finder attachment
A reliable double-lock mechanism keeps the finder securely in place and prevents its accidental removal, even during active shooting sessions.