| | |
| --- | --- |
| 35mm Compact Cameras: ESPIO 170SL | |
Slim, Compact Dimensions with a High-Magnification Zoom Lens
Thanks to PENTAX's innovative Switchover Zoom system, the ESPIO170SL's powerful 38mm-170mm zoom lens featuring an incredibly wide zoom range of approximately 4.5 times can be stored in its slim, compact and stylish body.



High-Quality Aluminum Body for a Sharp, Elegant Appearance
The ESPIO170SL is encased in a high-quality aluminum body to make it not only pleasant to use, but also attractive to the eye. Its sandblasted matte finish conceals fingerprints and scratches, while the sparklingly shiny ring at the front end of the lens barrel serves as the focal point of the body design.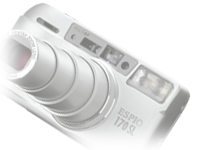 High-Performance smc PENTAX Zoom Lens for Sharp, Crisp Images
The ESPIO170SL incorporates the smc PENTAX zoom lens that is renowned for the production of beautiful, true-to-life images. This eight-element, six-group zoom lens is efficiently controlled by the newly developed four-step zooming mechanism, while incorporating a glass-molded aspherical lens element and a resin-molded aspherical lens element, to achieve the ultimate harmony between image quality and downsizing.
Macro Capability for Well-Defined Close-Up Images
By selecting the 170mm telephoto setting, you can take sharply focused, finely detailed close-ups of your subject from as close as approximately 1.2m for the maximum magnification of approximately 0.15X.