Digital SLR Cameras: K200D


| | | | | |
| --- | --- | --- | --- | --- |
| Measuring 23.5 millimeters by 15.7 millimeters, the K200D's large CCD image sensor boasts approximately 10.2 effective megapixels. When you make large-size prints from the images you have captured, you're assured of beautiful, true-to-life images with rich gradation, sharp contrast, delicate out-of-focus backgrounds and lively colors. The CCD is also designed to bring out the optimum optical performance of all smc PENTAX interchangeable lenses. | | The K200D's 14-bit A/D converter offers better processing capacity than conventional 12-bit converters with 4,096 gradations. It processes the analog signal transmitted by the large, high-performance CCD image sensor into digital data with 16,384 gradations, which is then sent to the PRIME imaging engine. The converter produces lively, fine-grained images with a delicate transition of tones. | | Built into the K200D is the high-performance PRIME (PENTAX Real Image Engine), which provides both exceptional image-processing speed and low power consumption, thanks to its advanced 90nm semiconductor technology. In addition, its DDR2 memory chip contributes to high-speed, 800MB-per-second data transmission. This means that PRIME can instantly process transmitted data into high-quality, high-resolution images with fine, natural gradations and faithful color reproduction. |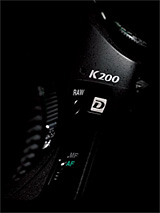 Built-in SR assures a greater range of shutter opportunities
The K200D incorporates the PENTAX-original SR (Shake Reduction) system within the camera body. It makes flexible, maneuverable handheld shooting possible under a greater range of lighting conditions that are normally prone to camera shake, such as when shooting with a telephoto lens or using slow shutter speeds for sunset scenes. This responsive SR system even compensates for very slight camera shake in high-shutter-speed applications, bringing out the optimum performance of the high-resolution CCD image sensor and assuring sharp, clear images. Its built-in design also lets you take advantage of this outstanding shake-reduction benefit with almost all PENTAX interchangeable lenses — both old and new.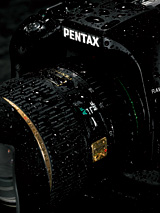 Dust-proof, water-resistant body guarantees worry-free shooting under demanding conditions
Despite its compact dimensions, the K200D boasts a dependable dust-proof, water-resistant body, with a total of 60 special seals applied to the body. You're equipped for active shooting in harsh conditions — even in sand, dust or water splashes. By coupling the K200D with the optional D-BG3 Battery Grip, you can create a totally dependable dust-proof, water-resistant imaging system.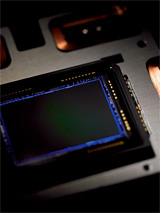 Comprehensive anti-dust system featuring an innovative dust-alert mechanism
To prevent the adhesion of dust to the CCD image sensor and assure high-quality images free of dust spots, the K200D offers a comprehensive anti-dust system: prevention, removal and confirmation. First, the DR (Dust Removal) system prevents the adhesion of dust to the CCD image sensor with the SP (Super Protect) coating and shakes dust off the CCD using its cleaning vibration. Then, the dust-alert mechanism displays any remaining dust on the LCD monitor, with exaggerated outlines for pre-shooting confirmation. Even when the DR system fails to remove all the dust, you can easily remove the persistent dust using the optional O-ICK1 Image Sensor Cleaning Kit.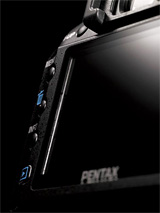 2.7-inch, wide-view LCD monitor with 230,000 dots assures optimum viewing comfort
The K200D features an extra-large 2.7-inch color LCD monitor on its back panel. Its wide-view design assures a sharp, clear view of the on-screen image from approximately 160 degrees both vertically and horizontally, so you can easily and comfortably review captured images with your family or friends. This monitor also features a variety of convenient image-viewing functions, including 16-image display and two-image parallel display for easy comparison of photographic factors such as image composition and focusing status. Thanks to its high-precision image reproduction using approximately 230,000 dots, you can confirm every element of an image with great accuracy — especially when the image is magnified by 16 times with the zoom display function.