Digital SLR Cameras: K10D


Dust-proof, water-resistant construction
with 72 body seals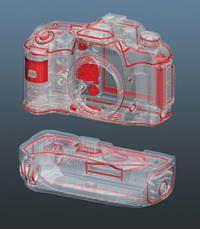 Rain, moisture, sand, dust and other natural elements are formidable foes to cameras. That's why the K10D features a reliable dust-proof, water-resistant construction, with special seals applied to 72 different parts of the camera body, including the control buttons and dials and the seams between different components. As a result, this dependable body completely shuts out humidity and foreign objects.

The optional BG-2 Battery Grip also features the same dust-proof, water-resistant construction, with 38 special seals. When paired with the K10D camera body, they form a seamless, airtight imaging system, protecting the internal mechanisms from the intrusion of alien objects and assuring stable, reliable operation. At a result, even under varying natural conditions or in rugged fields, the K10D always demonstrates solid, flawless performance.
High-rigidity stainless-steel chassis
to protect internal mechanisms from bumps and shakes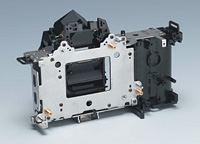 Various mechanisms and electronic components are mounted on a camera chassis. That's why the K10D's chassis is made of durable stainless steel — a material that not only assures high rigidity and outstanding resistance to corrosion, but also is ideal for high-precision processing. The K10D's highly shock-resistant body is constructed by combining several plates of stainless steel into a three-dimensional unit.
Dependable shutter unit assuring high-accuracy operation
and superb durability for 100,000 shutter releases
The K10D incorporates a compact, lightweight shutter unit optimized for its large-size CCD image sensor. Designed by making several refinements to PENTAX's time-proved electronic vertical-run focal-plane shutter, this unit offers much greater reliability than previous units. Even after years of use, it operates with the same precision and stroke as the first shutter release. Proven in numerous shutter release tests and subjected to exhaustive tuning, this durable shutter unit assures you of more than 100,000 shutter releases.
Original Dust Removal system
to keep dust off the CCD surface
Any dust clinging to the CCD surface can cause serious damage to your once-in-a-lifetime masterpieces. To solve this problem, the K10D incorporates a PENTAX-developed Dust Removal (DR) system, which keeps the CCD surface free of dust by means of an effective two-step protection: to prevent dust from sticking to the surface, and to remove all remaining dust from the surface.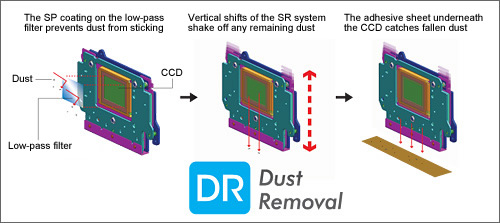 <SP coating to prevent dust from sticking>
Moisture acts as an adhesive force to pull dust particles together. PENTAX paid close attention to this liquid bridging theory in developing the K10D's DR system, and applied its original SP (Super Protect) coating to the surface of the low-pass filter that screens the CCD imaging sensor. Made of special fluorocarbon materials, this coating forms an extremely dry layer to keep dust from sticking to the surface of the low-pass filter, and eventually minimize the risk of dust-spoiled images.
<SR system' cleaning vibration to shake dust off>
With the help of the SR system, the CCD surface is automatically cleaned every time the K10D's power is turned on. With vertical shifts of the image sensor unit, all the dust still clinging to the CCD surface is shaken off and falls onto the adhesive sheet underneath the SR unit to eliminate the possibility of dust drifting within the camera body. This user-friendly cleaning function can also be activated manually.
Exclusive lithium-ion battery
for continuous shooting of as many as 500 images

The K10D is powered by the exclusive D-LI50 Rechargeable Lithium-Ion Battery. Despite its compact, lightweight design, this battery offers a long battery life, assuring the continuous shooting of as many as 500 images* while eliminating the need of frequent battery changes.
* Measured under testing conditions prescribed by CIPA standard, using With a fully charged fresh D-LI50 battery at 23°C and without the use of the built-in flash. The number of recordable images may vary depending on shooting conditions.
Dual-battery system
to dramatically extend the battery life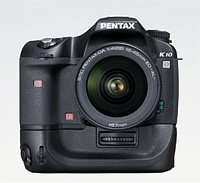 When the optional D-BG2 Battery Grip is mounted, the K10D is powered by two high-power batteries — one in the camera body and another in the grip — to assure an extra-long battery life. Since you are free to choose the battery you want to consume first, you can respond more flexibly to different shooting requirements.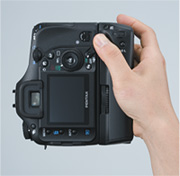 BG-2 Battery Grip (optional)
for greater vertical-position operability
Developed for exclusive use with the K10D, this accessory grip not only extends a battery life, but also enhances the K10D's operations with an extra set of the shutter release button and control buttons/dials. In fact, this grip makes your vertical-position applications as easy and comfortable as standard horizontal-position shooting.
Compatibility with new-generation lenses
The K10D not only accepts a full range of existing smc PENTAX interchangeable lenses, but is also equipped to accommodate ultrasonic motor-driven lenses,** which are designed to assure even quieter, smoother AF operation than existing lenses. When paired with these new-generation lenses the K10D makes your digital SLR photography even more enjoyable and efficient.
** Currently under development.


Effortless mouse-controlled processing of RAW data
for reproduction of highly creative images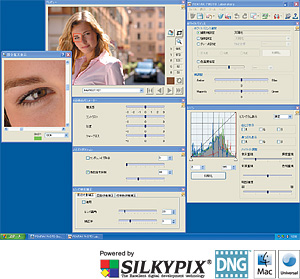 One of the most exciting elements in digital SLR photography is the processing of recorded images to produce original, creative images through the manipulation of various development parameters. The K10D package includes PENTAX PHOTO Laboratory™ 3 RAW data and image processing software, which features the acclaimed SILKYPIX as its image-development engine to assure faster data processing speed and better operability with enhanced image preview functions. Since this software is compatible with the image development and file conversion system of both PEF and DNG file formats,*** you can easily process developed images with other image-processing applications. Thanks to its spontaneous user interface system, you can enjoy creative photo presentations with minimal effort.
*** Only images captured by the K10D or those edited by the PENTAX PHOTO Browser software are compatible with these formats.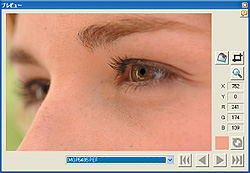 <Uploading of RAW-data files>
Developed RAW images are uploaded to a computer and displayed on the preview panel. As you adjust the parameters, the result appears on the screen in real time, allowing you to preview the final appearance of the image right on the spot.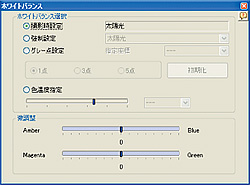 <White-balance control>
The white-balance panel helps you make minute white-balance adjustments to reproduce delicate colors through the use of various adjustment functions, including a switch of white-balance modes and a white-balance setting for a randomly selected point in the image. You can also make minute color adjustments for the amber/blue and magenta/green parameters using the slider controllers.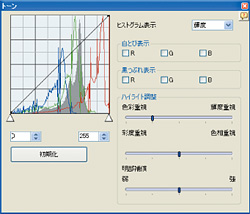 <Brightness, density and contrast controls>
The tone panel lets you adjust tone curves and displays a histogram. The brightness and contrast levels can be controlled by simple mouse operation of the tone curves. With the help of the RGB histogram display and the flashing over/underexposure warnings, you can set the gradations exactly the way you like them.
<Sensitivity, contrast, saturation and sharpness controls>
Other parameter panels let you adjust the output levels for sensitivity, brightness difference, color brilliance, and outline sharpness. For instance, you can express figures with subtler hues and softer outlines, or liven up a landscape with more vivid colors and higher contrast. You can alter the appearance of your image as far as your imagination can go.

<Noise reduction>
Digital noise makes your image appear grainy and generates false colors. Such annoying noise can be easily and efficiently eliminated using the noise reduction panel.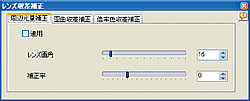 <Lens aberration compensation>
A function unique to PENTAX PHOTO Laboratory™ 3 is compensation of lens aberrations. Just click the lens aberration compensation tab to display the panel that lets you compensate for distortion and spherical and lateral chromatic aberrations. It allows you to effectively minimize aberrations caused by poor weather and lighting conditions or the use of old lenses.

Multi-function viewer designed
for efficient filing of images and photographic data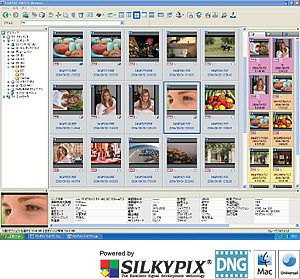 The PENTAX PHOTO Browser™ 3 software lets you speedily transfer the images captured by the K10D to your personal computer, and edit and view them on the computer screen. Thanks to its high display speed, you can view and file a large number of images with great efficiency. It also offers a host of user-friendly functions, including confirmation of photographic data, change of file formats, continuous playback (slide show) and printing.
<Display of image title and photographic data>
You can magnify an image selected from the thumbnail pane up to four times, reduce it down to 1/16 times or rotate it to the desired position, while confirming detailed photographic data such as shooting and metering modes, white balance setting, aperture value and exposure compensation factor.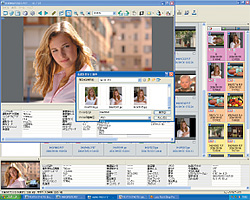 <Format change of RAW-data files>
After viewing a RAW-data image, you can save it in another format: JPEG, TIFF (8 or 16 bits), BITMAP, PNG or PICT. You can then upload the image to universal software, or display and edit it with image-processing software.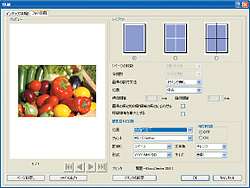 <Photo printing>
Thanks to the user-friendly layout and captioning functions, you can easily create separate photo albums by theme. You can even print the images of your choice from these albums and deliver them to your family or friends to refresh fun memories.
---
Choice of color space for different specifications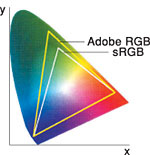 The K10D offers two different color spaces - international-standard sRGB and industry-standard Adobe RGB - to accommodate the required data output specifications.
Note: Even though the Adobe RGB color space offers a greater range of image control, it generates low-saturation images when reproduced by sRGB-compatible systems.
Compatibility with large-capacity SDHC memory cards
for extended shooting sessions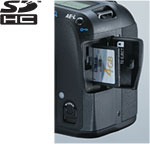 The K10D accepts both compact, reliable SD memory card and the newly developed SDHC (SD High-Capacity) memory card as its storage media. By inserting a new-generation memory card with a storage capacity of more than 2GB, you can capture a large number of high-quality digital images. Since you don't have to worry about memory card changes, you can concentrate on shooting over long periods of time.
Direct printing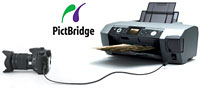 Using the included USB cable, you can connect the K10D directly to a PictBridge-compatible printer for PC-free printing. Since the K10D is capable of developing RAW-format images by itself, you can even print high-quality images without the help of a personal computer.
Image viewing on TV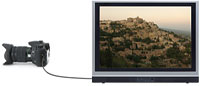 Simply by connecting the K10D to a TV monitor equipped with a video input terminal using the included video cable, you can enjoy recorded images on a large TV screen with family or friends.
---
Standard accessories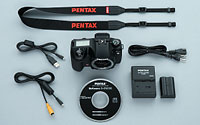 • I-USB17 USB Cable • I-VC28 Video Cable • O-ST53 Strap • ME Finder Cap • D-LI50 Rechargeable Lithium-Ion Battery • D-BC50 Battery Charger • AC plug cord • S-SW55 Software Package (CD-ROM) • Eyecup FP • Hotshoe Cover FK
Applications included in software package
• PENTAX PHOTO Browser™ 3 • PENTAX PHOTO Laboratory™ 3
---
---