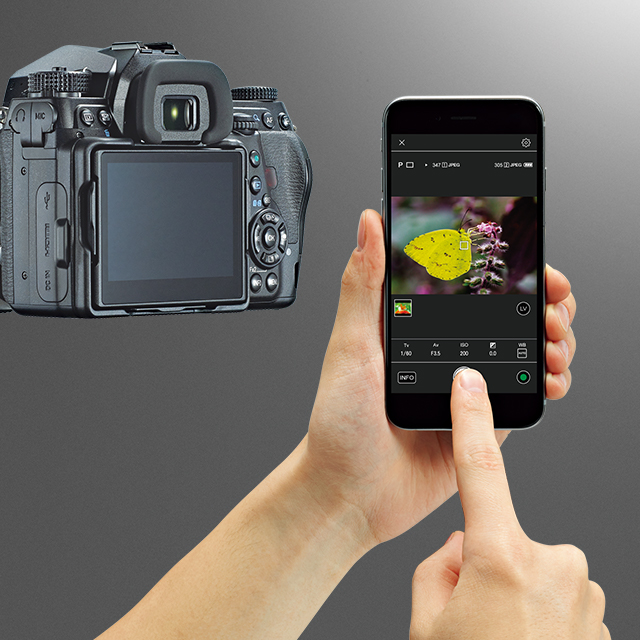 Application for remote shooting and photo transfer
Image Sync is an application that, when combined with supported cameras enables remote capture, image view, copying image to a mobile device, uploads to social media, and other functionality.
News
2023.12.07

2023.11.21

2023.11.02

2023.08.09

2023.07.27

2023.06.08
2023.04.20

Android ver 2.1.16 is released.
-Bug fixed.



Android download

2023.01.19

Image Sync V2.1.15 is released.
[For RICOH GR III, RICOH GR IIIx]
-Compatible with the function to turn the camera's power off from the ImageSync app, which will be added to the GR III / GR III x extension firmware update (scheduled to be released in late January).
*"RICOH GR III" firmware must be updated to version 1.70 or later to use this version.
*"RICOH GR IIIx" firmware must be updated to version 1.20 or later to use this version.
[For all models]
-Bug fixed.



iOS download




Android download

2022.11.24

Image Sync V2.1.14 is released.
(RICOH GR III、 RICOH GR IIIx、 PENTAX K-3 Mark III)
・PENTAX KF is now supported
・iOS16 is now supported
・Android13 is now supported



iOS download




Android download

2022.10.13

Features newly added on version 2.1.13
-Bug fixed.



iOS download




Android download

2022.07.12

Image Sync V2.1.12 is released.
[For RICOH GR III, RICOH GR IIIx, PENTAX K-3 Mark III]
-Enabled to auto rotate the live view screen during remote shooting.
[For all models]
- Improved operability of thumbnail image display when browsing mages in the camera.
-Bug fixed.



iOS download




Android download

2022.03.01

Image Sync V2.1.11 is released.
- Android12 support
-Enabled to rotate the live view screen during remote shooting.
-Bug fixed.



iOS download




Android download

2021.12.14

iOS ver 2.1.9 is released.
・iOS15 support.

2021.11.16

The distribution of ImageSync (Android) is now available
We are pleased to announce that ImageSync (Android) is now available as version 2.1.10.
・Updated the Privacy Policy

2021.11.02

"Notice of stopping the distribution of the Image Sync (Android)"
Currently, Image Sync of Android version has temporary stopped the distribution and cannot be downloaded.
We are now working on for redistribution we appreciate for your patience.
We apologize for any inconvenience this may cause.

2021.09.28

Android ver 2.1.9 is released.
・ Bug fixed.

2021.09.14

Image Sync V2.1.8 is released.
- Available for "RICOH GR IIIx" scheduled to be released in early October.
[For RICOH GR III]
"RICOH GRIII" firmware version 1.50 or later must be updated to use this version.
-The JPEG image resizing transfer function is possible that will be added to the GR III extension farmware version 1.50 scheduled to be released in early October.
-You can keep Image Sync running and transmit location information to the GR III even while the smartphone is asleep or when using another app.

2021.07.20

Image Sync V2.1.7 is released.
[For RICOH GR III,PENTAX K-3 Mark III]
-Automatically synchronize the date and time is possible.

[For all models]
-Bug fixed about view mode.


2021.04.27

Android ver 2.1.6 is released.
・ Bug fixed.


2021.04.20

Image Sync V2.1.5 is released.
・ Available for "PENTAX K-3 MarkIII".
・ Enabled to display grid lines on the live view screen during remote shooting.
・ Bug fixed about Wireless communication.
・ Enabled to send location information even in the background only Android version for GRIII.

When using iOS14 or later, images cannot be transferred unless the access right to "Photos" from Image Sync is appropriate, so we have asked for settings.
We apologize for the inconvenience, but please select permission to access "Allow access to all photos.



2021.01.13

iOS ver.2.1.4 is released.

2020.12.15

Image Sync V2.1.3 is released.

2020.07.28

Android ver. 2.1.2 is released. The app forced termination bug is improved.

2020.06.30

Image Sync version 2.1.1 is released. Please click here for more details.

2019.12.03

Image Sync ver. 2.1.0 is released. Please click here for more details.


2019.09.19

Image Sync ver. 2.0.6 is released. Please click here for more details.

2019.08.13

[To the RICOH GR III customers]
We have discovered that Image Sync V2.0.5, released on August 8, shows unstable connection behavior in some cases. See this page for the details.

2019.08.09

【For iOS users】

■Regarding Synchronizing date and time function of RICOH GR III
We have found a bug on Image Sync iOS ver.2.0.5 about Synchronizing date and time. When conducting synchronizing date and time at App's settings, the time is recorded as UTC (Coordinated Universal Time) instead of the device's time. We are currently working on revised version.

■Points to be noted on Image Sync iOS ver. 2.0.5 when connecting RICOH GR III which has already been paired by Bluetooth.



・Regarding iOS device which has never connected with RICOH GR III through Wireless LAN, Wireless LAN connection cannot be performed automatically even though you tap "Connect with Paired RICOH GR III." If you have conducted "Connection Method (iOS device & Wireless LAN)" in advance even once, Wireless LAN connects automatically thereafter.
・In case iOS device's Wi-Fi is connected to Wi-Fi router or other access points, automatic Wireless LAN connection cannot be performed.
・Normally, it takes 1 to 2 minutes to connect with Wireless LAN automatically.


In case you can never connect automatically through Wireless LAN, please kindly use "Connection Method (iOS device & Wireless LAN)". New functions such as synchronizing date and time, location information sending, transfer reservation and remote capture function can be performed by Wireless LAN.

We will continue efforts to improve Image Sync for improving operability.

2019.08.08

RICOH GR III Corresponding version (2.0.5) is released. To use this version, RICOH GR III firmware (version 1.10 or later) update is required.

The below functions are added.
・Remote Capture Function
・Bluetooth Connection
・Transfer reservation, Viewing images after turning off the camera power
・Synchronize date and time
・Location information sending

*RICOH GR III firmware (version 1.10) update information is here.

2019.04.23

RICOH GR III corresponding version (2.0.4) is released. To use this version, RICOH GR III firmware (version 1.10) update is required.
This version can conduct Viewing images via Wireless LAN and Image Transfer only.

The release timing of the version corresponding to following functions will be announced when it is fixed.
・Remote Capture Function
・Bluetooth Connection
・Transfer reservation, Viewing images after turning off the camera power
・Synchronize date and time
・Location information sending

We deeply apologize for the inconvenience caused.


iOS version download




Android version download


*RICOH GR III firmware (version 1.10) update information is here.

2019.03.12

iOS version 2.0.3 is released. The bug in remote operation was fixed.

2019.01.31

【For Android users】
Android ver. 2.0.2 is released. Wireless LAN connection performance is improved.
【For iOS users】
iOS version 2.0.2 is released. The app forced termination bug while transferring multiple images is improved.

2018.10.22

iOS ver. 2.0.1 is released. We continue efforts to improve Image Sync and resolve failures.

2018.10.19

【For iOS users: The 3rd report 】
We deeply apologize for the inconvenience for long time.
We would like to announce that revised Image Sync ver. 2.0.1 will be released on Oct. 22nd. (Release timing would be changed because of passing timing of App examination) This revision will be greatly improved for transferring failures. However, we have noticed App forced termination in the below condition regardless of App version.
- Image Sync is terminated forcedly during transferring or just after completion of transfer when you transfer more than ten images at one time during loading thumbnail of in-camera images if your device saves more than 500 images.
In case you face the above situation, please kindly try the below method.
- Transfer less than 10 images at one time, or start transferring after completion of loading thumbnail images.
We will continue efforts to improve Image Sync and also resolve the above failures by future updates.

2018.10.12

【For iOS users: Follow-up report 】
We will stop distributing iOS App temporarily because we require further time to fix bugs.
We are now preparing a new version which corresponds to the bugs,
and will be able to distribute Image Sync App again within 7 – 10 days.
We deeply apologize for the inconvenience, and we sincerely appreciate your patience.

2018.10.05

【For iOS users】
We have found a bug on iOS ver. 2.0.0. Some devices of iOS 12 cannot transfer images, and we are currently considering the measures for it. We will announce corresponding measures and time as soon as decided.
We apologize for the inconvenience.

2018.09.06
More
1. Image View and Transfer
This lets you view on, and copy to your mobile device images you have taken on your camera. Images that have been copied can be shared to social media.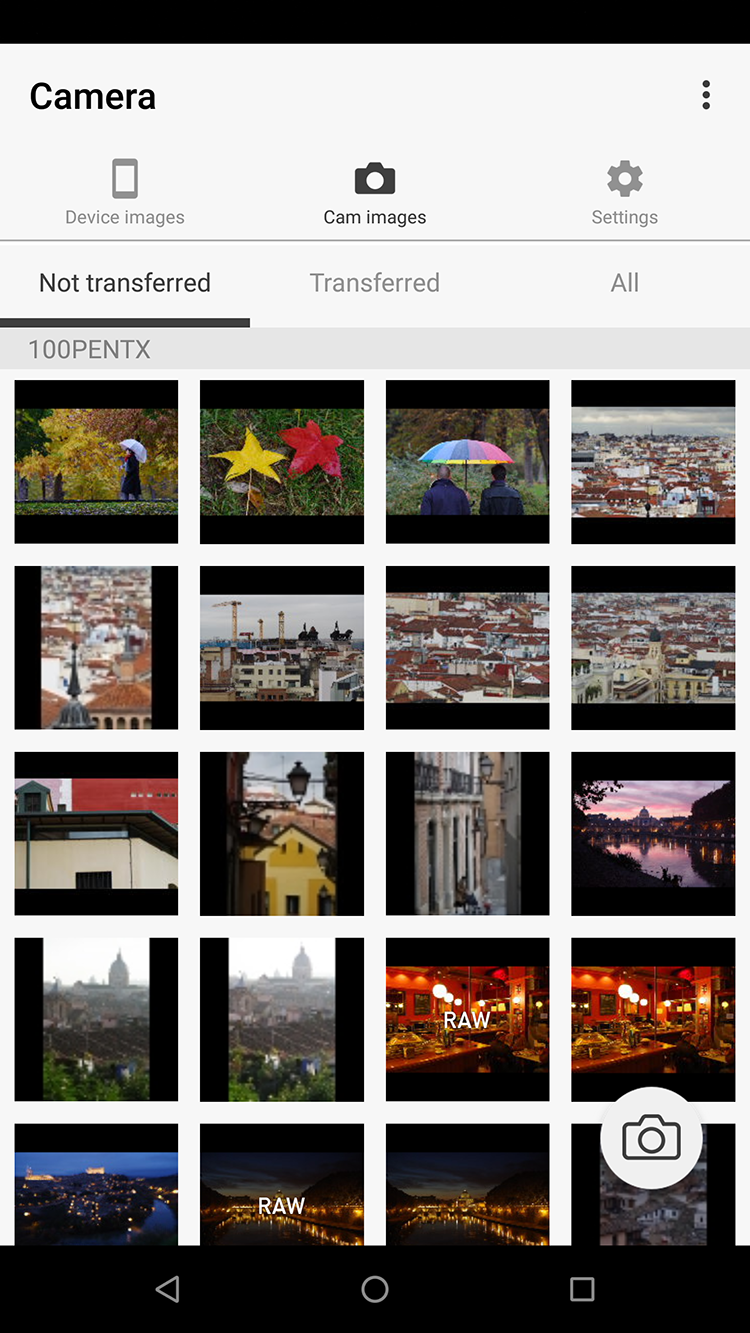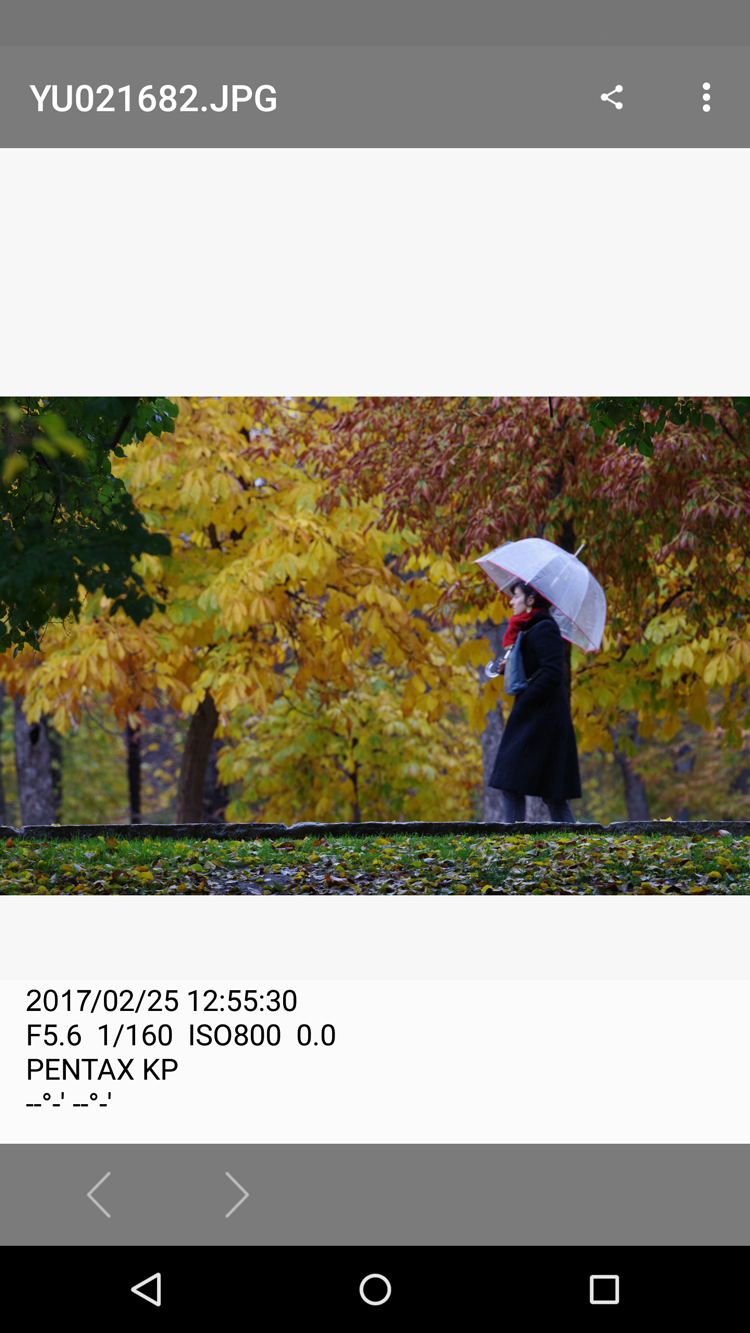 2. Remote Capture
You can view the Live View image of the camera on the mobile device, and using this, change shooting conditions such as EV compensation, White balance, Drive mode and operate touch AF and the shutter.* Furthermore, when holding your mobile device at horizontal position, Live View image can fill the whole screen and you can check the composition of photo larger.
*Excluding some cameras.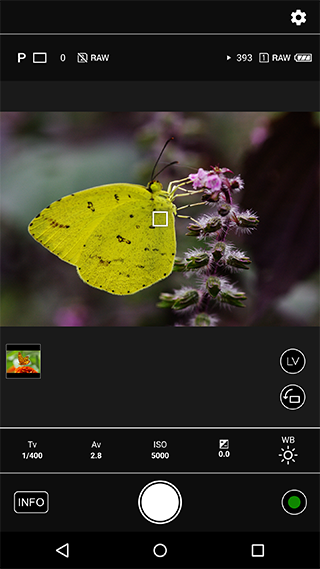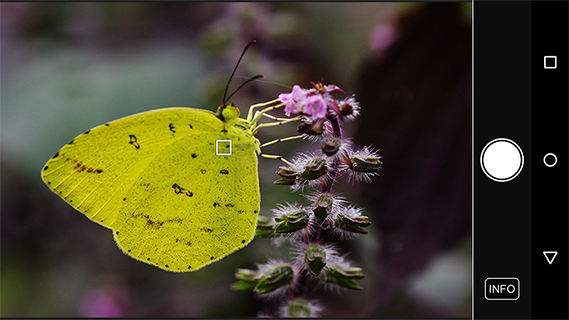 Functions for K-3 Mark III and GR III
◆Transfer reservation from the camera
Enables you to set the transfer reservation of any image from the camera playback screen. After the transfer reservation has been set, the images are transferred when you connect to a wireless LAN.
Also, if "Auto Image Transfer" is set, captured images are automatically set for the transfer reservation.

◆Viewing images after turning off the camera power (GR III only)
If you are always connected to Bluetooth, turn on the camera power to enable image viewing and transfer with the Camera Image Mode in the app.

◆Synchronize date and time
Enables the date and time on the camera to synchronize with the date and time on the mobile device.

◆Location information sending
Enables you to send the location information on the mobile device to the camera to add the location information to the image. This can also be changed on and off from the camera. Location information is also sent even when the application is working as background. (Only with Android devices)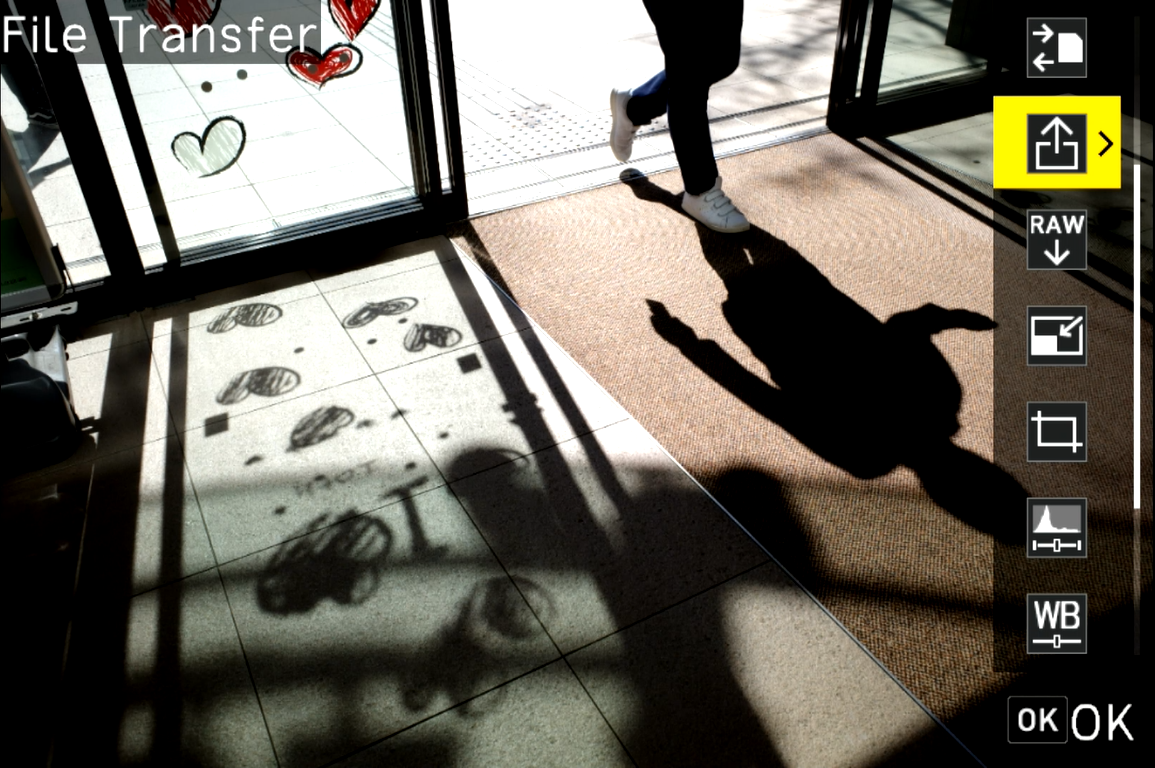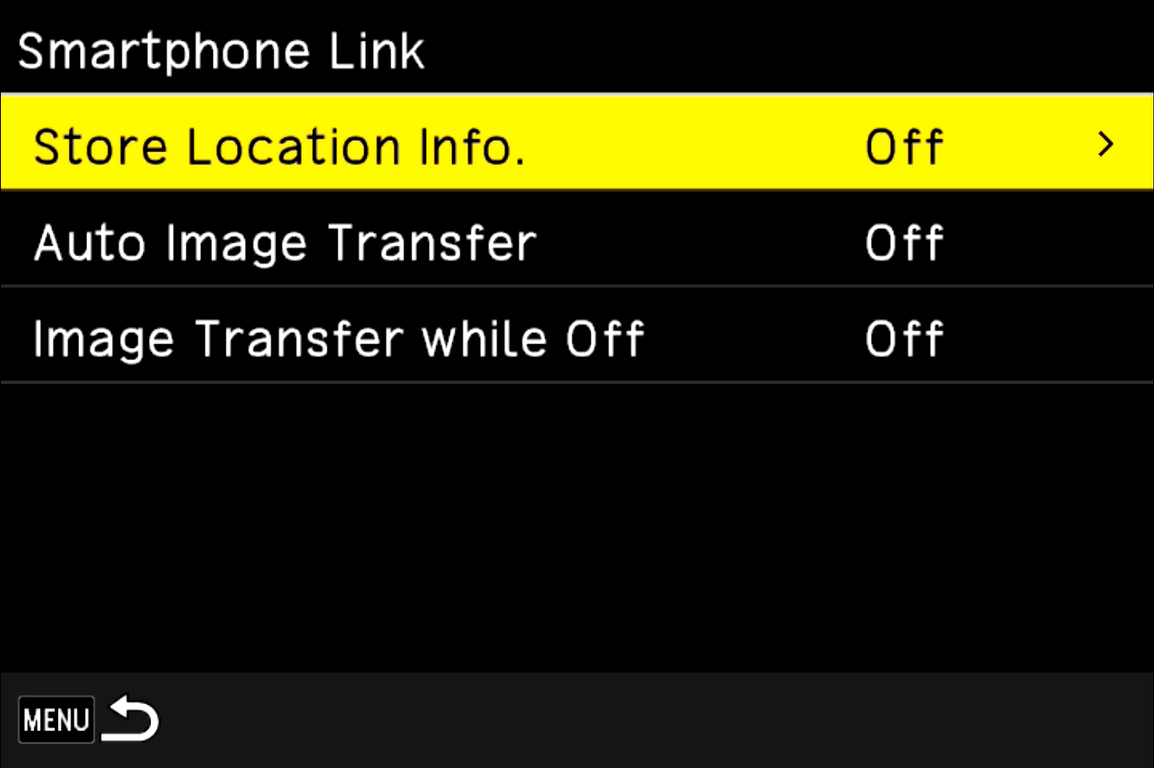 Recommended operating environments (Compatible OS)
*As of November, 2023
Note
・Details in Overview, Connection Method, and Functional Explanations are current As of November, 2023.
・Image of App differs depending on your camera, your mobile device's OS and App version. Also, image of App is subject to change without prior notice.
Privacy Policy
This Privacy Policy specifies the methods of collection, use and processing of collected data (defined below) concerning the use of the "Image Sync" mobile application (hereinafter referred to as "the Application") provided by RICOH IMAGING COMPANY, LTD. (hereinafter referred to as "RICOH IMAGING").
Please review the Privacy Policy and understand its content before using the Application.
If you are unable to agree to this Privacy Policy, you may not use the Application.
1. Information collected by RICOH IMAGING

RICOH IMAGING collects the following information (hereinafter referred to as "collected data") on your use of Image Sync using a third-party information collection module.
The collected data does not contain information identifying individuals.


- Information on the devices you use (e.g. OS version, device name, IP address, cookies, browser type, browser version, language configuration, region (country, municipality * identified by the IP address of the source), Internet service provider, UUID, etc.)
- Information on the camera your use (e.g. model name, firmware version, etc.)
- Information on usage of the Application (e.g. Information on launching the Application and operation)
- Information on crashes (e.g. the location of crashes, information on free memory and free storage when crashes occur, etc.)

2. Purpose of use of collected data

RICOH IMAGING uses collected data for the provision of Image Sync and the following actions.
Improvement, development and marketing of products and services
RICOH IMAGING collects and analyzes collected data to improve the Group's existing products and services, develop new products and services, market products and services, and demand forecasts to provide customers with better user experiences.

3. Other users of collected data

Collected data is used by the following group companies and third parties.
RICOH IMAGING's group companies and outsourcers
RICOH IMAGING shares statistical information of collected data with group companies that sell and provide the group's products and services to various countries and regions for the above purposes.
In addition, RICOH IMAGING shares collected data with Amazon Web Services, which provides data backup services.
These outsourcers use the collected data within the scope of the purpose of use specified in this Privacy Policy.
Firebase Analytics (information collection module)
Image Sync uses Firebase Analytics provided by Google Inc. (hereinafter referred to as "Google") to improve the quality of the Application.
See https://policies.google.com/privacy for how the collected information is used by Google.
Firebase Crashlytics (information collection module)
Image Sync uses Firebase Crashlytics provided by Google Inc. (hereinafter referred to as "Google") to track, prioritize and improve issues causing deterioration of functions.
See https://policies.google.com/privacy for how the collected information is used by Google.

4. Transfer of collected data overseas

Collected data is processed and stored for the purposes specified in this Privacy Policy, and may be transferred to countries other than your country of residence including Japan and the United States of America.
Furthermore, collected data may be processed and viewed by the staff of RICOH IMAGING or RICOH IMAGING's service providers in countries other than your country of residence.
RICOH IMAGING will take appropriate steps to meet the General Data Protection Regulation concerning the transfer of collected data from the European Economic Area (EEA) to countries outside the EEA.
If there are any questions or problems concerning the transfer of collected data overseas, please refer to the information on inquiries shown below.

5. Cessation of collection of collected data

If you wish to cease acquisition of your information by the Application, cease the acquisition of your information by uninstalling the Application from your device because RICOH IMAGING is unable to cease acquisition of customer information from each installation of the application.

6. Location Data

When you enable the Application's location data transmission function, the Application acquires location data from your device and transmits the location data to linked camera, where the location data are embedded in images which you take by using the camera. The Application does not transmit acquired location data to anything other than the camera. The Application does not store the location data in the storage of the device. In addition, when you enable the Application's background location data transmission function, the Application transmits the location data to the camera even if the Application is closed or not in use,

7. Revisions to the Privacy Policy

RICOH IMAGING may revise the Privacy Policy by notifying you through Image Sync or with your consent if necessary pursuant to applicable laws and regulations.

8. Inquiries

If you have any questions or concerns about the Privacy Policy, or if you wish to exercise your legal rights concerning the collected data, please contact us through the following inquiry form.
https://www.ricoh-imaging.co.jp/japan/support/product_web.html

Last Updated: 12th 11 2021
RICOH IMAGING COMPANY, LTD.