RICOH R10
Feature3: Diverse functions for use in a wide range of situations
Easy shooting mode for simple operation with only frequently used functions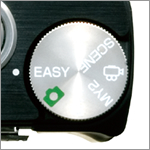 Since easy shooting mode displays only often-used functions, you can relax and shoot with simple operations.
With easy shooting mode, no mistakes and no confusion.
When easy shooting mode is set, the shooting menu shows only "Pic Quality/Size" so there is less worry of operation errors. This can be helpful when asking others to take your picture while traveling. Also, switching to easy shooting mode returns the camera to default settings, enabling you to shoot instantly without having to think about what the current settings are.
[Main settings when camera is switched to easy shooting mode]
[Flash]
Auto
[ISO Setting]
Auto-Hi (ISO sensitivity upper limit is 400.)
[Camera Shake Correction]
ON
[Menu]
Only displays "Pic Quality/Size"
[ADJ./OK Button]
Only displays "Pic Quality/Size"
[Fn Button]
(1) Backlight compensation
(2) Macro target can be set
Backlight compensation function convenient for backlit scenes
The backlight compensation function is convenient to use in situations where the main subject ends up being too dark, such as when shooting people in front of a bright background. When shooting in easy shooting mode, this function can be turned ON/OFF with the Fn button.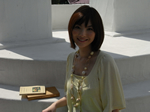 Backlight compensation off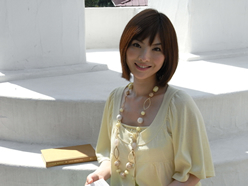 Backlight compensation on Flash [Flash Off]
Choose from 10 scene modes to fine tune your shooting
Selecting one of the wide range of scene modes based on the shooting situation will enable you to easily shoot with settings suitable for that scene.

Aspect ratio 1:1 square format photography mode for a different perspective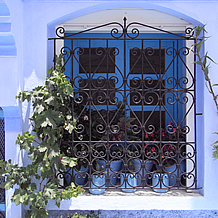 f=28mm 1/660sec F3.3 ISO100 EV-0.3 WB:AUTO
The square format used on medium format cameras offers image composition possibilities with a subtly different feel. This format is also convenient when shooting images for blog use.
AE/AF target shift function enhances shooting creativity
In both macro and normal shooting, the AE/AF targets can be shifted alone or together to any position on the screen. This enhances shooting freedom by enabling you to change focus and exposure settings without moving the camera, even if it is fixed to a tripod.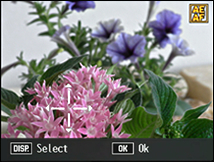 * Simulated image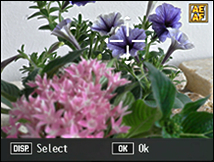 Color bracketing function shoots 3 tones with 1 push of the shutter
Pushing the shutter just once, in addition to the normal color image, you get a black and white image with an artistic interplay of light and shadow, and a sepia tone image with a nostalgic feel. Indulge your playfulness and creativity!
Flash light intensity adjustment function for delicate light expression
With this function you can adjust the light intensity in 1/3 EV steps across the -2.0EV to +2.0EV range. This greatly expands the possibilities for creative flash photography.
Custom self-timer function for fine tuning timer use
The customer self-timer function is convenient for shooting multiple images with the self-timer. You can specify 1 to 10 images to be shot in 5 to 10 second intervals.
Other shooting functions

●

Fixed minimum aperture function for shooting with the smallest aperture

●

Auto bracketing function for consecutive shots at different exposures

●

White balance bracketing function for consecutive shots with different white balance

●

Record dual size function saves a subfile along with the original image

●

Continuous shooting modes: Continuous, S-Continuous, and M-Continuous (S-Cont and M-Cont have 16 frames in an image file)