RICOH R10
Feature2: Convenient functions to capture the moment
Electronic level for quick and accurate camera leveling
Using the level sound and the level indicator shown on the picture display, you can confirm that the image is level while shooting. This is convenient when you what to avoid any tilting of the subject when shooting landscape and building scenes.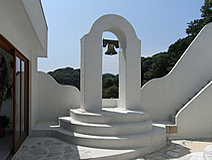 With leveling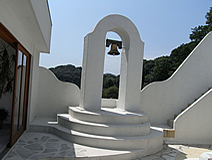 Without leveling
Two motion blur reduction functions (hand motion and subject motion)
Ricoh's original CCD-shift image stabilizer function reduces the handmotion blurring that tends to occur in situations such as telephoto and macro shooting. When blurring is detected, the CCD itself automatically compensates by shifting in a direction that eliminates the blur. For lowlight scenes (indoors, twilight, etc.), subject blurring can be reduced using the auto high sensitivity, which enables fasters shutter speeds by raising the maximum ISO sensitivity level. These functions can help you to capture the ambiance of the scene as you see it.
*

lur reduction functions are not guaranteed to work in all photographic conditions.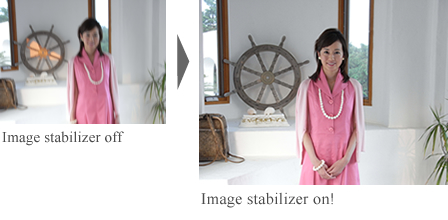 Face recognition mode so faces look their best
Enhancing portrayal of the nuances of facial expression and skin texture, this mode optimizes face focus, exposure, and white balance by identifying subject faces * . Even when people are not in the center of the frame, this function finds the faces and makes the appropriate adjustments.
*

Identifies up to four faces.

*

Face recognition mode is not guaranteed to work in all photographic conditions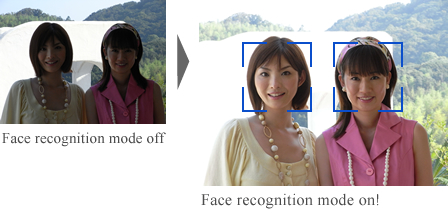 Auto level compensation displays its power when shooting high-contrast subjects
Image setting functions enable you to change picture qualities (contrast, sharpness, color depth, black and white, sepia, etc.) while shooting. If you select "auto levels," the camera automatically adjusts tones to create a suitable level of brightness that limits whiteout and reduces loss of detail in dark areas when shooting high-contrast subjects.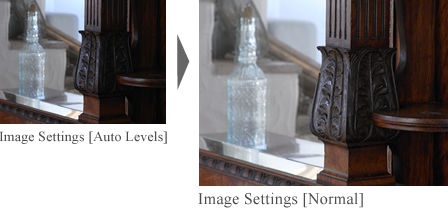 28 mm wide-angle lens captures background along with people
The ability of the 28 mm lens to capture a wide field can be put to good use in a variety of situations, such as when shooting expansive landscapes and subjects where distance to the camera is limited. When taking a picture in front of interesting buildings while traveling, the 28 mm wide-angle can bring people and background together in a single image.