RICOH R10
Feature5: In-camera image editing after the picture is taken
Image flag function for quick display of desired images
From among the images taken, up to three files can be flagged for immediate display. For example, images shot for future reference while traveling (maps, time tables, etc.) can be quickly displayed in playback by pushing the Fn (function) button.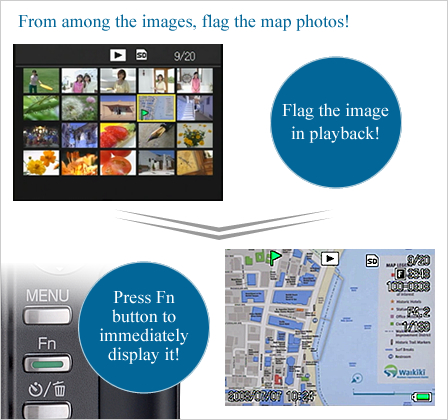 * Simulated image
Level compensation corrects brightness and contrast in the camera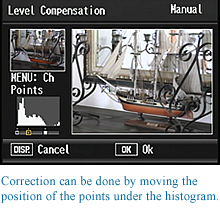 The brightness and contrast of still images can be automatically or manually corrected in the camera without using a PC. With manual correction, the histogram can be finely adjusted until the image faithfully reflects the photographer's intentions.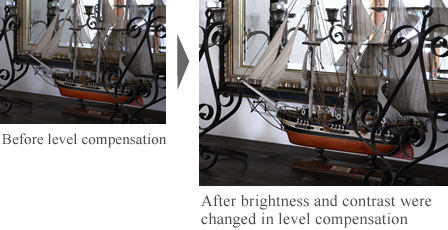 White balance compensation to correct the color tone of still images in the camera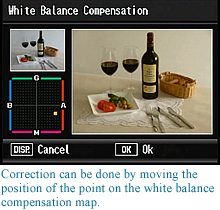 Whether you want to reproduce the subject's color tone or change it, you can adjust green, magenta, blue, and amber color tones to match your intentions and preferences.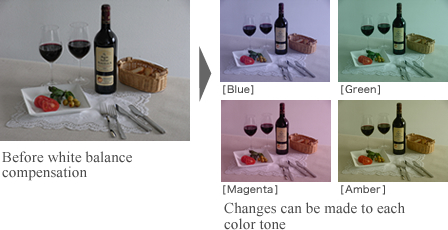 Trimming of still images
Still images in the camera can be enlarged and trimmed. The trimming is easily done by specifying the trimming frame and size.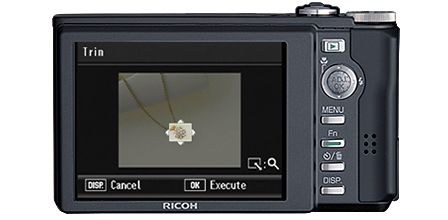 * Simulated image
Auto rotation function of playback images
By detecting what the position of the camera was at the time the image was shot, during playback it is possible to automatically rotate images shot vertically.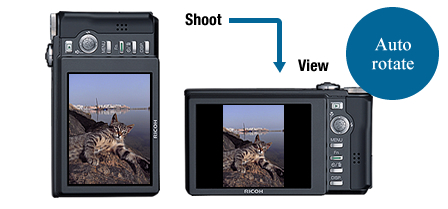 * Simulated image
Skew correction function for straightening subjects shot at an angle
A rectangular object, such as a bulletin board or business card, shot at an angle can be straightened to look like it was shot squarely. Skew correction can be done to still images either during or after shooting. It is very useful for images of rectangular subjects that are difficult to shoot without distortion.

Long operation capable of approximately 300 pictures
The camera's long operation time means it can take approximately 300 pictures*. So you don't have to worry about running out of battery power while out shooting.
*

This is with LCD Auto Dim on. When LCD Auto Dim is off, the capacity is approximately 270 pictures.
Note: Shooting capacity was measured using CIPA-standard parameters. This is only an estimate, and performance may vary according to usage conditions.
54 MB internal memory
The 54 MB of internal memory makes it possible to record large-volume high-definition image data. This adds flexibility to your photography.
Movie functions
When you want to capture movement and sound rather than still images, you can shoot movies with sound. You can chose movie image size of 640x480 or 320x240 pixels and number of frames shot per second (frame rate) of either 30 or 15.
Other functions
[Convenient playback functions]
●

20-frame thumbnail display function convenient for searching images.

●

White saturation highlights display function for checking the bright areas of the image.
[Solution functions]
●

Ricoh printer-compatible format printing function
*

Highlight display is only a general reference.