CX1
Easy: Beautiful images with easy operations

Simple operation with only frequently used functions.
Easy shooting mode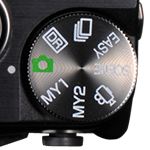 The shooting menu shows only "Pic Quality/Size" so operations are simplified, and there is less worry of errors. This can be helpful when asking others to take your picture. Also, switching to easy shooting mode returns the camera to default settings, enabling you to shoot instantly without having to think about what the current settings are.
With easy shooting mode, no mistakes and no confusion.
[Main settings]
Flash (Auto)
ISO Setting (Auto-Hi *)
Camera Shake Correction (ON)
*

ISO sensitivity upper limit is 400.
Macro mode automatic switching.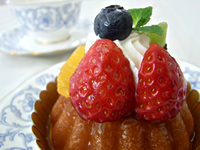 When shooting a subject at close distance, the camera will automatically switch to macro mode so you can enjoy macro photography without the inconvenience of mode switching.
*

The wide-angle (28 mm equivalent) minimum shooting distance is 3 cm.
Convenient for people photography in backlight.
Backlight compensation function
The backlight compensation function helps avoid problems in situations where the main subject ends up being too dark, such as when shooting people or other subjects in front of a bright background. When shooting in easy shooting mode, this function can be turned ON/OFF with the Fn button.
Blur reduction of both hand motion and subject motion.
Blur reduction functions
The image sensor shift blur reduction function reduces the hand-motion blurring that tends to occur in situations such as telephoto and macro shooting. When blurring is detected, the CMOS sensor automatically compensates by shifting in a direction that eliminates the blur. For lowlight scenes (indoors, twilight, etc.), subject blurring can be reduced using auto high sensitivity, which enables fasters shutter speeds by raising the maximum ISO sensitivity level. These functions can help you to capture the ambiance of the scene as you see it.
*

Blur reduction functions are not guaranteed to work in all photographic conditions
Quick and accurate camera leveling.
Electronic level
Using the level sound and the level indicator shown on the picture display, you can confirm that the image is level. This is convenient when shooting landscapes, buildings, and other subjects where tilting can be a problem.
Recognize faces and portray them beautifully.
Face recognition mode
Enhancing portrayal of facial expression and skin texture, this mode optimizes face focus, exposure, and white balance by identifying subject faces *.
*

Identifies up to four faces

*

Face recognition mode is not guaranteed to work in all photographic conditions
Ten modes to match shooting conditions.
Scene modes
Selecting the scene mode for the situation you want to photograph will enable you to shoot with the best settings for that scene.