CX1
Design: A beautiful tool

Large, high-definition 3.0-inch 920,000-dot VGA LCD monitor  
The large, high-resolution LCD monitor has a wide viewing angle and high contrast, two features that can be very convenient both during shooting and playback. The screen has a fluorine coat to prevent soiling, a hard coat to prevent scratches, and an anti-reflection coat. With excellent visibility even outdoors, it provides a comfortable shooting environment.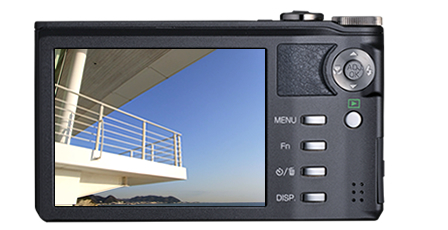 * Simulated image
The 81-image display function

Histogram and Detailed Information
Display

Shooting Information Display
Frame

The "Today's Shots" display
function
Make quick, sure shooting mode changes. Mode dial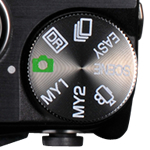 The mode dial lets you quickly switch between the various shooting modes. It is easy to select the best mode to match the shooting scene and purpose.
Make quick menu setting changes.
ADJ./OK button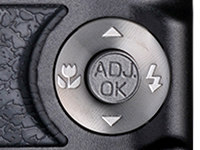 Four frequently used functions from the shooting menu, such as exposure compensation, white balance, and ISO sensitivity, can be assigned to the ADJ./OK button. This makes it possible to quickly access the assigned functions and easily change settings while shooting.
Enjoy shooting just the way you want.
Fn (function) button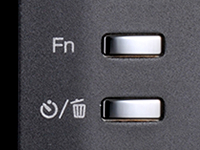 If you set a function such as AE lock, step zoom, or backlight compensation in advance, you can switch to that function by just pushing the Fn (function) button. This will enable you to respond quickly to sudden shutter chances.
Create your own custom specs.
My Settings mode
If you set your most frequently used functions in My Settings mode, you can immediately call up the "custom spec" settings by just turning the mode dial. Making full use of My Settings mode will insure that you do not miss your own decisive moments.
Using "My Settings"!
Two groups of settings can be registered as "My Settings." You can then immediately call up those settings by moving the mode dial to MY1 or MY2.
My Settings pattern (1)
Settings for shooting product photos for net auction use:
Pic Quality/Size N640, macro mode, focal length 50 mm,
flash off
My Settings pattern (2)
Settings for black and white photos for blog use:
Pic Quality/Size F1:1, B&W, flash off