Caplio GX
A Compact Digital Camera Enters the Professional Arena.
There simply hasn't been a compact digital camera suitable for professionals. The Caplio GX changes that with its 5.13 effective-megapixel CCD, 28 - 85 mm range and the world's fastest (0.12 seconds) shutter release time lag

. It also features Aperture Priority and Manual Exposure modes, plus a wide range of functions and unmatched expandability. Providing the ability to captures scenes formerly possible only with a single lens reflex camera, the Caplio GX will fully satisfy the demands of professionals.
*1

As of April, 2004. Time lag from pressing the shutter until exposure begins in AF without using focus lock.

※

:Focal lengths are 35mm film camera equivalents.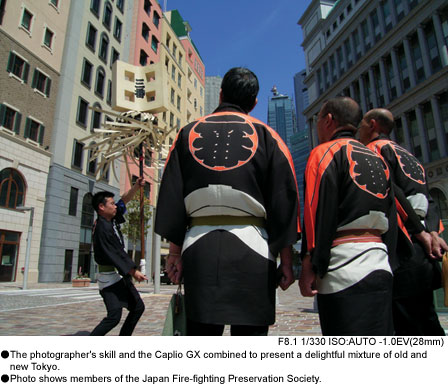 Image quality of 5.13 effective-megapixels meets
the needs of serious photographers.
The Caplio GX features a 1/1.8-type high resolution CCD with 5.13 effective-megapixel resolution (total of 5.25 megapixels) that ensures excellent results in a wide range of shooting situations. The combination of this CCD and a low-noise, single-chip processor gives you the high image quality required for full-size A3-spread prints.
28 ~ 85mm optical 3x zoom transcends
the boundaries of compact digital cameras.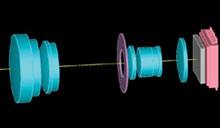 The 3x optical zoom expands the camera's wide angle to 28 mm, a range difficult for other compact digital cameras to achieve. It lets you shoot wide images that couldn't be accommodated in the frame. In addition, Ricoh's new zoom lens utilizes 9 elements in 7 groups to guarantee adequate peripheral light, usually a problem at wide angle edges. Four aspherical lenses and four lenses with high refractive index and low dispersion are arranged to ensure well-balanced correction of aberration in all zoom ranges. The lens quality is comparable to a CCD having 6 or more megapixels.
Greater control than ordinary compact digital cameras:
Aperture Priority and Manual Exposure modes.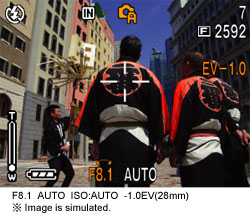 You want delicate control over depth of field. Aperture priority mode gives it to you. Set it to open with the up-down dial and enjoy a wide range of depth with fine control. You are free to, for example, narrow the aperture to aim for pan-focus images. With a depth of field deeper than a single reflex lens, you can get well-focused images from directly in front of you to far away. And you can manually set the shutter speed from a high speed of 1/2000 to a long exposure of 30 seconds.
Delicate exposure correction for
more subtle lighting effects.
When the contrast of the light is strong, or when you want a white object to be a little whiter or a black object a little blacker, correcting the exposure so it is slightly over or under results in beautiful images with more effective lighting and shading. The Caplio GX can correct exposure in 1/3 EV steps within a range of

2.0 EV.