Caplio GX
The camera that gives you the tools you need for true creative expression.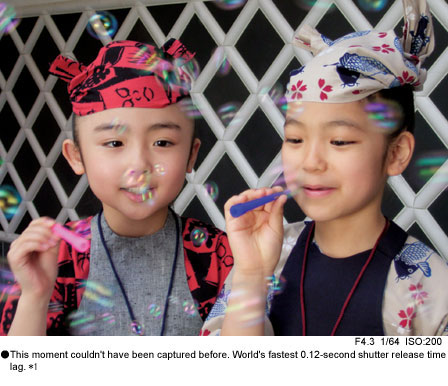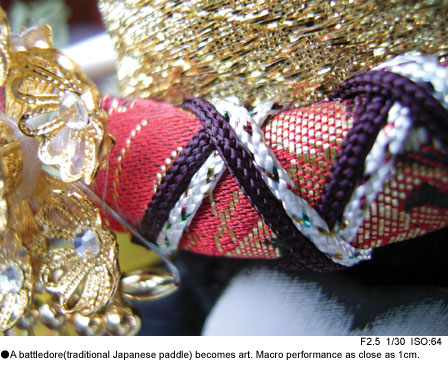 The world's fastest

shutter release time lag of only 0.12 seconds.
The most serious shortcoming of digital cameras has been the time lag until the shutter opens. The Caplio GX solves this problem with a Hybrid AF system that achieves extremely high speed response for the world's shortest release time lag of 0.12 seconds, approximately 1.2 seconds from the moment the power is turned on until it can take a picture, and an interval until the next picture can be taken of approximately 1.3 seconds. This means you'll never miss the photo opportunities that suddenly appear before your eyes.
*1:

As of April, 2004. The time between pressing the shutter until exposure begins in AF without using focus lock.
Focal lengths are 35mm film camera equivalents.
The crystallization of Ricoh's detailed technology:
1cm macro.
Ricoh's highly advanced close-up photo technology lets you fully enjoy the world of macro photography, and now you can take macro shots as close as 1cm (Wide). Take pictures of newspaper and magazine articles instead of making notes, and experiment with new spheres of close-up photography, such as using precision handicrafts as objets d'art or making micro-art from insects and plants.
A unique function useful in creative work:
AF Target Selection.
The AF Target Selection function gives you even more creative macro photography possibilities. With your camera fixed on a tripod, you can move the focus point freely to maintain focus. This prevents the slightly out of focus condition that often occurs in focus lock. The ability to control blurring when entering the micro world gives you new creative powers.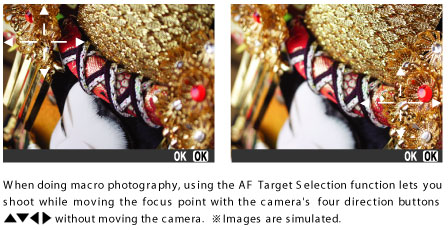 Close-up flash lets you soften light
as close as 15cm.
A problem with macro photography has been that the camera or photographer can cast a shadow, making a flash necessary, but since flash intensity couldn't be adjusted, resulting in over exposured shots. The Caplio GX's close-up flash solves this problem by decreasing flash strength according to the distance from the subject. It provides illumination for shots as close as 15cm without causing white out, so you can softly photograph plants, small text and so on.
Six scene modes let you freely choose the optimum
program.
With the Caplio GX, you can select six scene modes to match specific shooting demands: Portrait, Sports, Text, High-sensitivity, Night Scene and Landscape. They allow you to shoot smoothly in a variety of situations by operating a single button.
Not just a high performance digital camera, but the realization of a true expressive tool. Expandability nearly equal to that of a single lens reflex.
The expandability of the Caplio GX sets it apart from other compact digital cameras. In addition to the superb performance of the camera itself, whose goal is achieving the two concepts of high picture quality and ease of use, it is designed to be a complete system on the professional level.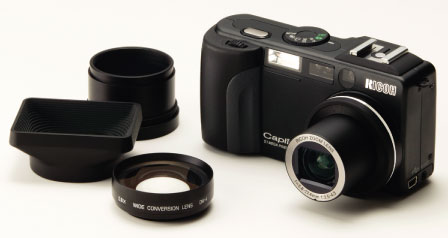 System Configuration
The Caplio GX represents a new response from Ricoh to the high end class that could not be satisfied by conventional compact digital cameras. The goal was to create a complete system that makes it easy to shoot in all types of situations, by providing a broad selection of general purpose accessories.