Caplio GX
Greater control and convenience is now yours in a compact digital camera.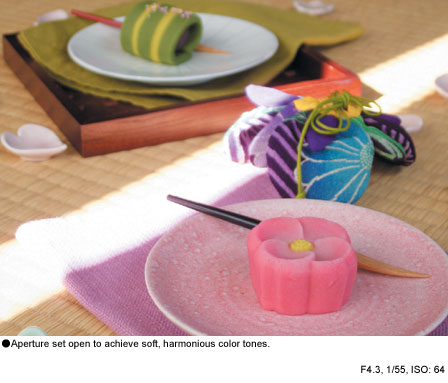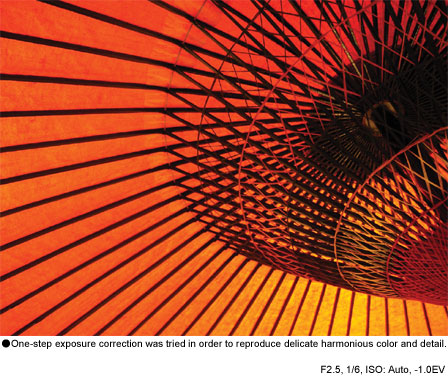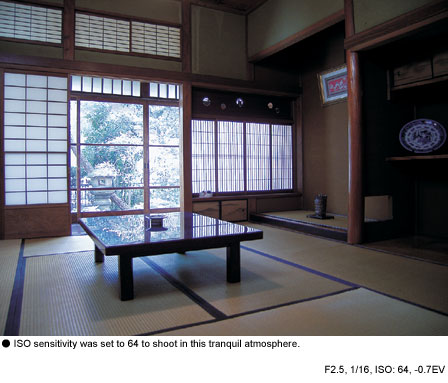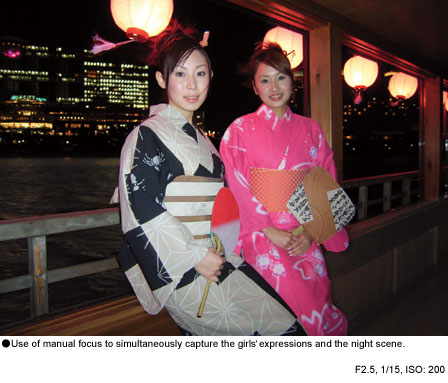 Three metering methods achieve
exactly the exposure control you want.
The Caplio GX has three metering modes to let you control exposure just as you wish. Depending on the situation, you can select Multi that divides the entire shooting range into 256 parts to measure the intensity of the light, Center that measures the entire range while emphasizing the center, and Spot that measures the light intensity only at the center.
Optimum manual focus
when AF cannot focus.
Sometimes it is difficult to focus with AF, such as when shooting through glass or when the entire subject is white. On those occasions, you can select Manual focus and control the focus freely.
Includes an image non-compression mode
to meet professional needs.
In addition to the N(normal) and F(fine) modes, you can select NC (non- compression)mode for recording in TIFF image format. A flexible format that preserves all picture data allowing for a 'digital positive' as it represents a true image.
Histogram display lets you accurately
check exposure.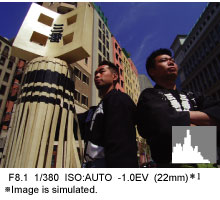 The histogram display lets you judge the brightness of the image without being influenced by the way it appears on the LCD monitor. You can also recall recorded data when playing back images.
:Using the wide conversion lens DW-4.
Reproduce more faithful colors:
white balance manual setting.
There are times when you will need to override the automatic white balance by choosing a white balance manually, typically when shooting in multiple light sources. The Caplio GX has six modes to help you obtain faithful colors: Auto, Outdoor, Cloudy, Incandescent, Fluorescent, and One Push that lets you set the white balance manually. This allows you to measure a white point from a part of the image to be captured, which the camera will then use to correct all images until you reset it.


To be sure you get the shot you want:
White Balance Bracket and Auto Bracket.
With white balance set to the standard value, White Balance Bracket automatically shoots three images, one with a red tone, one at standard white, and one with a blue tone. You just shoot and then choose the one you like best.

By engaging Auto Bracket, you get three shots at three different exposure levels: -0.5EV, ±0, and +0.5EV. This ensures that you get the best image even in tricky light conditions.
Use a high capacity lithium ion rechargeable battery,
AA batteries, or an AC power source.

As a camera for professional use, the Caplio GX provides superior practicality during emergencies. It can be powered not only by a high capacity lithium rechargeable battery, but also by AA batteries. This is useful if a battery unexpectedly runs out of power. It can also be powered by your household power using an AC adapter.
Long-life battery.
The optional high capacity lithium ion rechargeable battery (DB-43)gives you a high shooting capacity of about 400 pictures

(Normal mode, 30-second intervals using flash and zoom for one our of two photos).
*2:

See the specifications on the back page for the number of photos you can shoot.
Lightweight and durable aluminum alloy body
is easy to hold.
Designed to be a professional tool, the Caplio GX adopts an ergonomic grip shape that fits firmly in your hand. It promises holding properties with a highly integrated feel.
Up-down dial (Sub command dial) supports
quick manual operation.
This dial lets you set the menu and change aperture or shutter speed more quickly than ever before.
ADJ button simplifies manual control.
The ADJ button allows exposure correction, white balancing and ISO sensitivity setting with fewer operations. You can also customize functions other than these adjustment functions with the ADJ button.
1.8-type high-detail LCD monitor(approx. 130,000 pixels)
Even when the image is expanded, this high precision 'live' monitor lets you quickly and accurately preview focusing when using manual focus.
Packed with numerous other advanced features.
●

Internal 16MB memory/SD card:

Equipped with a compact, high speed, highly reliable SD memory card as its recording media. It also has a convenient 16MB internal memory for recording even without a card.

●

Video recording with sound:

In addition to still pictures, the Caplio GX lets you record high quality video (AVI) with sound.

●

S/M continuous mode function:

The S/M continuous mode function lets you record 16 pictures in a single file continuously for 3 seconds. This is a valuable function when, for example, you want to check the continuous motion of your golf swing. You can play back the pictures continuously as animation.

●

ISO adjustment:

To achieve faster shutter speeds and better performance in low light the Caplio GX lets you switch ISO from 64 through 1600.
Access all functions other than operating the shutter by moving only your thumb. The Caplio GX operating environment is integrated with the photographer.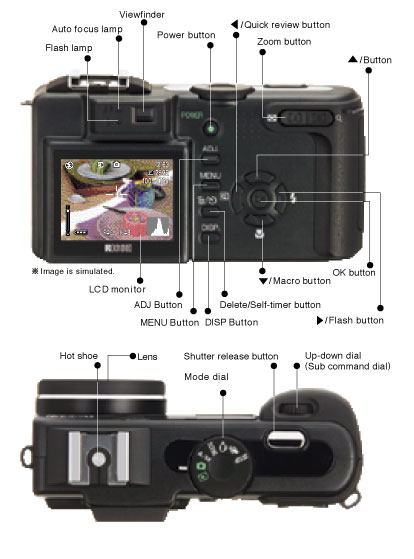 Making high performance as easy as possible to use.
The Ricoh Caplio solution
Ricoh's policy of aiming for the perfect solution to any problem is exemplified by the design of the Caplio GX. It offers interfaces for personal computers and mobile phones, the organization of stored picture data, the print out environment and so on, on the premise that anyone will be able to operate it without confusion or problems.
●

Camera memo:

When you intend to gather material for a long period, you can systematically organize a massive number of shots by inputting memos such as Milan, Rome, Florence in advance, and then applying them when you are taking pictures. This lets you automatically organize and categorize them by group name on a personal computer.

●

Simple image transmission via USB:

You can easily send images simply by connecting a special USB cable for personal computers, without even software. You can even do convenient picture resizing when you organize, store, print, or e-mail image data.

●

USB direct print:

If you have a PictBridge compatible printer, you can do direct printing without using a computer simply by connecting the camera to the printer with a USB cable.