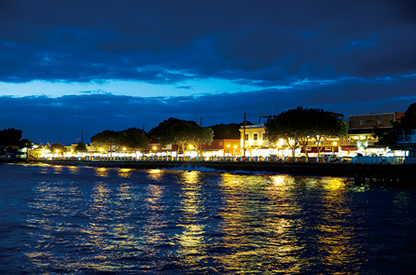 PENTAX K-30 with smc PENTAX-DA  16-50mm F2.8 ED AL[IF] SMD.Aperture: f/2.8; Shutter speed: 0.5 sec.; Exposure compensation: 0.0EV; Sensitivity: ISO 400; White balance: AWB; Custom image: Bright

In order to capture the captivating subjects and breathtaking scenes that appear in your viewfinder as brilliantly and faithfully as possible, the K-30 features a large, state-of-the-art image sensor and the latest imaging engine. Even in dark locations prone to camera shake, you can release the shutter without the slightest hesitation, preserving the most dramatic moments as beautiful images.

In order to faithfully preserve all the colors and shades of the real world in a beautiful, well-defined photographic image, the K-30 is equipped with a large APS-C-size CMOS image sensor with approximately 16.28 effective megapixels. It also features the PENTAX-original high-performance PRIME M imaging engine to deliver a high-resolution image rich in gradation.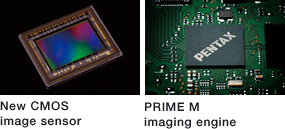 Thanks to the high-performance PRIME M imaging engine, theK-30 offers super-high-sensitivity shooting with a top sensitivity of ISO 12800 (or ISO 25600 when expanded), recording well defined images with minimal noise. You can even handhold the K-30 to capture nightscapes and indoor scenes without the help of a flash or tripod. By taking advantage of such high sensitivities,you can also set faster shutter speeds to freeze the decisive moment of fast-action sports scenes.

Thanks to the incorporation of a glass pentaprism and an in-body SR mechanism, the K-30 offers an approximately 100% field of view — something otherwise available only with professionalstandard models — in a remarkably compact body. Its optical finder is ideally designed to assure quick, accurate image composition,even with the fast-moving subjects found in sports. In addition,its focusing screen can be replaced with optional screens to accommodate specific applications or individual preferences.

Featuring the innovative PENTAX-developed SR (Shake Reduc-tion) mechanism, the K-30 minimizes camera shake with all com patible interchangeable lenses — from ultra-wide-angle to super-telephoto — to assure sharp, blur-free images, even in demanding situations prone to camera shake, such as using a telephoto lens, shooting at a dark place with incident light only,or photographing a sunset.


The K-30's PRIME M imaging engine is the key to capturing beautiful,flawless Full HD-quality movie clips (at 30 frames per second, in MPEG-4 AVC/H.264 format). You can not only experiment with various visual expressions using custom images and digital filters, but also adjust such camera settings as aperture,shutter speed and ISO sensitivity to the desired levels. All these tools help you to capture beautiful, outstanding-quality movies with minimal effort. You can even select the interval movie mode, which captures a series of movie clips at a fixed interval, then edits them into a single work of movie — ideal for recording the transition of the sky or the growth of a plant over an extended period of time. This mode can also be used in HDR (High Dynamic Range) shooting.
Note: The camera's shake reduction mode is switched to digital movie SR during movie recording..