With the optional O-ST128 Hand Strap,
you will be ready for even more active photography.
Punching White



Leather Beige



Carbon Black



Approximately 4.5 times the power of the internal flash. Puts powerful and precise flash performance under your control.

Approximately 3 times the power of the internal flash. Puts sophisticated flash performance under your control.

Full functionality in a compact size. A small flash convenient to carry along with you.
Keep shutter release button operation in your hand. Great for nightscapes and commemorative photos.

●Functions cannot be assigned to the sub-button.
Freely adjustable to your preferred length; can be worn across the chest.

This one-hand strap will increase your shooting ease and flexibility.
AA-size lithium batteries, nickel-hydrogen rechargeable batteries, and alkaline batteries can be used. With four lithium batteries, approximately 1,600 photographs can be taken. (When flash is not used.)
Power your camera with household electrical current. Very useful when shooting and viewing photos over an extended period.

Magnify the viewfinder image with this easy-viewing internal-lens eyecup.
●Output is at standard resolution (VGA). Connect the camera to a television to enjoy your photographs on the big screen.

Don't panic if you get some dust on the image sensor. You can easily remove dust with this cleaning stick.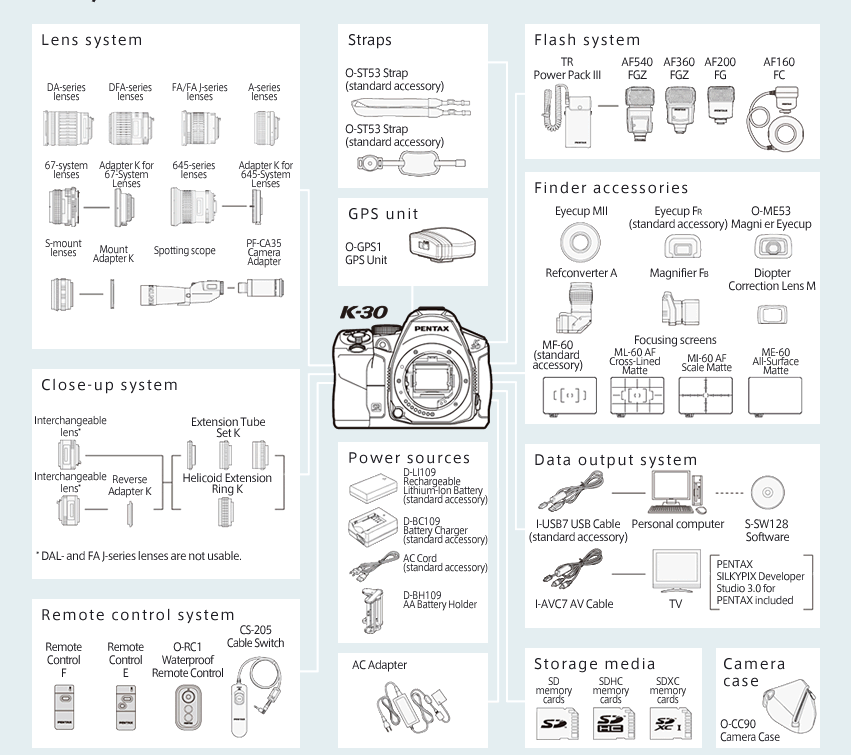 Note: Some restrictions may apply to certain accessory combinations. Please contact your nearest PENTAX customer center for details.