Medium-Format Camera: 645NII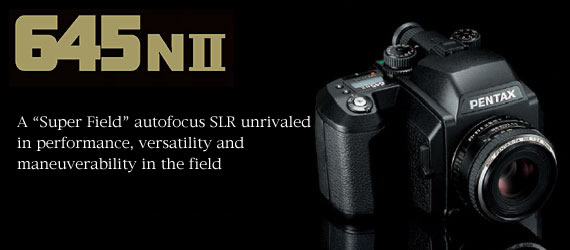 Smooth Mirror Operation with Lock-Up Mechanism to Minimize Camera Shake
The 645NII features an upgraded mirror mechanism that swings the mirror up and down more smoothly and silently than its predecessors, generating far less jolt at shutter release and greatly reducing camera shake during exposure. It also comes equipped with a mirror lock-up mechanism to effectively minimize camera shake at the crucial moment of shutter release — a feature particularly useful when using telephoto and super-telephoto lenses, where image quality can be affected by the slightest vibration.
PENTAX Functions to Customize Camera Operation to User Preference
Ten different PENTAX Functions help you fine-tune the 645NII. For instance, you can preprogram shutter-speed step (1/2EV or 1EV), exposure-compensation step (1/3EV or 1/2EV) and the availability of program shift (prohibited or permitted) to suit your operational preference and shooting style.
Data Imprinting Function to Preserve Photographic Data Permanently
The 645NII's on-the-film data imprinting function lets you save valuable photographic data permanently for future reference by automatically recording as many as 17 different types of data onto the blank space outside the image area.
Release Socket Compatible with Cable Switches and Release Timer Switch
The 645NII's release socket not only offers solid connection with the optional CS-105 and CS-130 cable switches and TS-110 release timer switch, but also allows single-action attachment and removal of these accessories. The cable switches can be used to minimize camera shake at shutter release — especially during extended exposures in the Bulb mode — while the release timer switch simplifies interval shooting by allowing you to preset starting time, the interval between exposures and exposure duration.
Other Outstanding Features
• High-precision autofocus system, with a choice of 3-point wide-area AF and spot AF
• Multi-mode metering system, with a choice of dual 6-segment metering, center-weighted metering and spot metering
• User-friendly operation with effortless dial/lever control
• Auto bracketing to capture the subject at three different exposure levels (proper/under/over)
• High-speed film winder to advance the film at approximately two frames per second
• AE lock to memorize an exposure value before recomposing the image
• A choice of four interchangeable Natural-Bright-Matte focusing screens