Flash System[For 67II]
Dedicated Auto Flashes
AF540FGZ Dedicated Auto Flash (case included)
Discontinued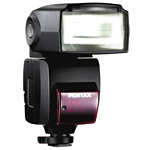 This high-performance clip-on-type dedicated auto flash offers the maximum guide number of 50 (at ISO 100/m) and a wide 24mm angle of discharge. It also features an auto zoom mechanism to couple its angle of discharge with the selected lens focal length, and an adjustable head that swings vertically and horizontally for bounce-flash applications. In addition, it simplifies such complicated applications as trailing-shutter-curtain sync flash, multiple flash and slave flash, while incorporating an AF spotbeam projector to assist the camera's AF system.
Main features
Clip-on auto flash with the maximum guide number of 54 (at ISO 100/m)
A choice of flash modes, including P-TTL auto flash, TTL auto flash, programmed auto flash, and wireless remote flash
Adjustable flash head that swings 90 degrees upwards, 10 degrees downwards, 135 degrees counterclockwise, and 180 degrees clockwise.
Wide angle of discharge covering a 24mm lens (in the 35mm format), or a 20mm lens (in the 35mm format) using a built-in slide-out wide-angle adapter
Compatibility with both compact SLR cameras (both in the 35mm film and digital formats) and medium-format cameras (such as PENTAX 67s and PENTAX 645s)
TTL auto flash:
O
P-TTL auto flash:
O
Programmed auto flash:
O
User-selectable guide numbers:
Guide number in relation to the angle of discharge (focal length equivalent in the 35mm format)
• At ISO 100: 21 (20mm), 32 (24mm), 35 (28mm), 39 (35mm), 45 (50mm), 50 (70mm), 54 (85mm)
• At ISO 200: 30 (20mm), 45 (24mm), 49 (28mm), 55 (35mm), 64 (50mm), 71 (70mm), 76 (85mm)
Angle of discharge:
Six angles (equivalent to angles of view covered by 24mm, 28mm, 35mm, 50mm, 70mm and 85mm lenses in the 35mm format), with auto and manual zoom mechanisms
Wide/tele adapter compatibility:
Built-in wide-angle adapter for an angle-of-discharge coverage for a 20mm lens (in the 35mm format)
Built-in catch-light panel
Adjustable angle of head:
90° upwards, 10° downwards, 135° counterclockwise, 180° clockwise
Internal power source:
Four AA-size batteries (alkaline, lithium primary or Ni-MH batteries)
Other features/functions:
Discharge level control (for the AF540FGZ only); 5P sync socket (with F5P contacts); Lock-up pin for solid hotshoe mounting; Camera format selection (67, 645, 35mm or digital); User cancellation of auto power-off function (via the function menu)
AF160FC Dedicated Auto Macro Flash
Discontinued
(Adapter Rings 49mm/52mm/58mm/67mm, Macro Adapter for D FA MACRO lenses, and case included)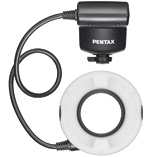 With a guide number of 16 (at ISO 100/m) and powered by four AA-size batteries, this ring-shaped auto flash consists of two parts: a flash head unit, which is attached to the front end of a lens with a 67mm filter size, using the accompanying adapter ring; and a controller unit, which is mounted to the PENTAX 67II's accessory hotshoe. Thanks to its high-precision TTL auto flash control, it provides soft, uniform lighting on the subject to eliminate unwanted shadows, making it ideal for close-up applications and still-life photography. By assigning different output levels to two semicircular flash heads, the photographer can also intentionally create shadows to produce three-dimensional images. A control dial on the back panel assures quick, effortless operation.
Guide number:
16 (at ISO 100/m)
TTL auto flash:
O
P-TTL auto flash:
O
Programmed auto flash:
—
Manual flash:
Full (1/1), 1/4, 1/16
Angle of discharge:
60° vertically/horizontally
Wide/tele adapter compatibility:
—
Bounce flash:
—
Internal power source:
Four AA-size batteries (alkaline, lithium or rechargeable Ni-MH)
External power source:
—
Other features/functions:
• Discharge level control (+0.5EV, -0.5EV or –1.0EV) via control dial on back panel
• Auto power off (after 180 seconds of non-operation)
Dimensions:
• Flash head unit: 113mm (diameter) x 29.5mm (D)
• Controller unit: 68mm (W) x 83mm (H) x 115mm (D)
Weight:
Approx. 405g