HD PENTAX-DA FISH-EYE10-17mmF3.5-4.5ED
NEW!
APS-C

Zoom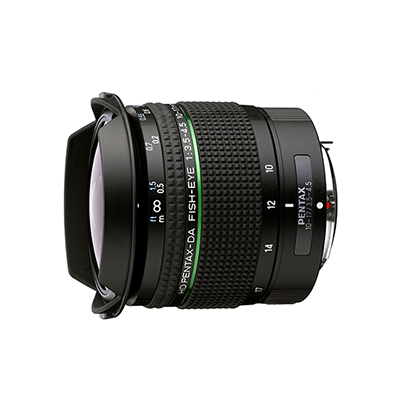 Body1

Body2

Body3

Body4




Body5

Body6

Body7

Body8
Featuring the latest HD Coating to further upgrade image quality, and a totally redesigned body
The development of this new zoom lens was based on smc PENTAX-DA FISH-EYE10-17mmF3.5-4.5ED, while conducting a thorough review of lens coatings. The high-grade, multi-layer HD Coating has been applied to the optical elements for high-contrast images with edge-to-edge sharpness and free of flare and ghost images. The exterior has been totally redesigned to match the design of the latest PENTAX K-mount digital SLR models, and also to make its lens hood removable. When mounted on a PENTAX K-1 or PENTAX K-1 Mark II camera body, the photographer can remove the lens hood to produce nearly circular fish-eye images.
*Please apply the latest updater of Digital Camera Utility 5 when you handle images taken by this lens on Digital Camera Utility 5. In case the software version is old, the name of this lens can not be displayed correctly. Digital Utility 4 and below can not display the name of this lens correctly.
Black
Included Accessories: Lens Hood PH-RBA60, Lens Cap O-LW70A, Lens Case S80-120, Lens Mount Cap K
Sample Images
Features / Specifications
HD Coating to enhance imaging power 

After a thorough review of lens coatings, PENTAX applied HD Coating* — PENTAX's latest multi-layer coating — to the lens. Compared to conventional multi-layer coatings, this high-performance, multi-layer coating reduces average reflectance in the visible light range by more than 50 percent and improves light transmittance, to minimize the adverse effects of flare and ghost images even in demanding lighting conditions such as backlighting. This zoom lens also incorporates an Extra-low Dispersion (ED) glass element to effectively compensate for chromatic aberration for extra-clear, high-contrast images.
* HD is the abbreviation of High Definition.


Shot by conventional smc PENTAX-DA FISH-EYE10-17mmF3.5-4.5ED[IF]

Shot by HD PENTAX-DA FISH-EYE10-17mmF3.5-4.5ED

Zoom range covering the fish-eye angle

When mounted on a PENTAX digital SLR camera body, this zoom lens provides a 180-degree diagonal angle of view in the APS-C format at a focal length of 10mm to deliver eye-catching fish-eye images. Since the angle of view shifts dramatically with a slight change of focal length, the photographer can easily create visual expressions typical of an ultra-wide-angle lens, such as exaggerated perspective, deformed subjects and a pan-focus effect to capture the entire image field in focus.


New exterior design to match latest digital SLR models

While retaining the overall size of the original smc PENTAX-DA FISH-EYE10-17mmF3.5-4.5ED, this zoom lens features a totally new exterior design, similar to that of the latest DA- and D FA-series lenses. This new appearance also makes it a perfect partner for the newest K-series digital SLR models. Although it is an ultra-wide-angle zoom lens, it has been designed to be extremely compact and lightweight. The removeable lens hood allows for nearly circular fish-eye images* to expand the range of photographic expressions, when mounted on a PENTAX K-1 or PENTAX K-1 Mark II camera body.
* When the lens hood is removed with the Crop Function set to FF mode, there may be vignetting and/or lowered imaging performance at the edges of the image field, because the resulting image contains elements outside the lens's image circle.


Shot by HD PENTAX-DA FISH-EYE10-17mm
F3.5-4.5ED mounting on PENTAX KP

Shot by HD PENTAX-DA FISH-EYE10-17mm
F3.5-4.5ED mounting on PENTAX K-1 Mark II (without hood)

SP Coating to repel stains

SP (Super Protect) Coating, highly repellent to water, grease and dirt, has been applied to the lens's front surface using a PENTAX-exclusive fluorine deposition process, making it easy to wipe off any stains such as fingerprints. This frees the photographer from worries in outdoor photography.



Other features

I. Quick-Shift Focus System, to provide instant shift to manual-focus operation after locking the subject in focus during AF operation by pressing the shutter-release button halfway down; usable at any time during AF operation
II. A minimum focusing distance of 14 centimeters, allowing the photographer to move in as close as approximately 2.5 centimeters from the front end of the lens to the subject, for ultra-close-up photography
Focal Length
10-17mm
Maximum Aperture
F3.5-4.5
Minimum Aperture
F22-32
Lens Construction
10 elements in 8 groups
Angle of View (Diagonal)
180-100°
(when attached to PENTAX APS-C size DSLR cameras)
Mount
KAF
Minimum Focusing Distance
0.14m (0.46ft.)
Maximum Magnification
0.39x
Filter Diameter
N/A
Diaphragm Control
Fully automatic
Number of Diaphragm Blades
6
Aperture Ring
N/A
Tripod Mount
N/A
Lens Hood
PH-RBA60 (included)
Lens Cap
O-LW70A (included)
Lens Case
S80-120 (included)
Maximum Diameter x Length
approx. 67.5mm x 70mm (approx. 2.7in. x 2.8in.)
Weight
approx. 317g / with hood approx. 323g
(approx. 11.2oz./ with hood approx. 11.4oz.)
Temperature
-10°C~40°C (14°F~104°F)
Humidity
85% or less
(no condensation)
Included Accessories
Lens Hood PH-RBA60,
Lens Cap O-LW70A,
Lens Mount Cap K,
Lens Case S80-120
Others
HD Coating
SP (Super Protect) Coating
Quick-shift Focus System (QFS/A)
Compatible Converters
A1.4X-S
A2X-S
HD PENTAX-DA AF REAR CONVERTER 1.4x AW
Recommended contents
Download
Catalog
Lineup and Lens Roadmap