Digital Compact Camera: Optio W80

Waterproof to five meters, dustproof, and shockproof against a one-meter drop, the Optio W80 is designed for active photographers shooting in demanding conditions
The Optio W80 couples outstanding underwater picture-taking performance (at a depth of five meters, and for up to two hours of continuous operation)* with remarkable dustproof performance for protection against sand, mud and dust.** It's also highly shockproof, capable of withstanding a fall from a height of one meter,*** as well as exceptionally protected against the cold, operating at temperatures as low as -10°C. All this protection makes the Optio W80 a perfect camera for active photographers who shoot pictures under demanding conditions, such as outdoor sports scenes.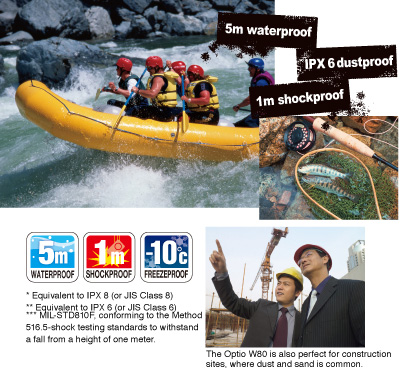 Beautiful, dynamic movie clips at HD proportions
The Optio W80 captures beautiful, flawless movie clips at sizes up to 16:9 high-definition-TV proportions (1280 x 720 pixels) at a frame rate of 30 frames per second. With the digital Movie SR (Shake Reduction) mode and Mermaid Movie mode — a shooting mode designed exclusively for underwater movie recording — it makes underwater movie shooting fun and effortless. After recording high-quality movie clips, you can easily play them back on a PC or TV monitor.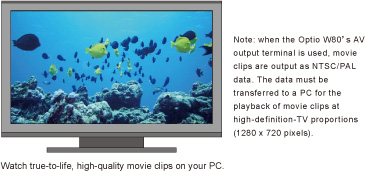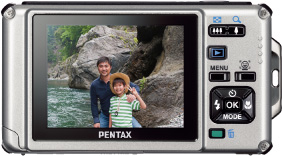 High-performance LCD monitor for comfortable image viewing, even under bright sunshine
Thanks to a large 2.5-inch high-brightness color LCD monitor with approximately 230,000 dots, you can watch onscreen images clearly and comfortably, even under the glaring sun or in dim, murky underwater settings. It faithfully reproduces spectacular landscapes and colorful underwater scenes, clearly expressing the inspiration and excitement that you felt during shooting.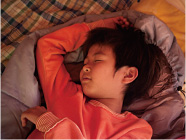 AF spotbeam projector to assist AF operation under poor lighting conditions
The Optio W80's AF spotbeam projector comes handy under unfavorable lighting conditions, such as at night or on cloudy days. The camera automatically projects an AF-assisting spotbeam on the subject to assure pinpoint focus. Even in a dark tent at a campsite, for instance, you can effortlessly capture the subject, such as a child's sleeping face, in crisp focus.

12.1 effective megapixels and 5X optical zoom lens with 28mm wide-angle coverage to beautifully depict all subjects — from breathtaking scenery to tightly framed snapshots
Despite its compact, waterproof body, the Optio W80 features 12.1 effective megapixels and a 5X optical zoom lens, assuring outstanding image quality. Its 28mm wide-angle coverage**** offers a wide perspective, so everything from spectacular landscapes to close-in indoor scenes can be captured with great ease. By coupling the 5X zoom lens with the Intelligent Zoom function, you can extend the zoom range up to approximately 31.3 times without compromising image quality. Whether shooting at 28mm wide angle or 140mm telephoto,**** you are always assured of beautiful, true-to-life images.
**** Focal lengths in the 35mm format.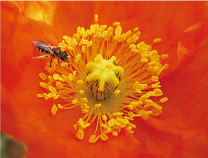 Macro shooting from 1cm away for eye-catching, fine-detailed images
The Optio W80's Macro mode lets you approach the subject up to as close as one centimeter, allowing you to capture dramatic, close-up images of intriguing subjects, including plants and flowers along riverbanks or rocky shores, fish you encounter in the ocean, or your favorite accessories. A unique image composition made from just a centimeter away gives you a totally new visual approach to the subjects, helping you create completely different images of even very familiar subjects.

Auto Picture mode for automatic selection of eight different shooting modes
The Optio W80's Auto Picture mode detects the subject's lighting and other conditions, then selects the most appropriate shooting mode for a given subject or scene — all automatically. Since it eliminates the time-consuming process of shooting mode selection and optimizes all camera settings for you, you can swiftly react to unexpected shutter opportunities and always preserve memorable scenes in beautiful, high-quality images.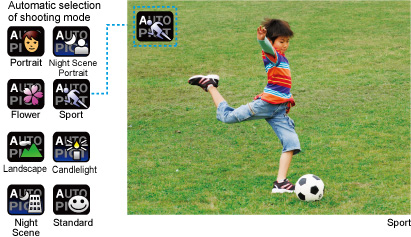 High-speed face recognition with Smile Capture and Blink Detection, to automatically capture lively, smiling faces
The Optio W80 features the advanced Face Recognition AF & AE function, which automatically detects the subject's face and optimizes the focus and exposure settings in a mere 0.3 seconds. It also offers other user-friendly features designed to reproduce a face (or faces) sharply and brilliantly: the Smile Capture function to automatically release the shutter the moment the camera detects the subject's smile; the Blink Detection function to warn you when the subject's eyes close at the time of shutter release; and automatic detection of up to 32 faces to facilitate group-image shooting.


Pixel Track SR and High-Sensitivity SR minimize blurred images in shake-prone situations
Shutter release often causes camera shake — but this is no longer a worry with the Optio W80. Even when camera shake occurs, the Optio W80's sophisticated Pixel Track SR (Shake Reduction) mode digitally compensates for it. In poorly lit locations such as dim rooms, its High-Sensitivity SR (Shake Reduction) mode takes over to minimize camera shake and subject shake. Thanks to this effective combination, you are always assured of brilliant, blur-free images.

Auto-tracking AF
to maintain constant focus on active subjects for timely shutter release
Once the subject is captured in focus, the Optio W80's auto-tracking AF mode keeps it in focus, even when it moves within the image field. Since this eliminates the need for frequent refocusing, you can effortlessly capture the decisive moment, even when the subject is an active child or unpredictable pet.
Digital filters
to add artistic touches to recorded images
In addition to conventional choices (such as black and white, sepia, color, soft and fish-eye), the Optio W80 offers three new, unique digital filters (toy camera, retro and color enhancer). The color enhancer filter, for instance, dramatizes images by emphasizing a particular color — such as blue tones in sunny skies, or red tones in autumnal leaves. With a wide array of digital filters to choose from, you can easily add distinctive visual effects and create highly personalized images.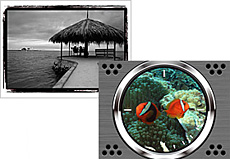 Photo frames
to customize images for special occasions
The Optio W80 comes with more than 80 different photo frames to produce eye-catching, fun-packed pictures. You can either display a preferred frame on the LCD monitor during shooting, or compose a recorded image with a frame of your choice later.
World-time and calendar functions for on-the-road convenience around the globe
World-time clock to display standard time in 28 time zones
The Optio W80's built-in clock is a handy tool on overseas trips, providing the real-time display of standard time in 75 cities in 28 time zones around the world. It also tells you the time difference between your home town and travel destination on the menu screen. It also offers the extra convenience of an alarm function.
Calendar function for day-by-day display of captured images
Since the Optio W80's calendar function automatically files captured images into day-by-day folders, you can instantly recall the images recorded on a particular day by selecting that day on the calendar screen.
---
For Printing

Compatibility with Exif Print, PRINT Image Matching and DPOF
The Optio W80 is compatible with Exif Print and PRINT Image Matching III to produce beautiful printouts faithful to the camera data. It is also compatible with DPOF (Digital Print Order Format) to control the number of prints and date imprint information.
For TV Monitor Viewing and Image Copying
AV output terminal (AV cable included) for easy TV monitor viewing

When you like to share recorded images and movies with your family or frievnds, simply connect the Optio W80 to a TV monitor via the included AV cable. You can play back memorable scenes and sounds on a larger screen for great fun.
Copying memorable images and movies to DVD and videotape
When you want to share special memories with your friends or relatives, you can make copies of recorded images or movies on a DVD or videotape, simply by connecting the Optio W80 to a DVD recorder or video deck via the included AV cable. Such copies also allow other people to watch the memorable scenes comfortably on a larger TV or projector screen.
For Image Editing
Image transfer to PC via USB cable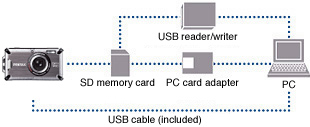 Using the included USB cable, you can easily transfer images captured by the Optio W80 to your PC, for use on a Web site or in a personal photo album.
ACDSee for PENTAX (Windows and Mac versions) for image viewing and filing

The Optio W80 comes with the ACDSee for PENTAX software (available on the accompanying CD-ROM) for the viewing and filing of recorded images on a PC. The Windows version also offers a host of image editing functions, including brightness and color controls and special effects, for the production of refined, original images.
---
Optio W80 standard accessories
• Rechargeable lithium-ion battery • Battery charger • AC power cord • USB cable • AV cable • Strap • Software (CD-ROM)
Software (CD-ROM)
• ACDSee for PENTAX 3.0 image viewing, editing and filing software for Windows
• ACDSee 2.0 for Macintosh image viewing and filing software
---