Digital Compact Camera: Optio W60


Waterproof, Dustproof Design*
to Faithfully Capture the Beautiful Underwater World
The Optio W60 features an airtight, waterproof body that lets you keep taking pictures for up to two hours and at the depth of four meters under the water. Coupled with its 5X optical zoom lens covering 28mm wide angle to 140mm telephoto, it lets you take the fun of digital photography into the beautiful underwater world. It even offers Underwater and Underwater Movie modes to faithfully reproduce beautiful underwater images. Its movie mode is compatible with the high-vision image size, which assures beautiful movie images during playback.
* Waterproof protection equivalent to JIS Class 8; Dustproof protection equivalent to JIS Class 5.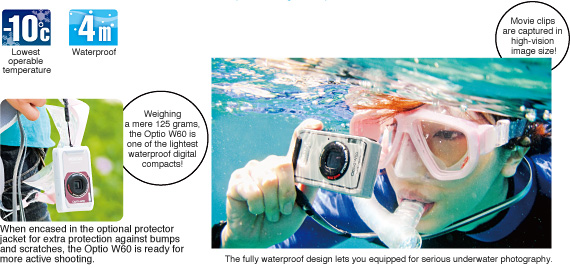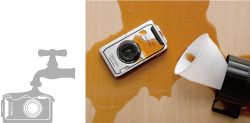 Simply rinse the Optio W60 clean with fresh water!
The Optio W60 is designed to accompany you everywhere: to the garden, where it may get soaked by a sprinkler or covered with mud; or to the kitchen where it may get stained with sauce or covered with flour. Don't worry even when you spill your drink over it. Just rinse it clean with fresh water, and it is ready to accompany you to the next destination!
Note: The Optio W60 is operable under temperatures from -10°C to 40°C.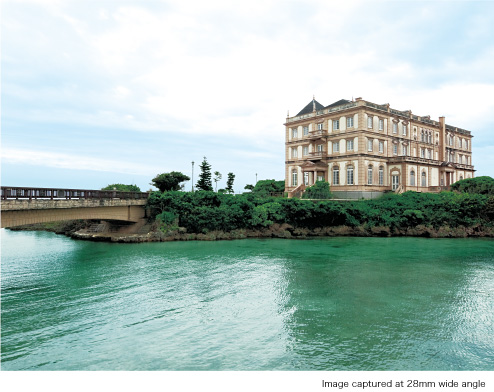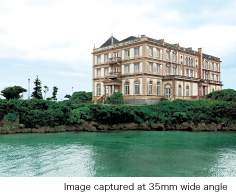 28mm Wide-Angle Coverage
to Capture Sweeping, Breathtaking Scenery
Since the Optio W60 covers an angle of view as wide as 28mm (in the 35mm format), you can preserve magnificent natural scenes and impressive structures in beautiful, lively images with a true sense of depth, simply by pointing the lens at the subject and releasing the shutter. The Optio W60 captures a world not available with the conventional coverage of 35mm wide angle.
Optical 5X Zoom Lens and Intelligent Zoom Function
to Bring Distant Subjects Closer
Whether it's a breathtaking landscape or an ordinary everyday event, the Optio W60's optical 5X zoom lens captures large, exciting images of distant subjects with great ease. Its Intelligent Zoom function digitally magnifies your subject up to approximately 28.5 times to produce high-quality images as good as those produced by an optical zoom lens.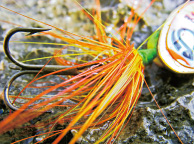 Macro Mode
to Capture Close-up Images from a Distance of 1cm
The Optio W60's macro mode lets you approach subjects to a minimum distance of one centimeter. You can capture extremely fine-detailed images of various subjects, from your favorite articles to flowers and insects. It lets you express such subjects from totally different perspectives.

New-Generation Auto Picture Mode
to Automatically Select Best Shooting Mode for Seven Different Scenes
The Optio W60 is programmed to automatically and instantly select one of seven shooting modes— Portrait, Landscape, Night Scene, Night Scene Portrait, Sport, Flower and Standard — for a given subject. This new-generation Auto Picture mode lets anyone capture high-quality images more effortlessly than ever before.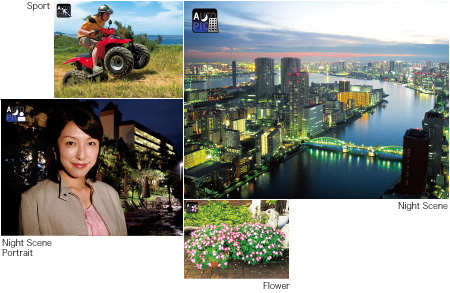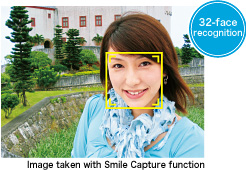 High-Speed Face Recognition and Smile Capture
to Automatically Preesrve Bright Smiles 32-face recognition
The PENTAX-original high-speed Face-Recognition AF & AE function detects the position of a subject's face (up to 32 faces across the image field), then optimizes the exposure level for that face in an astonishing 0.03 seconds. By pressing the

button, you can also preset the Optio W60 to automatically release the shutter the instant it detects your subject's smile. What's more, the Optio W60 features a unique Blinking Detection function, which warns you when the subject's eyes close at the time of shutter release, so you can re-shoot the image right away.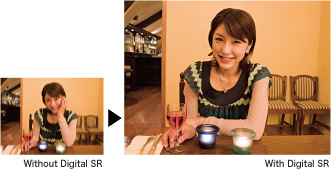 Digital SR and Movie SR
to Minimize Camera Shake at Shooting and Playback of Still Images and during Movie Recordings
When shooting under low-lighting conditions — such as indoors or at sunsets — take advantage of the Optio W60's Digital SR (Shake Reduction) system. It automatically assures a higher shutter speed by raising the sensitivity level as high as ISO 6400 to minimize camera shake and subject shake. This Digital SR system even assists you during image playback, as it effectively compensates subtle shaking in recorded images. The Optio W60 also features the Movie SR (Shake Reduction) system, which effectively compensates camera shake during the shooting of movie clips.
Beautiful Movie Clips Captured in
Vibrant 16:9 High-Vision Image Size
The Optio W60 captures movie clips at the high-vision image size (1280 x 720 pixels in 16:9 image proportions). By coupling the Movie SR system that effectively compensates for camera shake during movie recordings with the Underwater Movie mode that optimizes the image quality of movie clips captured under the water, you are always assured of beautiful, blur-free movie clips with minimal effort.
Auto-Tracking AF
to Maintain Constant Focus on Active Subjects for Timely Shutter Releases
Once the subject is captured in focus, the Optio W60's auto-tracking AF mode keeps it in crisp focus, even when it moves around in the image field. By eliminating the need for frequent refocusing, this lets you effortlessly capture the decisive moment, even when the subject is an active child or unpredictable pet.

Digital Filters
to Add Artistic Touches
Because the Optio W60 provides a set of digital filters including black and white, sepia, color, soft and brightness, you can effortlessly edit captured images to add creative and artistic touches — a fun, exciting feature available only to digital camera users.
World-Time and Calendar Functions
Offer On-the-Road Convenience around the Globe
World-Time Clock to Display Standard Time in 28 Time Zones
The Optio W60's built-in clock is a handy tool on your overseas trips, since it provides real-time display of standard time in 75 cities in 28 time zones around the world. You can even check the time difference between your home town and travel destination on the menu screen.
Calendar Function for Day-by-Day Display of Captured Images
Since the Optio W60's calendar function automatically files captured images into day-by-day folders, you can instantly recall the images recorded on a particular day by selecting that day on the calendar screen. This feature allows you to keep accurate track of a trip or past events.
---
For Printing
PictBridge Compatibility for Direct Printing Convenience

When connected to a PictBridge-compatible printer via the included USB cable, the Optio W60 offers convenient direct printing, eliminating the need to transfer image data to your PC. This direct-printing convenience is available with any PictBridge-compatible printer, regardless of make or model.

Compatibility with Exif Print, PRINT Image Matching and DPOF
The Optio W60 is compatible with Exif Print and PRINT Image Matching III to produce beautiful printouts faithful to the camera data. It is also compatible with DPOF (Digital Print Order Format) to control the number of prints and date imprint information.
For TV Monitor Viewing and Image Copying
AV Output Terminal and AV Cable for Easy TV Monitor Viewing

When connected to a TV monitor via the included AV cable, the Optio W60 lets you play back recorded images and movies with sound on a larger screen for fun viewing with family and friends.
Copying Memorable Images and Movies to DVD and Videotape
When you want to share special memories with your friends or relatives, you can make copies of recorded images or movies on a DVD or videotape, simply by connecting the Optio W60 to a DVD recorder or video deck via the included AV cable. Such copies also allow other people to watch the memorable scenes comfortably on a larger TV or projector screen.
For Image Editing
Image Transfer to PC via USB Cable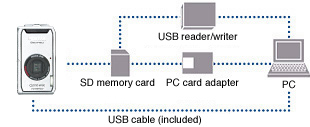 Using the included USB cable, you can easily transfer images captured by the Optio W60 to your PC, for use on a Web site or in a photo album.
ACDSee (Windows and Mac versions) for Image Viewing and Filing

The Optio W60 comes with the ACDSee software (available on the accompanying CD-ROM) for the viewing and filing of recorded images on a PC. The Windows version offers a host of image editing functions, including brightness and color controls and special effects, for the production of refined, original images.
---
Optio W60 Standard Accessories
• Rechargeable lithium-ion battery • Battery charger • AC power cord • AV cable • USB cable • Strap
Software (CD-ROM)
• ACDSee for PENTAX 3.0 image viewing, editing and filing software for Windows • ACDSee 2.0 for Macintosh image viewing and filing software
USB connection requirements:
• PCs running Windows 2000, XP or Vista™ • Macintosh computers running OS X (Ver. 10.1.2 to 10.5)
Notes:
The operating system must be pre-installed and updated to the latest version.
The computer must be equipped with USB terminals.
---