Digital Compact Camera: Optio H90




The Optio H90 sports a square, straight-lined form and a high-quality aluminum upper panel, while its exquisite body-color combinations give a hint of the traditional beauty of Japan. From the lens barrel coated with matte black paint to the elegantly formed grip, the Optio H90 crystallizes the functional beauty concept in every detail.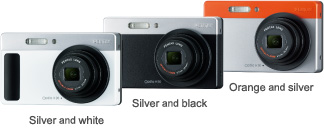 Silver and white: A combination of warm silver, hinting at elegance and sophistication, with velvety white, giving a reminder of a piece of delicately glazed white porcelain.
Silver and black: A combination of elegant silver, reminiscent of the sand and pebbles of a traditional Japanese garden, with the solid black of rich calligraphic ink.
Orange and silver: A combination of traditional Japanese vermilion, often used in lacquer ware and found at temples and shrines, with a grayish silver hinting at Japanese roof tiles shining under the bright sun.

The Optio H90 combines high image quality assured by approximately 12.1 effective megapixels with an optical 5X zoom lens offering a 28mm wide-angle coverage (in the 35mm format). Thanks to its wide zoom coverage, you can easily frame a panoramic scene in a wide-angle shot, then smoothly zoom in for a tightly cropped image of a distant architecture.

The Optio H90's advanced Auto Picture mode automatically detects the type of subject or scene you intend to shoot, then selects the most appropriate shooting mode from eight different options (Standard, Landscape, Portrait, Night Scene Portrait, Night Scene, Sport, Flower and Candlelight), making it simple and effortless to preserve memorable scenes in beautiful, high-quality images.


Since the Optio H90 is compatible with Eye-Fi wireless LAN SD memory cards, you can take maximum advantage of your wireless LAN environment by wirelessly transferring recorded images to your PC and filing them on the computer with great ease.

The Optio H90 captures beautiful, high-quality movie clips at sizes up to 16:9 high-definition-TV proportions.
Note: when the Optio H90's AV output terminal is used, movie clips are output as standard NTSC/PAL data. The data must be transferred to a PC for the playback of movie clips at high-definition-TV proportions (1280 x 720 pixels).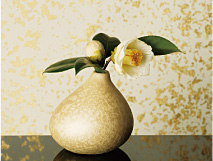 The Optio H90 offers three different SR (Shake Reduction) modes to minimize adverse effects of camera shake and subject shake in both still images and movie clips: The Digital SR mode effectively compensates for camera shake during still-image shooting; the High-Sensitivity SR mode automatically raises the sensitivity up to ISO 6400 under poor-lighting conditions; and the Movie SR mode prevents camera shake and subject shake exclusively during movie recording.
Smile Capture, Blink Detection and 32-Face Detection functions for lovely snapshots
The Optio H90 features the advanced Face Recognition AF & AE function, which automatically captures a brilliant, lovely image of the subject's face even when it is turned diagonally, in profile or tilted downward to the camera. This function can also detect up to 32 faces simultaneously — a feature that comes extremely handy when taking a commemorative photo of a large group. What's more, the Optio H90 offers the Smile Capture function to automatically release the shutter the moment the camera detects the subject's smile, and the Blink Detection function to warn you when the subject's eyes close at the time of shutter release.
Auto-Tracking AF
to maintain constant focus on active subjects for timely shutter release
Once the subject is captured in focus, the Optio H90's Auto-Tracking AF mode keeps it in sharp focus, even when it moves around within the image field. Since this eliminates the need for frequent refocusing, you can effortlessly capture the decisive moment, even when the subject is an active child or unpredictable pet.
Digital filters
to add artistic touches to recorded images
In addition to conventional choices (such as Black and White, Sepia and Color), the Optio H90 offers more creative options (Toy Camera, Retro, Soft, Color Extraction, Color Enhancer and Brightness), making it simple and effortless for you to add distinctive visual effects and create highly personalized images.
Frame Composite function
to mark special occasions with favorite photo frames
The Optio H90 comes with more than 90 different decorative photo frames to produce eye-catching, fun-packed pictures.
World-time and calendar functions
for on-the-road convenience around the globe
World-time clock to display standard time in 28 time zones
The Optio H90's built-in clock is a handy tool on overseas trips, as it provides the real-time display of standard time in 75 cities in 28 time zones around the world, as well as the time difference between your home town and travel destination.
Calendar function for day-by-day display of captured images
Since the Optio H90's calendar function automatically files captured images into day-by-day folders, you can instantly recall the images recorded on a particular day by selecting that day on the calendar screen.
Other features
Macro mode to take close-up images from a distance of just eight centimeters away
D-Range setting to prevent whitewashed (overexposed) and blacked-out (underexposed) areas in the image
Panorama and Digital Wide modes for the composition of unique, eye-catching images
Face Magnification mode to automatically magnify the faces recorded in the Face Recognition AE & AF function during playback
---
For Printing

Compatibility with Exif Print, PRINT Image Matching and DPOF
The Optio H90 is compatible with Exif Print and PRINT Image Matching III to produce beautiful printouts faithful to the camera data. It is also compatible with DPOF (Digital Print Order Format) to control the number of prints and date imprint information.
For TV Monitor Viewing and Image Copying
AV output terminal (AV cable included) for easy TV monitor viewing

When you like to share recorded images and movies with your family or friends, simply connect the Optio H90 to a TV monitor via the included AV cable. You can play back memorable scenes and sounds on a larger screen for great fun.
Copying memorable images and movies to DVD and videotape
When you want to share special memories with your friends or relatives, you can make copies of recorded images or movies on a DVD or videotape, simply by connecting the Optio H90 to a DVD recorder or video deck via the included AV cable. Such copies also allow other people to watch the memorable scenes comfortably on a larger TV or projector screen.
For Image Editing
Image transfer to PC via USB cable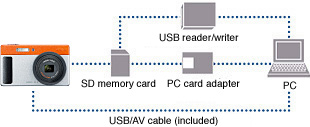 Using the included USB cable, you can easily transfer images captured by the Optio H90 to your PC, for use on a Web site or in a personal photo album.
ArcSoft Media Impression 2.0 for PENTAX software (Windows and Mac versions) for image viewing and filing

The Optio H90 comes with the ArcSoft Media Impression 2.0 for PENTAX software (available on the accompanying CD-ROM) for the viewing. filing and editing of recorded still images and movie clips on a PC.
---
Optio H90 standard accessories
· Rechargeable lithium-ion battery · Battery charger · AC power cord · USB cable · AV cable · Strap · Software (CD-ROM)
Software (CD-ROM)
· ArcSoft Media Impression 2.0 for PENTAX image viewing, filing and editing software (Windows version)
· ArcSoft Media Impression 2.0 for PENTAX image viewing, filing and editing software (Macintosh version)
USB connection requirements:
· PCs running Windows XP (SP2), Vista™ or 7
· Macintosh computers running OS X (Ver. 10.3.9, 10.4, 105 or 10.6)
Notes:
· The operating system must be pre-installed and updated to the latest version.
· The computer must be equipped with USB terminals.
---