Digital Compact Camera: Optio A40


The Optio A40 offers an astonishing 12.0 effective megapixels — the highest in digital compact cameras currently on the market. As a result, it assures sharp, true-to-life images with extra-fine details. The difference from other models with lower resolution power is particularly evident when captured images are enlarged into large-size prints.

When taking a portrait or snapshot against backlight, the Optio A40 automatically detects the position of the subject's face with great accuracy, then compensates the exposure level to produce a bright, lively face in your image. It even expands the dynamic range (or the light-sensitive range) to minimize washed-out and blacked-out areas in the background. Thanks to this user-friendly mode, you are assured of beautiful, true-to-life images with a bright subject face and a well-defined background, even under the most demanding lighting conditions.
Natural Skin Mode, Best Framing Mode and Other User-Friendly Functions to Assure Beautiful Faces
Face-Recognition AF & AE function for beautifully exposed subject faces, available in combination with any shooting mode
Natural Skin shooting mode for smooth, natural skin tones
Best Framing mode to capture portrait images with the best-balanced composition
Automatic detection and focus/exposure compensation of up to 15 faces
Digital red-eye compensation function to digitally correct red pupils caused by flash discharge

The PENTAX-developed Intelligent Zoom is a step above conventional digital zoom functions. It lets you digitally magnify the subject up to approximately 17.9 times to produce high-quality images as good as those produced by an optical zoom lens.

Innovative SR System to Minimize Camera Shake through High-Precision CCD Shifting
The Optio A40 incorporates the CCD-shift-type SR (Shake Reduction) system, which shifts the CCD image sensor at high speed in the direction opposite to that of camera shake caused by a shutter release. It effectively minimizes camera shake at shutter release to produce sharp, blur-free images — especially in situations prone to camera shake, such as high-magnification shooting using zoom lenses and sunset scenes.
Digital SR to Push Sensitivity up to ISO 3200 at Night and in the Dark
The Optio A40's Digital SR (Shake Reduction) system automatically raises the sensitivity up to ISO 3200 and sets a higher shutter speed under poor lighting conditions to minimize camera shake and subject shake. It comes handy in situations where you want to avoid the use of flash and capture the subject with ambient light to produce artistic, dramatic images, such as twilight scenes and indoor shooting under indirect lighting.
Movie SR for Blur-Free Movie Clips
The Optio A40 also comes equipped with the Movie SR (Shake Reduction) system. It effectively minimizes annoying camera shake in movie shooting to capture beautiful, spotless movie clips at 30 frames per second in the MPEG-4-based DivX format, which assures both excellent image quality and extended recording time.
---
Auto-Tracking AF
to Maintain Constant Focus on Active Subjects for Timely Shutter Releases
Once the subject is captured in focus, the Optio A40's auto-tracking AF mode keeps it in crisp focus, even when it moves around in the image field. By eliminating the need for frequent refocusing, this lets you effortlessly capture the decisive moment, even when the subject is an active child or unpredictable pet.
Mode Palettes
to Offer Instant Setting of Shooting and Playback Modes via Simple Icon Selection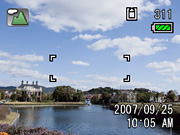 Auto Picture (Landscape mode)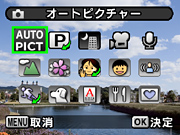 Shooting Mode Palette
Shooting Mode Palette
The Optio A40 features a user-friendly shooting mode palette to simplify the troublesome mode-selection process. All you have to do to set the desired shooting mode is select the icon on the screen corresponding to your desired mode. The Optio A40 takes care of the rest for you, producing beautiful images frame after frame.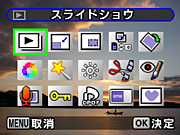 Playback Mode Palette
Playback Mode Palette
The Optio A40's playback mode palette offers a set of icons corresponding to the image-editing and photo-retouching functions available after shooting, including trimming and resizing tools and digital filters. This palette assures quick, effortless setting of the desired function to facilitate image-processing operations.
Innovative Sliding Lens System
for Space-Efficient Lens Storage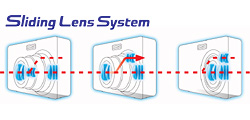 The Optio A40 features the PENTAX-developed Sliding Lens System, which stores the zoom lens in two vertical steps. This reduces the overall camera size and enhances portability without adverse effects on optical performance or image quality.
Digital Filters
to Add Artistic Touches
Because the Optio A40 offers a set of digital filters including color, soft and brightness, you can effortlessly edit captured images to add creative and artistic touches — a fun, exciting feature available only to digital camera users.
Photo Frames
to Customize Images for Special Occasions
The Optio A40 lets you create an eye-catching framed image with great ease, either by displaying your choice of frame on the screen during shooting or by adding the most fitting frame to a recorded image. You can also replace these frames by downloading new ones from the PENTAX Web site.
World-Time and Calendar Functions
for On-the-Road Convenience around the Globe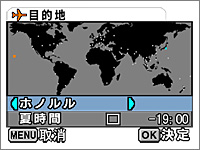 World-Time Clock to Display Standard Time in 28 Time Zones
The Optio A40's built-in clock is a handy tool on your overseas trips, since it provides real-time display of standard time in 75 cities in 28 time zones around the world. You can even check the time difference between your home town and travel destination on the menu screen.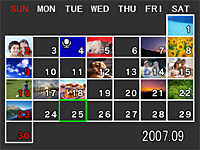 Calendar Function for Day-by-Day Display of Captured Images
Since the Optio A40's calendar function automatically files captured images into day-by-day folders, you can instantly recall the images recorded on a particular day by selecting that day on the calendar screen. This feature allows you to keep accurate track of a trip or past events.
---
For Printing
PictBridge Compatibility for Direct Printing Convenience

When connected to a PictBridge-compatible printer via the included USB cable, the Optio A40 offers convenient direct printing, eliminating the need to transfer image data to your PC. This direct-printing convenience is available with any PictBridge-compatible printer, regardless of make or model.

Compatibility with Exif Print, PRINT Image Matching and DPOF
The Optio A40 is compatible with Exif Print and PRINT Image Matching III to produce beautiful printouts faithful to the camera data. It is also compatible with DPOF (Digital Print Order Format) to control the number of prints and date imprint information.
For TV Monitor Viewing and Image Copying
AV Output Terminal for Easy TV Monitor Viewing

When connected to a TV monitor via the included AV cable, the Optio A40 lets you play back recorded images and movies with sound on a larger screen for fun viewing with family and friends.
Copying Memorable Images and Movies to DVD and Videotape
When you want to share special memories with your friends or relatives, you can make copies of recorded images or movies on a DVD or videotape, simply by connecting the Optio A40 to a DVD recorder or video deck via the included AV cable. Such copies also allow other people to watch the memorable scenes comfortably on a larger TV or projector screen.
For Image Editing
Image Transfer to PC via USB Cable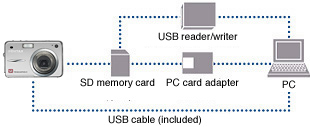 Using the included USB cable, you can easily transfer images captured by the Optio A40 to your PC, for use on a Web site or in a photo album.
ACDSee for PENTAX (Windows and Mac versions) for Image Viewing and Filing

The Optio A40 comes with the ACDSee for PENTAX software (available on the accompanying CD-ROM) for the viewing and filing of recorded images on a PC. The Windows version offers a host of image editing functions, including brightness and color controls and special effects, for the production of refined, original images.
---
Convenient All-in-One Package
• Rechargeable lithium-ion battery • Battery charger • AC power cord • AV cable • USB cable • Strap
Software (CD-ROM)
• ACDSee for PENTAX image viewing, editing and filing software for Windows
• ACDSee for PENTAX image viewing and filing software for Macintosh
USB connection requirements:
• PCs running Windows 2000, XP or Vista™.
• Macintosh computers running OS 9.2 or X (Ver. 10.1.2 or later).
Notes:
The operating system must be pre-installed and updated to the latest version.
The computer must be equipped with USB terminals.
---